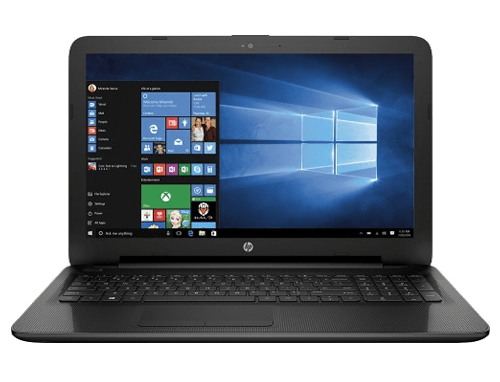 Here we have, a HP 15-F305DX, it is a very basic, no-frills, budget laptop ($259 USD at time of write up) that is capable of the daily workings of word processing, sifting through social media, online banking and emailing.  One nice aspect of it is it comes pre-installed with Windows 10, so there is no reason to upgrade from Windows 8. To keep this laptop cost-effective it with an AMD A6-5200 processor that clocks at 2 GHz, unfortunately that's the max you're going to get because there is no Turbo Core. In May of 2013 the Quad-Core SoC was released under the codename of Kabini.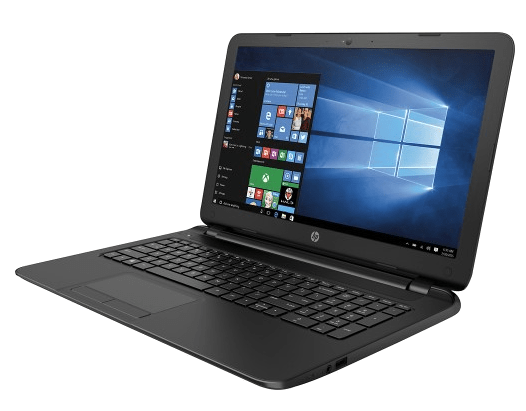 Weighing in at 4.8 pounds this laptop is light enough to throw in our backpack for transportation without any problems. The HP comes with the typical 500 GB which is large enough to store most of your daily needs in one convenient place. The HP 15-F305DX comes with an industry standard 4 GB DDR3L SDRAM. It comes equipped with a 15.6 inch HD BrightView WLED backlit display with 1366 x 768 resolution. The colors are not that sharp or crisp but it still manages to play basic online games. Also the colors can be adjusted with the AMD catalyst controls. If you're looking for a gaming machine, this HP is definitely not your laptop. The battery life can't be expected to last much longer than 4.5 hours on a full charge using Wi-Fi. For connectivity it has 3 USB 3.0 ports and one USB 2 port and a DVD drive.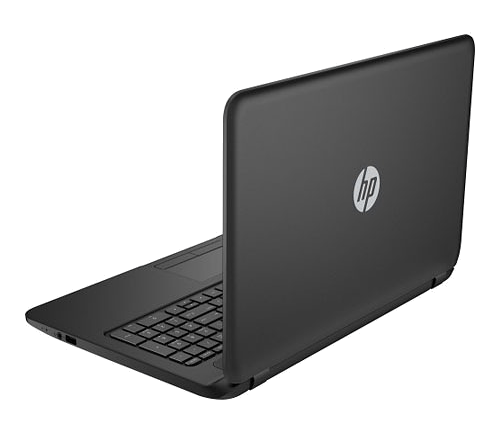 Some may find the touchpad to be a little bit tricky and not very responsive, like most every CPU put out it is recommended to plug in a wireless mouse and navigate your business that way. The keyboard feels pretty good and the key are responsive and the wrist pads don't heat up like other machines tend to do and overall the machine stays fairly cool and here is no constant loud fan running.
Since it is still a budget conscious laptop you won't find a Blu-Ray player or Bluetooth.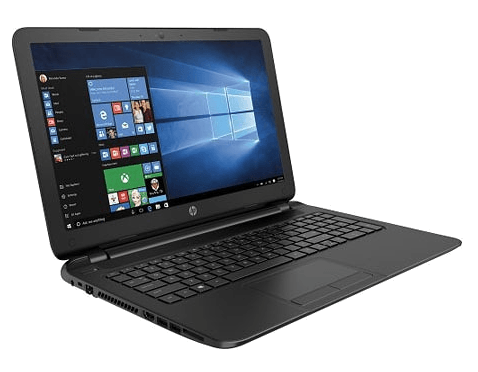 If you are looking for a basic computer that can be purchased at a low price that is economical and has all of the essentials to get your work done, than go ahead and buy the HP 15-F305DX.
Specs:
Screen Size – 15.6 inches
Max Screen Resolution – 1366 x 768 pixel
Processor – 2 GHz AMD A Series
RAM – 4 GB DDR3 1600
Memory Speed – 1600 MHz
Hard Drive – 500 GB HDD 5400 RPM
OS – Windows 10
Weight – 4.8 pounds
Dimensions (LxWxH) – 10.16 x 15.18 x .89 inches
Color – Black
Processor Brand – AMD
Processor Count – 2
Computer Memory Type – DDR3 SDRAM
Hard Drive Interface – Serial ATA
Going to order one when they're released? We'll buy your laptop, tablet, or smartphone and help you get some money to put towards the new one! Get a quote right here on our site.