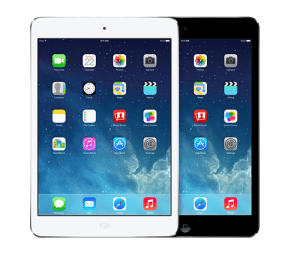 In a world of kid-friendly tablets the Apple iPad Mini with Retina Display is definitely keeping up with the Apple pride. Parents can be rest assured that their little ones will have access to age-appropriate apps while maintaining the integrity of parental controls to keep their children safe from harsh internet garbage that is so easy to stumble upon.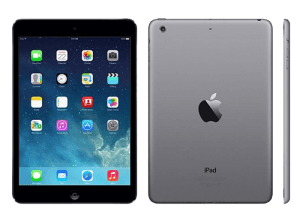 The look and feel of the Apple iPad Mini with Retina Display is designed to go against its rivals like the Nexus 7 and Amazon Kindle Fire HDX. Though its price tag is generally about $130USD more than its competitors, the work performance of this tablet is outstanding. The clarity of the 2048 x 1536-pixel screen and fast 63-bit A7 chip keeps its edge to even that of the new premium iPad Air tablet, but in a smaller package. The new mini 16GB runs $70 more than its predecessor and going for $399 (at the time of this write up) and is substantially more than the ever popular 7' Android tablets.
The new mini looks and feels like a high-end tablet from the second you take it out of the box. Complete with the polished chamfered edges this device remains sturdy and classy with its unibody aluminum design of which you can decide between Space Gray with a black front or a Silver Gray with a white front. The power button is on the top, the lock switch and volume buttons are still found on the right as before. Due to the larger battery capacity the actual unit is slightly thicker than the first generation devices.
Featuring the A7 chip, the iPad Mini with Retina Display uses the 64-bit setup just like the iPhone 5s and iPad Air. the FaceTime HD camera has been upgraded and is now a better performer in low light instances, the screen is much sharper and the battery life is definitely better and of course the huge access to the iTunes App Store make this new mini a winner. Though the new mini lacks Touch ID and it's a bit pricier than most of the small tablets; that doesn't discount the fact that the new mini tows the Apple line and if you're willing to splurge a bit this is definitely a tablet that should be explored.
Specs:
CPU – Apple A7
Storage Drive Size – 16GB
Storage Drive Type – Flash Memory
Display Size – 7.9"
Display Resolution – 2048 x 1536
Wi-Fi – 802.11a/b/g/n
Has Bluetooth – Yes
OS – Apple iOS7
Camera Resolution – 5MP
Front-Facing Camera Resolution – 720P
Ports – Lightning and Headphone
Size- 7.9 x 5.3 x 0.29 inches
Weight – 11.7 ounces
Website – Apple.com
Going to order one when they're released? We'll buy your laptop, tablet, or smartphone and help you get some money to put towards the new one! Get a quote right here on our site.