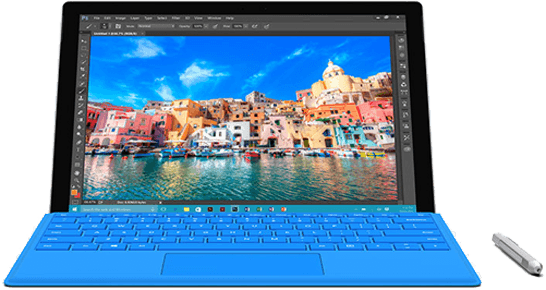 During the initial release of the Microsoft Surface Pro, many people found it to be unusable due to not having a full version of Windows loaded. These devices ran a specific RT version of the operating system. Lackluster performance of the keyboard also was an issue. Through the years, many improvements have been made to further refine the Surface Pro lineup and we're now being introduced to the newest iteration with the Microsoft Surface Pro 4.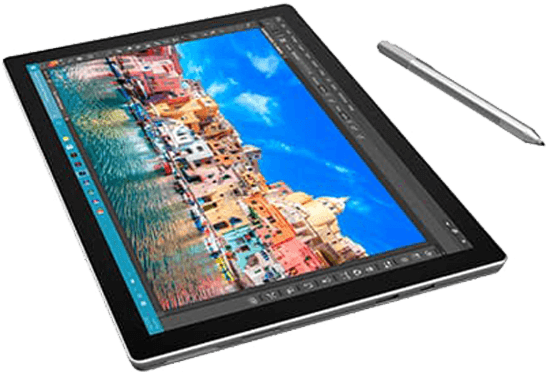 The screen size has been increased in this model from 12" to 12.3" giving users a slightly larger work space to create in. With the larger screen size, Microsoft was also able to pack the Surface Pro 4 with a higher resolution. The previous Surface Pro 3 could push out a resolution of 2160 x 1440 and now the Surface Pro 4 has one-upped its predecessor by upgrading to a resolution of 2736 x 1824 while still retaining the 3:2 aspect ratio that's unique to the Surface Pro display.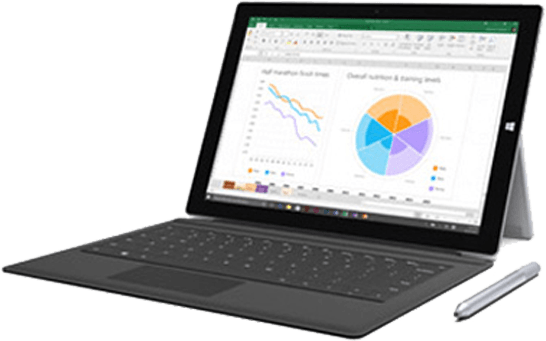 For peripherals such as the type cover and stylus, these have seen updates to their design and function as well. The stylus has been redesigned to look and feel more like a regular pencil as well as having the eraser updated to take advantage of Cortana voice commands. The type cover now has the keys spaced out more for both a better typing feel and for better accuracy. The keyboard is also backlit, which is an excellent productivity and usability improvement. The key strokes seem to have deeper travel and better feedback while typing, giving the device a more realistic, full-sized feel. Another big change to the cover has been the trackpad, which has now been changed to be coated in glass (not plastic as it was before) to increase the tracking precision.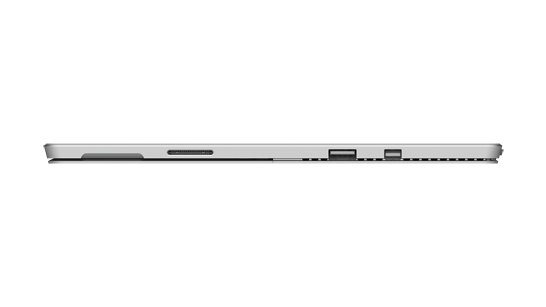 The base version of the Surface Pro 4 starts at $799.99 (at the time of writing this article) without the type cover, which is sold separately. Hardware that comes with the base version begins with a 6th-generation Intel core m3 processor, 4GB of DDR3 memory, a 128GB solid state drive (SSD), one full-size USB 3.0 port, a microSD card reader, and a mini DisplayPort output. With these specifications, the Microsoft Surface Pro 4 makes an excellent choice for those who are in the market for a productivity device.
Heading to buy one? We'd love to buy your old laptop or tablet and help you get some cash to put towards the new one! Get a quote right here on our site.