Top 5 Places to Sell Your Damaged Laptop
Feb 07, 2022
As time goes on, it becomes frustrating to have a malfunctioning, overloaded, slow laptop. Depending on how you maintain a computer, it can go for at least three years of use. Not even premium laptops can escape deteriorated hardware and outdated software. Meaning, you have to replace your computer after every few years of use.
You likely have an old laptop somewhere in your closet, that does not work well but you do not know what to do with it. It is better to sell it in this case because of the extra cash and giving manufacturers a chance for refurbishing.
Over time, replacing parts for your laptop over the years, leaves a lot of spare parts and wondering what you should do with the pieces. The answer: you need good places to sell your laptop. It is hard to locate physical stores to sell your damaged laptop parts. Which will leave you to wonder where the best place to sell them is. Today, we have curated the top 5 sites for you to sell off your equipment without hassle.
Story at glance:
Top 5 Places to Sell Your Damaged Laptop
Top 5 places to sell your damaged laptop in 2022 are all online based businesses which shouldn't surprise anyone. The list included more traditional platforms and newer social media ones.
What are the advantages of using eBay to sell a broken laptop. Auction style listings give a chance to get the highest price if multiple bidders are interested in the item. That usually happens with more unique models.
How does eBay stock up against Amazon? That depends on personal preference as well as desired outcome. Both platforms vary in terms of selling, shipping and returns. Amazon has built reputation allowing to get better prices than eBay on many items.
What if you didn't damage your laptop and wouldn't have to sell it after all? Tips on protecting your laptop to prevent any damage. Those include protecting the hardware from physical damage as well as software from getting corrupted.
Top 5 Places to Sell Your Damaged Laptop
1. Facebook Marketplace
On the surface, this platform is free for all places to sell your used computer parts. And there is a lot of transparency involved as you will be dealing with people's Facebook accounts. This platform uses PayPal, check, or cash for a payout. The downside is that in person meetings can be frequent. So, when it involves a one-on-one encounter, you need to be extra careful.
With this platform, you do not have to pay selling fees like others. And the chances of selling your damaged computer parts is hugely dependent on the location you are in.
Overall: The Most Wide Spread Method
2. eBay
eBay is the popular e-commerce industry. It is well known, brings in a lot of customers, and has a constant flow of buyers. But, there are several rules to follow when you sell your stuff on this platform.
First, you need to get a seller rating as this will encourage potential buyers. And you must consider its flooded market, as it has become harder to sell on eBay with it's massive competition.
One of the downsides to selling on eBay is the fees. eBay gets insertion fees for anything you list, which could be a problem for sellers with more than one part to deal with. If you make a sale, you can get the money, but your item needs to sell for a particular period. Or else, there is no refund on the fees. You will also experience the final value fee if you decide to auction your product. That means there is a specific percentage that will be taken out of any profit you make.
Overall: The Gambling Method
3. Reddit.com/r/hardwareswap
This is one of the best places to sell your computer parts. The Reddit r/hardwareswap is a section of Reddit that has become popular in the world of IT. A lot of people find reliable buyers and reasonable offers on the platform. There is also a chance to swap your equipment if you do not want cash for it.
There is a low chance of spammers on this platform as a seller or buyer must have been at least two months old and active with at least 100 comments. This means you can't just open an account for the sole purpose of selling or buying an item.
Another verification method is the compulsory timestamps; every item you post needs a date and username next.
It is not without its faults, but overall, it is the best place to sell your old or new products, and it is very safe.
Overall: The Communal Method
4. ITAD Companies
ITAD Companies are one of the best places to sell your laptop parts, particularly in bulk. They are highly specialized in buying parts and selling them to several secondary markets to maximize their profit. The more laptop parts you have, the better.
When you choose a vendor from the ITAD Company, know that convenience, price, and trust is one of the many things they consider. Most times, a vendor from the company will take the list of your items and negotiate with other vendors.
Overall: The Hands Free Method
5. Amazon
This platform focuses more on the trade-in program, meaning you get paid immediately, but you can only use your reimbursement on their platform again. Selling your laptop parts on Amazon is similar to the process on eBay. There are selling fees for every item you sell, and you will be charged $0.99 on every sale you make.
There is an optional professional plan if you want to sell in bulk. All you need to do is pay a fixed monthly price of $39.99. The advantage of using this platform is its trust name and trade-in value.
Overall: The Face Value Method
The important thing to know when selling your laptop parts is:
Take stock of what you have to deal with.

Understand your market.

Give a good title for your items.

Be detailed.

Display the components accurately.
Also, be sure to erase everything on your old laptop or storage device before selling.
eBay Selling Advantages
In our last post, we began talking about the eBay life and how maybe it could help you sell your laptop and other higher-dollar items. Though there are always some risks involved with any transaction online, there are considerably less when you use eBay's platform.
Last time we discussed opening an eBay account and various fees associated with it and also a little bit about linking your account with PayPal. Now that that is all set up you begin your path to making awesome listings. Let's pick up where we left off and get right into the pricing game.
Pricing
When using a fixed price, it's best to check eBay for its active listings of similar laptops to see with whom you will be competing. Sold items will show you what people are willing to pay. If something seems too good to be true, then it probably is and it's wise to investigate it first. If you see that a laptop worth $200 and it sold for $1000 make sure to check out the listing. It will most likely say that the sale was canceled after the bidding was over.
Don't get discouraged if you see an item that sold super cheap. It very well could have been a mistake, or maybe someone needed their money very fast. Just keep in mind that you don't need to sell cheap. You do need to know what your laptop is worth and just sit back and wait for the right buyer. However, you must practice due diligence when setting your price-points so you can offer a fair price but also get that sale.
Auction-style pricing
If you use the auction-style pricing you will set your starting bid low to attract more people. You will also set a reserve price, which is the least you will accept for the item listed. This is a setting that you can use in order to not sell your item too cheap in case if there isn't much interest from active bidders. If the bidding didn't garner as much as you expected and didn't hit the reserve price you can relist your laptop and start over and make a few adjustments to your listing details or pricing.
We advise that you use a 10-day auction. That way it's long enough to catch the attention of many users but it won't be listed too long that would make potential buyers look elsewhere. Most of the time bidders will watch your listing for the 10 days and most will bid at the very end hoping to get a good, last-second deal.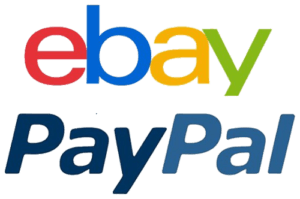 It's advisable to make your auction end on a Sunday evening. That's when most people will have time to get involved. For commercial listings, Monday mornings are the best. Don't forget to consider time zones when planning. Other times to consider if selling a laptop are coordinating around certain high-selling-seasons. These are seasons like before Christmas or when college semesters start. These are also times when sales increase and should definitely boost the selling price. One thing to keep in mind if you have a young account is that you will not receive the full sold amount, both eBay and PayPal will take their cut.
Bidders
Just like when we mentioned that established sellers usually gain more trust, the same goes for buyers. You cannot automatically block buyers with a zero feedback rating and they are the riskiest to deal with. If you would prefer to block zero feedback buyers you have to wait until that buyer contacts you and asks you questions showing interest in buying your item. Once contact is made you can block them. It's better to be safe than sorry when potentially dealing with careless and sometimes ruthless people. Save yourself time and don't deal with zero feedback users. Also, if someone asking questions seems suspicious, check their feedback that they left for others. If they leave a lot of negative comments, block them. They can potentially demand things that are not part of the deal. If you have a good laptop and accurate price points, it will sell sooner or later.
Check your live listing
After you finish creating and make your listing live, make sure to check it carefully. Especially the part where eBay fills out additional details. Those are often times wrong and confusing for potential buyers. If that's your case you may want to get rid of that section. Be sure to select the correct item category for the laptop to avoid your listing being canceled by eBay. If you're selling a Dell Inspiron 7000 Series laptop, it should not be listed with bed furnishing... know your product, save yourself a headache. If everything looks good the creation part is done. Check your email periodically and make sure to answer all questions that may arise about your laptop and the transaction.
Shipping
We would encourage you to not to sell overseas. Even if the buyer is fair the shipping company may be not trustworthy. Some Third World countries have no respect for private goods. Potentially there could be a low chance that your laptop will reach its destination in many of those countries. Even shipping within the US isn't risk-free. Use FedEx if available. If not your second best choice is UPS. Don't use the USPS to ship a computer. Of the three options, they have a higher rate of mis-shipped items that can be very difficult to try and recover. Also, they seem to break more stuff than FedEx and UPS.

Regardless of chosen service, pack your laptop well for safe shipping. For an expensive laptop, it makes sense to invest the $15-$20 for a good laptop shipping box and bubble-wrap to ensure its safe transit. You can set a separate price for shipping that will cover postage and packaging. Choose a shipping service that's easily trackable for you and the buyer. That way when the buyer contacts you asking where the laptop is, you will be prepared to provide the shipping info so that they may track it themselves, or at least know that you did your part in responsibly shipping their merchandise.
Returns
Returns on eBay can be very tricky nowadays. eBay protects buyers and not sellers. Many scammers take advantage of that. Let's break down what potentially could go wrong and how you can protect yourself from losing your money in case the buyer wants to return your computer.
Many businesses use tamper resistant stickers and other markings on their products for security reasons. That way they can tell if the computer was opened. You don't want to accept a returned computer that has been tampered with or even worse, had all its internal parts removed and sent back to you empty. Write down the serial number of your laptop. Post the number in the eBay listing as well. This will prevent anyone from sending you back a different unit.
By describing your laptop in great detail and giving an honest assessment of its condition you will eliminate any surprises on the buyer's end. If your buyer expects it to be in better condition based upon your description they will not settle if it's in worse condition than advertised. In the best case scenario, they will accept a partial refund.
In the worst case, they will send it back at your expense. Every time your laptop ships there is a risk of it getting broken or even missing. It is very easy for buyers to request to return your laptop and get their money back even if the laptop isn't defective. If they don't like it or find a cheaper one in the meantime, they can return it. The awesome part is that the buyer usually makes you pay for shipping both ways. Plus, like mentioned earlier, PayPal will hold the money to make sure that you will pay for every mistake whether yours or not.
People make a living off selling on eBay and some do really well for themselves. So don't feel discouraged if your item doesn't sell right off the bat at some crazy perfect price. There is a reason why eBay has so many users. It's a great platform connecting buyers and sellers around the globe.
If you are careful and follow our advice you will be just fine. The more transactions you complete, and the more experience you gain will make selling on eBay worth your time and even maybe fun. At first, it might feel like a hassle when things go wrong but you can always check online forums and seek advice from other users.
Lastly, our best piece of advice, if you feel like it's too much for you to handle then you will definitely be better off selling your laptop to us and not worrying at all.
eBay Versus Amazon
E-commerce outfits might look alike, but in reality, there are a lot of crucial differences in their features, tools, benefits and subtle challenges. Many e-commerce newbie sellers have made the mistake of believing that eBay and Amazon marketplaces similar and require the same kinds of strategies on both of them. In this article, we highlight these differences between eBay and Amazon.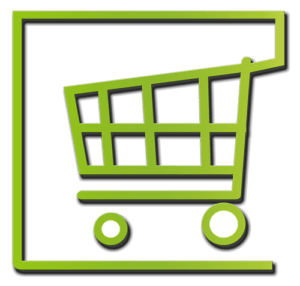 Size and Competition
First and foremost, the size of eBay is only a tiny fraction when compared to Amazon. So, in reality, eBay offers a more personalized experience and may or may not require many marketing tactics.
In 2018, revenues generated from Amazon were about $282 billion which is profoundly higher than the $10.75 billlion revenue generated by eBay.
However, it is even quite astounding to find that eBay has a tremendous number of sellers at over 6.7 million sellers.
The glaring difference can only be witnessed by looking at the amount of money sellers made on both platforms.
Even as Amazon has a higher amount of sellers, over 200,000 sellers on Amazon are making over $50,000 sellers, and 50,000 sellers are actively making $500,000. However, eBay sellers are merely selling off bits and pieces. Therefore, eBay sellers will spend less on advertising than on Amazon since they will witness lesser competition on this platform.
Warehousing and shipping needs
Another difference between eBay and Amazon is Amazon's unique fulfillment by Amazon program which gives sellers immense relief over their shipping. This saves a lot of time and work but as expected Amazon takes storage and shipping fees from sellers.
However, these costs are lower for the sellers than taking care of it on their own.
Amazon FBA might create a hassle-free platform, but it is tremendously expensive for sellers who just want to get some products out of their garage. Also, there is a sales tax nexus problem to deal with because sellers will have to collect and remit tax in all states where they handle business.
Management fee structure
eBay demands a flat 10% commission for every sale. However, this does not take into account the 2.9% to be made to PayPal. On the other hand, Amazon charges 15% processing fee which includes payment processing fees as well as inbound shipping and outbound shipping fees if you are using the FBA program.
If you take into account your shipping fees on eBay, you will find that Amazon's rate is lower than eBay. According to ecomcrew, Amazons fees cost about 20% less than eBay's fee structure.
Friendly or Not so friendly culture
Both platforms are focused on the buyer, but Amazon takes it to a whole different level. Amazon suspends with no prior notice. They will only inform the seller about this development in feedback after they have taken actions.
eBay, on the other hand, is fairer to sellers and may suppress a seller's listings but will delay on the actual suspension. However, it is important to note that both companies are very unfair to sellers; the only difference is that Amazon is more ruthless about it.
Branding
Both marketplaces offer some level of customized support for your products, but you can't expect the kind of unlimited branding opportunities from a website. However, the sort of products you want to sell would determine the platform. eBay is more notorious for the sales of used products whereas Amazon is all about new products.
Nevertheless, Amazon offers more options with adding product categories which means more ways to promote your brand.
Newbie sellers will find a more competitive and bigger marketplace on Amazon. But if they only want to sell a few units of products, primarily used products, then eBay would be the better option.
There is equally a problem of sales nexus tax legalities and advertising fees to deal with when using the Amazon platform. But then again, Amazon FBA is a welcome solution to shipping and storage problems. Therefore, the right selection would depend strictly on the Seller's goals, budget, and type of products.
10 Ways to Damage a Laptop. And How to Prevent it

Laptops are great and they make our lives much easier. You can send a mail, design graphics, write a book, watch movies and do several other things on your portable computer. Sometimes we forget that laptops are fragile and can easily get damaged. Then we're left with only one choice, to sell laptop for parts.
Here are 10 most common ways to damage a laptop, and how to prevent it.
Do not open your laptop from the sides: opening your laptop from the sides can cause the hinges to get damaged. It will not happen immediately, but after several openings, it will start to affect the hinges and the lid.

Always make sure you clean your laptop: dirt and dust can affect the functionality of your laptop. If your laptop is filled with dust, it becomes harder for the cooling fan to work as it should.

Avoid Spillage from fluids: we can sometimes be absent minded and allow fluids like water or morning coffee to spill on our laptops. This should be avoided as this fluids can find their way into the motherboard and affect the wires in few months. Whenever you have something spill on your laptop, make sure you instantly shut it down and remove the battery. Then take it to the service center for cleaning.

Do not carry your laptop uncovered: do not move around with your laptop without protecting case. Keeping your laptop protected when traveling. It will help save it from accidental falls, spillage or potential cracks.

Do not overcharge your laptop: avoid leaving your laptop plugged in power supply when I is fully charged. Also, avoid using your laptop plugged in power supply when it is fully charged. This action may not cause an instant problem, but regular occurrence will damage your battery on the long run.

Avoid installation of untrusted programs: Not every fancy software you see is good for your laptop. Some fancy programs will harm your system and completely damage it. There are several mischievous programs online, avoid unusual downloading of these unknown programs.

Update your antivirus regularly: an antivirus is a software created to help protect your system from destruction from viruses. You need to update your antivirus regularly, as an outmoded antivirus will mean that your laptop is susceptible to the latest types of viruses. Also, failure to update your antivirus makes it easier for hackers to hack into your laptop.

Do not use liquid to clean your laptop: you might not have seen it before, but certain people use liquids to clean their laptops. Liquid of any form should not be used to clean your laptop, rather you should use a dry cloth to wipe your laptop clean when the need arises.

Avoid throwing your laptop: never throw your laptop, regardless of the surface you are throwing it on. Some people throw their laptops, especially on the bed and this should be avoided. The laptop is fragile and it could get damaged if thrown. When you need to put your laptop somewhere, gently place it down to avoid damaging it.

Do not block your laptop fan: laptops have a small fan inside that helps to prevent it from overheating. Make sure you find the location of the fan in your laptop and avoid blocking it when using your laptop. Blocking the fan will result in overheating and this can make the laptop to shut down and cause major damage.
Selling your laptop in 2022
Things have changed after the pandemic disaster in the last two years and are not going back to the normal before 2020.
We have seen every aspect of business, education and essentially our lives slowly shifting from in person interactions to online over the last two decades. But the last two years accelerated this transformation beyond everyone's imagination. That happened to the way we buy and sell goods of course too. Just look at the giant Amazon that grew its profits by hundreds percent.
Addiotnally ever growing popularity of laptops makes their numbers multiply every year. With owning too many electronic devices we have to really think smart about recycling them. Dumping them into landfills will pollute the environment and worsen the climate change crisis.
Unfortunately we are usually made to believe that old computers are not worth anything and nobody wants them. In this article we will show you the best ways to sell your laptop for cash in the US.
Pre sale wipe off
Computers nowadays store so much information about our lives that handing it away to the wrong person could cause a disaster for us. Just to mention stealing your money or your identity.
So the first thing you will do before selling your laptop or even a phone is to permanently erase your personal data. What if the computer or phone are broken and you cannot access and erase anything. Well this is where SellBroke excels, but we'll talk about it little later.
New laptops are easy to be restored to factory settings through their recovery settings. If you are able to do it, perform a factory reset and you are good to go. Otherwise you can try to format the hard drive using the tools built in your OS. Lastly if none of the above are options for you pull out the hard drive and destroy it physically.
Prepare for the sale
Evaluate your laptop based on its performance and condition. You shoudl know the specs of your computer like the processor speed and generation, graphics performance, size of ram and storage and the size and resolution of the screen.
To check the price go to eBay. It's the largest platform of sellers and buyers worldwide and you will get the best idea of what your laptop is worth. Don't think about how much you paid a few years ago because electronics devalue rather quickly and you will not be able to recover most of the money originally spent.
Once you have some idea of what you can get research different places to check you luck.
Local stores
If you have time and transportation you an check your local pawn shops and electronics stores. Your will probably be offered the least at pawn shops. Some of the local electronics stores and ever computer repair shops offer recycling gadgets for cash so you can check them too.
But if you want to find a local buyer quicker you must try Craigslist, the undisputed classifieds king. You will still need to meet your potential buyers but they will come to you. You will still waste time as not all buyers will end up buying and they will try to haggle with you and unless you like it it's not the best way to sell a laptop. To post it on Craigslist or eBay you will also need to take pictures and make a listing. People also complain about getting scammed on eBay and Craigslist.
Selling online
But back to how we started this article everything is done through the internet. You will not only save time but you will also get more money for your device. There are many services that will offer you cash and will take care of the whole transaction for you. They will take care of you privacy in case if you're not able to erase your data. They will also send you free shipping label or even an empty box, so you don't have to worry about any of these things. You just find the online and check their offers before you find one that you like and you place your order with the company.
Some of the best websites that buy laptops online are SellBroke, Gazelle and SellLaptopBack just to name a few. SellBroke offers the best value and impeccable service reflected in customer's reviews. Every transaction is quick, easy and hassle free.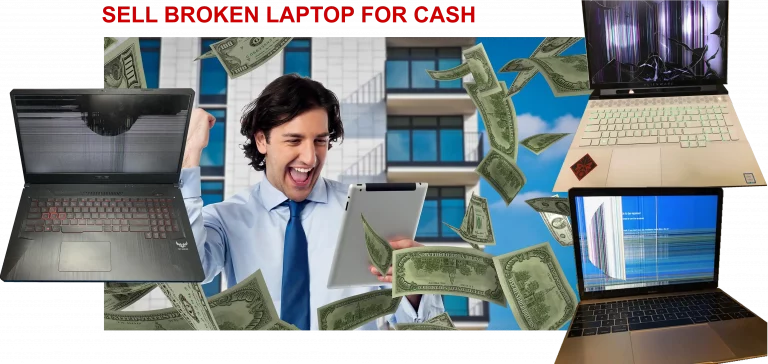 SellBroke will not only offer you the best value for your laptop but also will make the transaction seamless and hassle free. You will receive a free shipping label instantly and your device will be processed within 24 hours from its arrival at the destination. Within the 24 hour time you will also get paid through PayPal, Zell or Cash App. Lastly SellBroke guarantees to professionally and permanently erase all your private data protecting you from hackers. Afterwards rest assured that your old deice will find a new home and will be put to the best use. That is extremely important for our natural environment. 
Consider this
Whether you decide to sell your laptop online to one of the online Buy Back Platforms or on eBay or in person at a local store or through Craigslist remember about the steps to take to protect your privacy and to get the best value for your device. Also be sure to sell your old computer right after buying a new one before it looses its value completely. That way you will have extra cash for the new laptop and will get a higher end machine. There are really nice new models that came out in 2022 and you will sure be happy with the newest gadgets.