Microsoft Surface Duo 2: Not Good Enough
Nov 11, 2021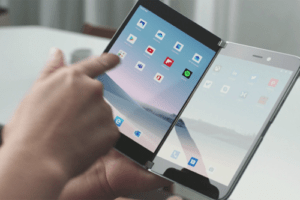 The Surface Duo 2—Microsoft second foldable phone -- has two screens joined by a hinge, allowing it to fold in half like a book. Compared to the original, it has been upgraded in every kind of way.
The original Surface Duo had a lot of potential and hype behind it. But disappointingly, it had weak performance, the camera was subpar, and the software was buggy. But one year later, we have the sequel, the shiny new dark-colored Surface Duo 2.
Microsoft really upgraded this device:
New high-end specs.

Displays are more extensive and faster with thinner bezels.

Better software implementation.

A set of real cameras on the back.
But despite the changes, it still has a couple of problems that the previous Surface Duo did not have. You might be thinking that it's a good time to sell your iPhone and buy the Duo if two screens sound good to you. Apple isn't planning on releasing any foldable device any time soon.
Design
What Makes it Work
The design of this device is the same as the previous one, but the difference is you can now also get it in black. Although it looks dull in pictures, this device has two different 5.6-inch Gorilla Glass. And despite its drab look, it still has a premium feel on hand.
Like the original, this device is a beautiful piece of hardware with a nice thin, sleek body. Due to its new camera bump, it is a little heavier than the former Duo. However, it still maintains a good balance when you open it, and it distributes weight evenly. It even folds the display backwards and is easily useable in one hand.
Overall: A CRISP FEEL AND LOOK
Display
What Makes it Work
On display, you will notice a peculiar aspect ratio issue here, and this is due to the unique 1892 x 1344 resolution. Still, apps expand to cover the whole screen nicely if you choose the automatic span setting. It also comes with a 90Hz refresh rate which allows you to scroll smoothly on the device. The AMOLED panels are beautiful, providing bright and crisp video and image quality.
Unlike the Samsung foldable device—a phone when it is closed and a tablet when opened—the Duo 2 is slightly different. Since the hinge runs down the center of the display, it cannot be used as a tablet when opened.
Overall:  SIMPLE AND CLEAN
Performance
What Makes it Work
There was a lot of lag and inconsistencies in the original Duo, but the new Snapdragon 888 has fixed that. It also comes with 512 GB of storage and  8GB of RAM. The display orientation adjusted quickly from Book mode to Tent mode.
During Geekbench tests, this device scored 1,094 on single core tests and 3,478 on multi-core tests. An improvement from the original Duo, which could only score 737 on single-core tests and 2,815 on multi-core tests. And after several other tests, the CPU performance is excellent, and its overall performance is way above most Android phones.
Overall: A MUCH NEEDED IMPROVEMENT
Camera
What Makes it Work
The camera placement has changed. In the original Duo, one camera was placed inside the device, while the new Duo 2 has a new camera module and bump at the back like most phones. It also takes better photos than the previous model because the camera lenses can provide more color and sharpness. The downside is that you have to keep the phone open while shooting to use the camera. But the image quality is top-notch.
Overall: A NICE NEW FORM
Battery life
What Makes it Work
The Duo 2 has a good battery life despite its two screens instead of one. After a full day of text messages, streaming Xbox games, taking photos, and checking email, I still had about 30 percent left at the end of the day. I was able to charge up to 65 percent in an hour, and with the new Glance Bar, I could view it without having to open it.
Overall: MEANT TO LAST
Final Verdict
Overall, the Surface Duo 2 is what we expected the original Surface Duo to be. Its versatile design makes it better for specific tasks like reading, watching videos, or playing games. My reservations about this device are that more apps need to be optimized to work well on both screens.
The way apps work across the screen needs to be compelling enough to convince people to use them. It also feels a little awkward to use as a phone because of its size. But if you are already used to large phones, the transition won't be uncomfortable.
Should you Buy it?
The improvements from the previous model are vast and very impressive. If you're looking for something different from traditional phones, the Surface Duo 2 should be your next buy.
For more news on the latest tech, or selling your old tech, visit sellbroke.com.