The New M1 Max MacBook Pro Review: Return of the Ports
Nov 03, 2021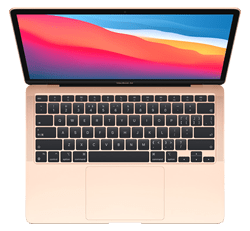 The M1 Max MacBook Pro scaled up in different departments, especially in the GPU. It is a more extensive system on a chip, and while it is the same 10-core CPU, it has up to 32-cores of GPU and up to 64GB of shared memory. The M1 Max is significantly faster than any of the Intel MacBook Pros. With the potential of having a great battery life too. The too good to be true rumors surrounding this MacBook turn out to be true. You can sell your MacBook to us for cash, if you have an older one and pick up the newest model from Apple.
Here's our look at the new M1 MacBook Pro.
Design
What Makes it Work
There are a few differences in this laptop compared to the original M1. Before, it had thinner bezels, with a 14-inch screen. But now, it has a bigger 16.2-inch screen. It gives it a more expansive screen estate, while still having the same form factor. The M1 Max is loaded with 10-core CPU/32-core GPU, and it comes with 64GB of RAM and 2TB SSD storage. It is a little bigger, thicker and heavier than the previous versions.
Thankfully, Apple brought back most of the ports they removed in previous models. They brought back the HDMI port, three Thunderbolt 4 ports, the headphone jack -now supporting higher impedance headphones- and a new, improved display.
Instead of having two or four Thunderbolt ports, you get a USB-C plug version or dongle for display output. The new M1 Max has brought back HDMI ports, MagSafe and SD card slots.
Overall: BACK TO A CLASSIC STANDARD
Display
What Makes it Work
This is new screen technology, and there are mini LED screens which is the same screen technology in the more prominent iPad Pro. It looks fantastic and gives an OLED type look. The bezel on each side of the laptop has been trimmed down, so the webcam is now no longer at the top border of the screen but in a notch.
The display has been taken up a notch. And both sizes now come with a new 120Hz ProMotion Retina display and 1600 nits for HDR peak brightness. It is excellent for creators who are looking to hurdle into an HDR workflow.
Overall: MODERN DAY MARVEL
Keyboard
What Makes it Work
The whole keyboard keeps its subtle standard while providing a smooth typing experience. There is no longer a touch bar on the keyboard. Instead, there are now regular function keys. Although, I loved the touch bar because of the functions it provided for the fader, volume, and brightness control. The keyboard is still not water resistant. But don't fret if you spill anything on it. You can sell broken MacBook to us for cash and buy a good one, whether new or used.
Overall: KEEPING IT SIMPLE
Performance
What Makes it Work
This is one of the first machines with Apple's second wave of the M series chips. Apple has moved away from Intel chips. In Premiere Pro, I took some 8k footage and added a bunch of color corrections. Overall, it would have taken about 20 minutes to export a minute-long video on a Core i7, but on this device, it took less than 10 minutes.
The extra thermal headroom in the 16-inch chassis allows you to push the fans inside here even further for an extended period. The Cinebench test slams every single CPU core 100 percent every step of the way. Both high performance and automatic were about the same score, whether on battery or plugged into a wall.
Overall: A POWERHOUSE
Battery Life
What Makes it Work
For battery life, there are three different options to choose from. There is low power, automatic, and high power, which also applies when plugged. Despite the power-hungry CPUs and GPUs quipped in this laptop, Apple has still managed to wring out extensive battery life, and this is one of its amazing features.
While most premium gaming laptops or Window workstations last for several hours before needing a recharge, the M1 Max can last for over 20 hours of usage, surpassing them all.
Overall: OUTLASTS THEM ALL
Final Verdict
`
It feels like Apple finally listened to users and provided the laptop that most people have all been asking for. The 14 and 16 inch M1 Max MacBooks now have the MagSafe. Its improved 120Hz ProMotion display also makes using it smoother and faster. It is the best option for video editors and creators.
If you do not mind the size and price, and you want a vast screen space and great power, the 16-inch M1 Max may be the best option for you. The 14-inch M1 Max offers the same configuration except for a better thermal system and CPU options. So, it all comes down to your preference, need, and budget.
Should you Buy it?
This is an impressive machine, no matter which version you get. Though the price is steep, it is impossible not to recommend the M1 Max. You should absolutely buy this unit.
For more news on the latest tech, or replacing your old tech, visit sellbroke.com.