Alienware X15 Laptop: Thicker Is Better
Nov 01, 2021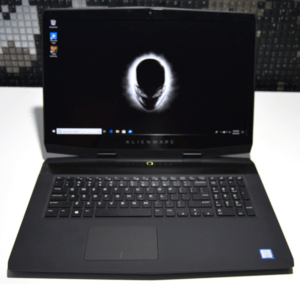 The Alienware X15 is a genuinely remarkable and phenomenal laptop. It is the smaller version of the Alienware X17. Dell nailed the basics of this laptop, with all the most essential things you might want in a high-powered laptop such as:
a comfortable keyboard,

great screen,

accurate touchpad,

and perfect temperature.
It has a stunning look and portability.
But is it worth your time? Let's take a look at the Alienware X15.
Design
What Makes it Work
The look of this laptop is impressive. Often, gaming laptops with RGB light look tacky, but the X15 is pure class. The screen has a slight flex to it, but nothing to worry about. The laptop weighs 5.1 lbs. With its compact 240watt charge weighing 1.4 lbs., it is still lighter in total weight than most of its competitors.
All the ports are on the back of the laptop. And while that keeps the laptop looking super neat, it can be a little stressful leaning over to plug, unplug, and fumble around to find the correct port. The port selection is decent as it comes with:
a USB 3.1 port,

Thunderbolt 4,

a USB-C port,

a microSD slot

and an HDMI 2.1.
This is not a bad selection of ports considering this laptop is a slim gaming laptop.
Overall: FULLY LOADED
Display
What Makes it Work
This unit has a 1440p, 240Hz panel, and it comes with 400 nits of brightness on a non-reflective map panel. This makes it bright enough for whatever environment you use it in. The screen display is a 16x9 aspect ratio compared to the 16x10 ratio in most laptops.
The color reproduction is excellent, although the contrast could be better. This laptop has Windows Hello facial recognition, and it works well. It has a 79 percent sRGB and 99 percent Adobe RGB. The colors and contrast look good, and while testing the panel, it turned out to be super responsive.
Overall: A VIBRANT PICTURE
Keyboard and Touchpad
What Makes it Work
The keyboard on the new Alienware X15 is excellent. It has good travel with a satisfying click. My reservations are that the secondary functions do not light up, and it is a complete failure on a laptop in this range. But since the keys are individually lit, you can solve this by changing specific keys to a different color.
The touchpad is also very good-smooth and accurate. Unfortunately not large enough for a laptop of this size.
Overall: Somewhere in the between
Performance
What Makes it Work
The laptop performance can be configured in the Alienware command software. In Geekbench, which tests a range of CPU tasks, this laptop single-core scores are better than most laptops. The multi-core scores are even better in Cinebench R23 (which tests performance when the processor is maxed out) as  they were extraordinary compared to the competition.
During video editing, the X15 cut through challenging video projects like butter. All of these performances are achievable without feeling too hot to touch. It is because of the four fans included for cooling. It is also quiet, as you rarely hear the fan noise.
The gaming experience was what I expected from a 90 watt 3060 with no MUX switch, but you will have to compromise when you buy a slimmer laptop like the X15. If you are looking for a desktop replacement performance, you will need to opt for a heavier and larger 15-inch or 17-inch gaming laptop. Playing games on the X15 was an enjoyable experience, with the laptop not throttling at all.
Overall: POWERFUL ENGINE
Battery
What it's Lacking
Even with NVidia's advanced optimum, the battery life of this laptop is poor. At best, you will get four hours without dimming the screen, and when I increased the brightness and put on the RGB keyboards, I scored almost eight hours. If you want long battery life, this is not the laptop for you.
The laptop also comes with a newly designed charger. It is much lighter and smaller than the previous 241 adapter: making the package even more portable.
Overall: Not strong enough
Final Take
If you have used a Alienware machine over the last four years, you will know what to expect in this powerful device. This laptop is excellent, but not without specific issues. If you don't like those you can sell your laptop to us for cash and look for a better one.
While Alienware was trying to follow the thin and light laptop trend, it should have focused on performance instead of its size. The X17 gives plenty of unique features. So we expected the X15 to be a more lightweight and thinner version with the same performance. In the end, I was a little disappointed.
Should you Buy it?
With the reservations I have, and knowing there are better options, I would say skip this one.