MSI Modern AM241P 11M: An Affordable Business Desktop
Oct 05, 2021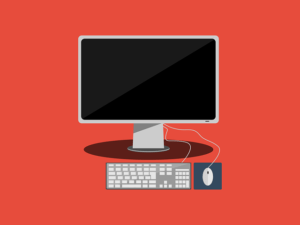 This all-in-one desktop is geared toward the business minded or students, as it comes in at a very great price, and delivers excellent performance for everyday use.  This is the review of the MSI Modern AM241P 11M for 2021. If you buy it and don't like it you can sell all-in-one pcs to us for cash, even broken ones.
Design
What Makes it Work
The whole build of this desktop is plastic and it has a "factory sealed" sticker on the screw heads; meaning there is no way to access the inside. It is easy to set up this desktop by simply attaching the base to the stand. You will then join it to the VESA mount on the central unit at the back.
It comes at a pretty two-toned finish. You have the option to use the stand that comes with this desktop or mount it in other places. It comes with a basic wireless mouse and keyboard to match the aesthetics of this all in one.
Then you will insert batteries into the keyboard and wireless mouse, plug the 2.4GHz receiver into the USB ports, and that is it.
The port selection is decent.
On the left side:
2 USB 3.2 Gen 2 Type-C ports

2USB 3.2 Gen 2 Type-A port

one microphone/ headphone combo jack

power button
On the back:
one HDMI in

one HDMI out

2 USB 2.0 Type-A ports

one RJ45 LAN port
On the top:
a USB 2.0 Type-A port (to connect the external webcam)
On the right side:
one switchable 2.5-inch storage drive
Overall: FULLY EQUIPPED
Display
What Makes it Work
This desktop comes in at 23.8-inch IPS display with a resolution of 19:20 by 10:80 and a 16:9 aspect ratio. There is the MSI anti-flicker technology that we have come to enjoy. It has a pretty nice display: deep blacks, white points, decent contrast, and good color accuracy with a 1.7 delta E score. It covers the color gamut pretty well at
96 percent sRGB

72 percent Adobe sRGB

72 percent of the DCI color gamut

66 percent NTSC
The matte display will prevent unnecessary glare or reflection. And since it is an all-in-one, you will be using it indoors, meaning it is not an issue with direct sunlight. In terms of brightness, it measured 278 nits. It has a sleek and modern look with its slim bezels.
You can adjust the display to the edge of the bottom from 85mm to 220mm from where it is placed. Adjusting the height of the display is very simple. But unfortunately, there is no way to change the angle from left to right. Yet, no matter the height of the screen, you can choose to tilt it back and forth.
Overall: A SOLID DISPLAY
Keyboard and Mouse
What Makes it Work
The mouse and keyboard with this desktop are of the low budget standard, but it functions flawlessly. The solid Chiclet keyboard has an excellent key travel of about 1.5mm. The numeric keypad and cursor buttons will be of great benefit to people who use the desktop for office work.
The mouse comes with two side buttons that are used for back and forth options by default. It also feels comfortable to use and gives tactile feedback.
Overall: CHEAP BUT SURPRISINGLY ACCURATE
Performance
What Makes it Work
This desktop runs on the Core i5- 1135G7 with integrated Iris Xe graphics and 11th Gen Tiger Lake Processor. Performance is excellent if you want to do everyday tasks such as web browsing and Microsoft office. It is not a gaming desktop, but you will get some playable frame rates if you lower the settings.
Overall: MEANT FOR WORK
Final Verdict
The MSI Modern AM241P 11M has a compact design with thin bezels- which gives it a much sleeker and more modern look. The HDMI-in and HDMI-out ports were also a great feature for this desktop, especially if you want to use it as an external monitor. I like the fact that it has an upgradeability factor for the RAM and SSD. The best part is how affordable it is.
If you want to use it for gaming, you will have to get one with a discrete GPU.
My reservations about this device are the lack of a Thunderbolt 4 port and underwhelming audio.
But for what the desktop is, it works very well. Overall, it is not a deal-breaker, and I think they did an excellent job with a reasonable price.
For more news on tech, or replacing your old tech, visit sellbroke.com.