Apple M1 MacBook Air Review: 5 Months Later
Sep 02, 2021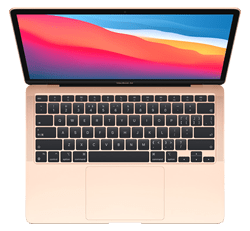 After using the Apple M1 MacBook Air for five months, it is still solid. At first glance, you would think the M1 Air is still the former model that is Intel-based. But what has changed cannot always be seen. Here is our look at what we've felt about the Apple M1 MacBook Air so far.
The Good News
The M1 Air is still
a stunning performer,

has a perfect battery life,

quiet,

and runs any app you need.
And is at a less cost to you and presented in a light package. It has a large display and trackpad, four times the storage, and two times the memory. You will still have the window layout, and you can be assured of flexible multi-tasking. And it also comes with top-notch I/O options with USB 4 and Thunderbolt 3.
Depending on your work or usage, you might notice some shortfalls, such as:
no touch screen,

absence of Apple Pencil,

no 4K camera

and no face ID.
While these are not strictly deal breakers for me, they may be for you. The face ID would have been convenient on this laptop, but thanks to the Apple Watch unlocking and Touch ID, I could gain instant access to my computer easily.
No Regrets With 8GB Memory
The 8GB of RAM comes in handy when dealing with multiple apps at once. I even tested to see how much of the 8GB could take by leaving every tab, app and window open all day. I left Firefox and Safari open with:
Calendar,

several note apps,

Preview, Calendar,

Messages,

Mail,

a VPN,

Scrivener,

Thesaurus,

Folder iStat Menus,

and Copyclip.
It all ran seamlessly.
This simple test can interpret that the 8GB RAM will deal with whatever workload you bring its way. However, if you want to use your MacBook laptops for business, it would be best to splurge on the 16GB model.
And while the 13-inch M1 Air comes with the same features, it has been improved with:
better mics,

20 % brighter screen,

better battery life,

and faster graphics.
While the less-expensive MacBook Air is still a solid choice, it will lack the newer features of the M1 Air.
The Best Design
The M1 Air has maintained a consistent design over the years. Although it has similar looks to the Intel generation, it is still a great design. In all of my use in the last five months, I have had no reason to feel a need for a new laptop. It doesn't feel outdated, and I see no need for a change. The laptop's design is stunning with a low profile, simple construction, and a tapered design. I have to say bezels and everything; it is the most timeless device I have.
The Not-So-Good News
While the MacBook Air came with plenty of goodness, I have issues with a couple of features.
iOS Games and App
The iOS apps available on the macOS functions pretty well, but the iOS games might be an issue if you want to play games with a trackpad and keyboard as touch interfaces do not transfer well from a keyboard and trackpad.
Screen Brightness Affects Battery Life
The M1 Air screen brightness is better than most Intel MacBooks. However, with the use of Apple Silicon, there is a noticeable three to four hour battery life reduction, especially if you put the display at 100 percent. This could be why Apple is steadily pushing the micro-LED backlighting.
Kernel Extensions
Adding kernel extensions to security features can be a pain in the butt, and it will get more challenging as Apple continuously enhances the security of macOS. To use the kernel extension, you need to go through some subtle navigations or one/several reboots.
Backups May Have Issues
Backup issues might not be a problem for an average user. But if you are a technical user of the MacBook Air, the bootable backups- while possible- might fail if your internal SSD dies. This review is not 100 percent complete, but this could mean there will no longer be a third-party backup utility as Apple does not have a clear path on how it works. The advisable way to deal with this is to have a second MacBook. Also when the SSD fails you can sell broken MacBook to us or cash in order to buy a new one.
Last Words
Despite the good and bad features, the Apple M1 MacBook Air is an excellent buy. I have no regrets about buying it.
For more info on the latest tech, or looking to replace your old tech, visit sellbroke.com.