Intel NUC 11 Extreme: Tiny but Powerful Gaming PC
Aug 30, 2021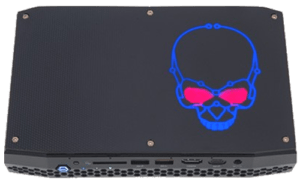 The Intel NUC 11 Extreme, also known as the Beast Canyon, is one of the most powerful gaming PCs in existence. It is hard to tell how much of a powerful workhouse this PC is from its build and design. It comes with the features of a full-sized gaming machine all into a compact computer.
This PC is mainly for people that love to fiddle with Notebooks and do not mind paying for incredible designs. It is an 11th Gen computer, and comes with a big room to put a 12-inch graphics card.
Design
What Makes it Work
Even though the new NUC Extreme is practically a tiny laptop, it is still more significant than the previous models. This gaming PC comes with Intel Core i9-11900KB and an NVIDIA RTX 3060 card. The choice of design and build for this laptop was carefully chosen. It is presented in black matte and has an "Engineered to Win" inscription on the side.
Unlike traditional laptops, this gaming PC comes with a unique design feature that consists of a small and expendable NUC module. It is 200mm high, stretches to 355mm, and is 120mm wide – enough to house up to 300mm graphics card and the NUC module. And aside from the back and front casings, every part of the chassis is externally and internally made of metal.
The ports selection comes in M.2 and Thunderbolt 4 ports. In the front of the gaming PC, we can see:
an SD card reader,

two USB 2.0,

and an audio and microphone jack.
There are several Kensington locks at the back as well.
On the sides:
there are 6 USB 3.2 Gen2 Type-A ports,

external Wi-Fi antenna ports,

one HDMI 2.0 port,

three DisplayPort 1.4,

one RJ45 2.5G,

and two Thunderbolt 4 ports.
And aside from the Thunderbolt 4 ports, the rest of the USB ports operate at 10 Gbps.
Overall: SLICK AND FULLY PACKED
Performance
What Makes it Work
The NUC 11 did not disappoint us in performance. It smoothly outperformed most desktop CPUs and Notebooks. The multi-thread scored above expected during tests, and the GPU did not fail to deliver beautiful figures during the benchmark test.
This PC has a higher performance than expected.  During the PCMark ten tests, the NUC 11 scored over 7,500, eating up a long list of tasking performance. The single-core test beat a desktop Core i9-10900K by 23 percent and was a close second in the multi-core test.
What it's Lacking
The gaming performance you get on the NUC 11 is very dependent on the kind of graphics card you use. We only ran a few games during the test because the PC does not come with a graphics card. There was no difference from the RTX 3060. The UHD graphics that comes in this PC is something that can't be removed. Despite the Core i9-11900KB processor, gaming experiences can be slow if not adding a graphics card. It can be hard to finish as low as 1440p with the integrated graphics.
Despite all this, you will be missing nothing in a full-sized desktop that is not in the NUC 11. Even though the integrated graphics are not perfect, you will still get the best performance if you add an excellent GPU to this gaming workstation. And because the new design of the chassis comes with a lot of space, most cards would hold firm.
Overall: Needs a bit more
Battery
What Makes it Work
The battery life might be the only issue that comes with this powerful gaming device. It comes with a 650W power adapter that could be an issue for hard-core gamers. It won't give enough power for most high-performance GPUs. However, it is not a problem for the NVIDIA GeForce RTX 3080. We can only expect to improve battery life as the previous generation came with an even lower battery power of 500W.
Overall: Needs a bit more juice
Final Verdict
Intel's NUC (Next Unit of Computing) devices have constantly surprised us in the expectations of how small PCs work. And this new Intel NUC 11 did not disappoint. It is used not only for gaming but can also function as a streaming and recording device. You can sell laptop and buy this tiny PC instead since it's extremely portable thanks to its dimensions. 
Intel did a lot of work on this device compared with older NUC models. It is packed with the components of high-powered gaming rigs and several customizable options into this little box. Its tiny package comes with brilliant features and great potential.
Need more news on new tech? Or need to replace your old tech? Visit our blog at sellbroke.com to find anything your might need in the world of tech.