Dell Latitude 7320 Detachable: A Competitive Surface Pro 7 Killer
Aug 26, 2021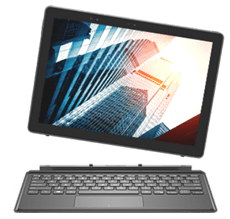 The new Dell Latitude 7320 is a Windows 11 detachable laptop with a 256 GB SSD and 16 GB of RAM. The model we tested has the Intel 11th generation Core i7-1180G7-vPro Processor. It is highly competitive to the Surface Pro 7 with its incredible new features and great design.
Design
What Makes it Work
The design of this laptop is very similar to the Surface Pro X. It comes in a black aluminum chassis and a flexible stand that can go as flat as you want it. This 3-pound laptop has a thinner kickstand, unlike the Surface Pro 7. It's aluminum chassis differs from the magnesium one that comes with the Surface Pro 7.
The stand even has a detachable notch that comes off, giving you a tablet feel. It is a laptop that offers a premium feel, and you can easily use it for daily work.
Every model of the 7320 comes with:
dual USB-C thunderbolt ports on each side,

a DisplayPort,

and a power delivery 3.0 port,

3.5mm headphone port

an intelligent card reader,

a fingerprint reader,

an external SIM card tray,

and a lock slot.
Just like the Surface Pro 7, it comes with no micro-SD port.
Overall: A BIG PRIZE IN SUCH A LITTLE SPACE
Display
What Makes it Work
The unique feature of the 7320 is its 2-in-1 display. The display is more significant than the Surface Pro 7 display as it comes in 13-inches. There are tiny bezels on the left and right sides, and the lower part of the laptop houses the keyboard. It is very slim, almost looking like an iPad Pro. With the quality of the display that comes to this laptop, there will be no room for disappointment.
It comes with an aspect ratio of 3:2, just like the Surface Pro 7, but with an additional inch, giving more image on display. This comes in handy for business or gaming use. This laptop hit 90 percent of the color gamut and a brightness of 418 nits during colorimeter tests.
Overall: A WELL ROUNDED DISPLAY
Keyboard and Touchpad
What Makes it Work
The keyboard of the new Dell laptop is very similar to the one in the Surface Pro 7. However, there were extra touches in the overall design, giving it a premium look.  The previous alcantara material that was present in previous keyboards has been replaced by faux suede. It's texture and feel give a much more premium aesthetic.
The height of the keyboard can be adjusted to a preferred angle to type or it can lay flat. This Latitude did not have issues with keystrokes or response during a typing test, as it got to about 80 WPM.
Besides its length, the trackpad is also responsive and with no issues. It also comes with precision gesture support by Microsoft.
Overall: PRISTINE LOOK AND FUNCTION
Performance
What Makes it Work
This laptop chews up any workload that comes its way. This laptop handles a heavy workload with 16GB of RAM and an 11th Generation Intel Core i7-1180G7 processor. So, whether you want to run several Chrome tabs or simultaneously use different apps, it will not glitch. However, there could be a slight lag if you run a lot of Photoshop or edit 4K videos. And unless you are encoding video or gaming heavy, the fan stays quiet and the screen warm.
During Geekbench tests, this laptop scored 4,200 and in 12 minutes encoded a 2-hour 1080p video. The Intel chip supports every Windows application, and it can be convenient for users that do not want stress about app compatibility.
Overall: A MONSTER IN A LITTLE BODY
Battery
What Makes it Work
The 7320 is on the same level as most of the premium laptops out there. It can get you through the day on a single full charge; lasting for over 8 hours. This use was found while using it for multi-media browsing, with a 25 per cent brightness. During video loop testing, it lasted for about 12 hours. If that's no enough you can trade in laptop with us for cash and buy one that you like.
The good thing about charging this laptop is that you can charge it with a USB-Type C charger with a PD-compatible power bank.
Overall: BUILT TO LAST
Final Verdict
The amount of unique features in this 2-in-1 laptop makes it an active competitor with the Surface Pro 7. With its:
processors,

slim-bezel display,

beautiful design,

and countless other incredible features,
it could easily stand as one of the best 2-in-1 laptops out there.
For more info on the latest tech or replacing your old tech, visit sellbroke.com.