Lenovo ThinkPad X13 Gen 2: The Perfect X1 Carbon Alternative
Aug 20, 2021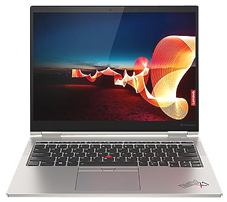 The Lenovo ThinkPad X13 Gen 2 is a compact 13-inch laptop with so many unique features. It's versatility can be felt as it can be used for business as well as creating content.
There are many things to gain with getting this compact laptop, such as the configurations, durability, and a familiar design. And while other laptops in its range like the perfect X1 Carbon are more expensive, this laptop could give you all you want in a business laptop while being within a reasonable budget.  
Design
What Makes it Work
The ThinkPad X13 is a prominent business laptop with a black finish and aluminum chassis. For a 13-inch light and thin laptop, the ThinkPad X13 withstands so many durability tests. Weighing at over 2 pounds and measuring 0.67-inches, this laptop is portable and can easily be slid into a bag or briefcase.
Despite its slight build, this laptop comes with several ports, including:
two USB-A 3.2 ports,

a micro SD card reader,

two USB-C 3.1 ports,

a Nano-SIM tray,

Smart Card reader,

Ethernet extension,

and 3.5mm audio port.
Overall: SLIM AND FULL OF OPTIONS
Display
What Makes it Work
There are different display options to pick from when choosing the ThinkPad X13. Here are the three that are available at this time:
HD

brightness of 250 nits

reduced color reproduction,

FHD

IPS panel
Each have an anti-glare feature that allows you to work in direct sunlight or well-lit spaces.
The FHD screen measured 75% DCI-P3 color reproduction, 97% sRGB, and 75% AdobeRGB with a colorimeter during tests. This is fairly good for this kind of laptop. It will function well for business-related works and general productivity. It went low as 3.4 nits and as high as 324 nits.
Overall: A FULL RANGE OF COLOR
Keyboard and Touchpad
What Makes it Work
If there is anything Lenovo laptops pride themselves in, it is the keyboard. Each ThinkPad X13 keyboard comes with the same perfect travel, spacing, and comfortable keys. Even if you type all day, you still get the same relaxed feeling.
The touchpad is much wider, unlike the previous series. It is pretty comfortable to use. The downside is the click sound you hear when you click the bottom of the touchpad. But it comes with a clean surface that ensures you having a smooth glide. Just above the touchpad, there is a TrackPoint system with a red pointer and three other buttons.
Overall: PERFECTION
Performance
What Makes it Work
Many choose this laptop because of its CPU option, which includes the new AMD Ryzen. These options allow extra security and make a business laptop such as the ThinkPad X13 manageable. Regardless of the workload, the ThinkPad X13 will handle it:
web browsing

video editing

word processing

Photoshop

multimedia streaming
The ThinkPad X13 will handle these tasks and more, seamlessly.
The Vega integrated graphics allows you to enjoy light gaming performances on this laptop. Although, heavy gamers should not consider the ThinkPad X13. During the Geek Bench 5 test, the AMD was nothing compared to the Intel mobile cards in single-core scores.
The overall performance of this laptop was good as all that was inputted was executed swiftly without delay. Under heavy performance, the temperature reached 50 degrees only around the fan exhaust.
Overall: A WORKHORSE
Battery
What Makes it Work
In an AMD system, you can expect an exceptional battery life. The 48Wh battery in the ThinkPad X13 charges almost 2 hours, getting to a 50% in 30 minutes. During video tests and a brightness of 150 nits, the laptop runs for about 15 hours. At full brightness, the laptop runs for 9 hours for a Wi-Fi test. This can enable you to have productive use without needing to plug into a power outlet all day.
Overall: BUILT TO LAST
Final Verdict
The AMD processor that was added to the new ThinkPad X13 is perfect for it. Compared to other main Intel alternatives like the ThinkPad X1 Carbon, this laptop gives you great integrated graphics and excellent processing power at a reasonable price. You might have to contend with average battery life and display. However, if you need a durable, powerful performing business laptop, the Lenovo ThinkPad X13 is one of the best options. If you like it you can sell laptop that you currently own to us for cash and use it towards the new machine.
Want more info on new tech? Or need to purchase parts for your own tech? Visit sellbroke.com for anything you might need.