Acer Swift X Review: Perfect Laptop for Students
Aug 12, 2021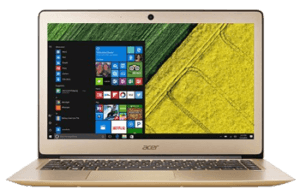 The Acer Swift X is the newest portable and light laptop to come out of the Swift Series. It cannot be classified as a budget laptop, because it is more in the mid-range level. However, it is a more affordable option considering most of the models in the Acer Swift range and specs. Especially with its bigger screen, convenient form, and incredible features. The Swift X is similar to its predecessors with its very premium feel and look. Here is an overview of what to expect with the Acer Swift X.
Design
What Makes it Work
Measuring at 12.7 x 8.4 x 0.7", the Swift X comes in an anodized aluminum chassis. However, some parts of this laptop are plastic which gives it a bit of a cheap feel. Yet, it provides a fun look from the outside with its colorful edges at the back hinge. And right above the keys, a fingerprint scanner lets you bypass the stress of logging into your Google accounts.
For the ports, instead of the usual USB-C port, you get a tube-shaped plug charger.
There is also:
a thunderbolt 4.0 port,

2 USB 3.2 ports,

an HDMI,

and headphone jack.
With the laptop itself there is:
8GB of RAM,

a 512GB SSD,

and an Intel Core i5.
Overall:
REAL SOLID
Display
What Makes it Work
This whole HD 14-inch laptop has a decent display. And unlike most laptops, the Acer X does not come with a flat glass surface screen but a little elevated plastic rim giving it a not-so trendy look.
At 360 nits, you maximize the brightness that you can use in sunlight. Its unique matte display also reduces any distracting reflections you may encounter while using it outdoors. The color display of the Swift X is on the same level as most of the HP and Lenovo brands. It covers about 70 per cent of the Adobe RGB, 98 per cent of the sRGB, and 75 per cent of the DCI-P3 color gamut.
So although it might not be convenient to use the Swift X for premium content creation, with its mid-range LCD, you can make good use of the Swift X outdoors.
Overall:
A CASUAL GOOD TIME
Keyboard and Touchpad
What Makes it Work
The keyboard of the Swift X feels comfortable within the laptop.  It also has an auto backlight that automatically stays on or off.
What it's Missing
The touchpad of the laptop is a plastic-type – which gives it a cheap feel. Unlike the textured feel in most laptops, this laptop has a mechanical click which makes it a little hard to press.
Overall:
Not enough thought
Performance
What Makes it Work
The performance level of this laptop is excellent for content creations, multi-media usage and graphic design. However, its gaming performance may fall below expectations.  This model comes with:
an 8 GB of RAM,

an Intel Core i5-1135G7 CPU,

512GB SSD

and an Intel Xe Max GPU.
The Acer Swift can stand toe-to-toe with many premium laptops on the performance level. During the Geek Bench 5 test, the Swift X scored 5338. On the PC Mark Ten tests, it scored 4,785 points.
The CPU of the Swift X generally pulls its power from the GPU to promote the laptop's performance. If you want a great gaming experience, this laptop may not be a good option. However, for content creation and other multi-media options, the Swift X will do a proper job.
What it's Missing
The sound cannot be compared to that of a high-performance premium gaming laptop.
The computer has serious cooling issues as you might have to deal with high temperature and heat, and the 0.33mm fan blades are not enough for cooling.
Overall:
Needing more time for play
Battery
What Makes it Work
The 58.7Wh sized battery can last for over 18 hours, which is very impressive for a laptop. During the benchmark test, the Acer Swift X lasted for over 10 hours. Compared to most Intel Acer laptops, this laptop has a good backup battery. So whether it is for everyday tasks or something more challenging such as video editing, graphic design, or gaming, the Acer Swift X is a perfect option.
Overall:
FULL OF POWER
Final Verdict
The Acer Swift X is a subtle workhorse. You can use your laptop quietly without bringing too much attention to yourself. It is perfect for students and content creators. You can use it anywhere without having to think of carrying a charger around. If you have your budget to worry about and want to have productive work, this laptop is one of the best options and should be on the top of your list.
For all your computing needs, informative and hardware alike, come over to sellbroke.com.