HTC Vive Cosmos
Mar 24, 2021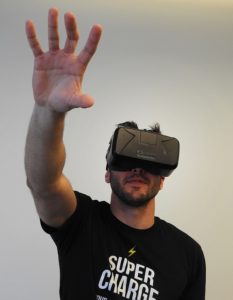 The VR universe is evolving at a very rapid pace. Several modifications have been introduced into virtual reality to give it the 'immersive' feature every VR gaming lover craves.
The HTC Vive is a noticeable upgrade to the world of VR, as it is the first VR with a suite of versatile module options. It is a high-end PC powered headset that elevates your VR experience.
HTC's Vive Cosmos is an impressive technical upgrade to the original Vive; it ultimately does away with any need for external sensors; the redesigned motion controllers are a plausible improvement as well.
Without further ado, let's see why the Vive cosmos is just right for you.
Pros
·
High-resolution LCD screen
·
Flip Visor
·
It is upgradeable
Cons
·
It is quite expensive
·
Subpar motion tracking
Design
The design of the new Cosmos is in sharp contrast to the original Vive, with its deep blue color highlighting the hollow triangles all over the faceplate. You quickly go between reality and virtual reality in seconds with the flip-up of the design without affecting your immersive journey.
It weighs 1.5 pounds and has 7.5 × 4.6 × 5.6 inches, making the Vive cosmos a little heavier than the Oculus Rift S.
It has a crown fit that makes it quite quick and easy to put on. The Vive cosmos suits a wide range of face shapes, vision types, and even fits over glasses. There is a little downside in the design, as the lenses can't be moved back and forth. Hence, if eyes shift to the side either right or left, you'll see black traces on the picture. This shortcoming makes it not best for an immersive journey.
However, on the bright side, there's minimal light leakage on the nose and, that sort of makes up for the minor downside.
The headset also has two front cameras that have a pass-through mode, which can be operated by double-tapping the Vive switch in any app or game. The Vive cosmos also comes with a connector box that houses a pack of connectors to be plugged into your PC. The Vive Cosmos has to be connected with a PC, except you get a Vive Wireless Adaptor.
Performance
The Vive cosmos uses the 3.4 inches 2880 × 1700 resolution LCD, and a halo-style headband and the front faceplate out to allow you to jump from one set of capabilities to another. It has a refresh rate of 90 Hz and offers a 1440 × 1700 image per eye.
The unique modular design of the cosmos will enable you to invest upfront and upgrade. You'd expect the Cosmos experience to be less than perfect given the placement of the cameras (it has a six-camera inside-out marking faceplate). Well you're not wrong. HTC is using predictive calculations to guess where your hands would most likely be should they leave the camera's field of view. It is however quite inaccurate.
There's a limited screen-door effect, and how the games perform in terms of latency depends hugely on the graphics card you're using.
Final Verdict
If you're expecting an 'out of this world' experience from this device because of its price, then you might be a little disappointed. However, it is a decent portal into virtual reality; it feels more precise in it's tracking. In case if you don't like it you can trade vr set for cash with us and purchase one that you like.
If you love the idea of Viveport, then the Vive cosmos is just perfect for you.