Eluktronics Max-17: Best Performing Light Weight Gaming Laptop
Dec 14, 2020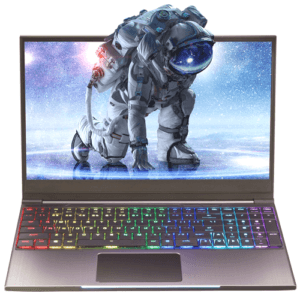 The gaming scene has seen some interesting upgrades lately, and it would seem that the Eluktronics gaming laptop is one of them. The Eluktronics Max-17 was announced in January 2020 and was anticipated to be the best performing gaming laptop in its class. It seems the laptop does deliver on what it promised.
Specs Sheet
CPU: 10th Gen Intel Core-i7-10875H @2.3GHz-5.1GHz
GPU: NVIDIA GeForce RTX 2070 (8GB) [with options for SUPER for +$200] / NVIDIA GeForce RTX 2080 Super Max-Q edition (8GB) for +$500
Display: 17.3-inch Full HD IPS display @144Hz (Antiglare @1920 x 1080) [with option for 240Hz for +$100]
Storage: 512GB PCIe NVMe SSD [can hold up to 8TB]
Memory: 16GB DDR4 (2 DImm) [can hold up to 64GB]
Design
Eluktronics has never been a brand known for its outrageous or flashy laptop designs. Eluktronics is a company built around the idea of making Enthusiast gaming computers based on barebones designs, similar to Maingear, Sager, and Schenker's style. Eluktronics focuses more on performance than aesthetics, and that shows in the Max-17's design.
The Max-17 is the bigger version of the equally powerful Max-17 from Eluktronics .
The Max-17 is made out of magnesium alloy, and its top lid has a matte black finish with no logo in the middle – nothing fancy. The inside of the laptop is the same thing as well; a matte black finish with magnesium alloy all the way around. The build quality feels solid, and the entire laptop feels like a premium laptop as a whole.
The laptop weighs about 4.93 pounds in weight, making it one of the lightest 17.3-inch gaming laptops on the market with an RTX 2070.
Display
The display is a 17.3-inch Full HD IPS screen with a 144Hz refresh rate. The display is a matte screen, and this allows for good viewing angles overall. However, the screen comes with no G-sync and no option of disabling NVIDIA Optimus; therefore, it would always be on for battery conservation.
On testing the screen, the results obtained for color accuracy was 96% sRGB and 72% AdobeRGB. With a contrast ratio of 900:1 and a brightness rating of 346.4 nits, the Max-17 is a fair laptop for most content creators, at least in terms of color accuracy, but excellent for gaming.
The display can be opened with one finger, and screen flex is only experienced when trying to bend it on purpose.
Battery
The battery is a six-cell 91Whr battery which lasts for 7 hours and 9 minutes when watching YouTube videos with the screen brightness at 50%.
While playing the Witcher 3 on medium settings and Nvidia's battery boost set to 30fps, the battery lasted for an hour and 16 minutes while still having 29% of charge remaining, but the frame rate dropped to 5 fps, making it unusable past that point.
Port Selection
1x Thunderbolt 3 port, 1x HDMI 2.0 port, 1x USB Type-A Gen 2 3.1 port, 2x USB Type-A Gen 1 3.1 port, 1x 4-in-1 card reader, 1x Gigabit Ethernet port, 1x Audio out and Mic in port, and 1x Kensington Lock slot.
Thermals
The Max-17 was able to handle temperature fairly well. There are three temperature modes that you can choose from – Turbo Mode, Game Mode, and Office Mode. The Max-17 has three heat pipes shared by the CPU and the GPU for heat distribution and two fans on either side for heat dissipation.
Testing the thermals with a 21 degrees Celsius ambient room temperature yielded good results, with the highest temperature hitting 87 degrees Celsius.
Performance
The Max-17 is, after all, a gaming laptop; therefore, it would be necessary to know how well it performs in games. The test results indicated in this article are based on these laptop settings: Fan Boost enabled and Turbo Mode Enabled.
Final Verdict
The Eluktronics Max-17 is similar in performance to that of other 2070 laptops, and it comes at a lighter weight and a slightly lower temperature cap. The Eluktronics Max-17 has a good balance between thermals and performance. The bigger screen that the Max-17 has offers more screen real-estate for content creators and gamers alike, plus the size allows for a bigger battery than can be found in the 15-inch version. You can trade in your laptop for cash with us and buy the model you like best.
If you want lots of value for your money and prefer having a muted color accent on your gaming machine, then the Max-17 is worth checking out.