What does the AMD 5000 bring to the table?
Oct 20, 2020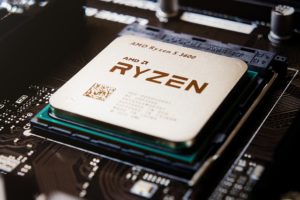 With the unveiling of their new Zen 3 core architecture and the mouth-watering Ryzen 5000 CPUs, it is clear that AMD is having a great year with no signs of stopping soon.
According to AMD, the flagship processor in the 5000 series is the 12-core Ryzen 9 5900X. It will be up to 26% faster in gaming performance than the previous generation's Ryzen 9 3900XT. To add the cherry on the cake, AMD's Ryzen 9 5900X beats out Intel's Core i9-10900k in the single-core performance league.
Here is all you need to know about the recently announced AMD Ryzen 5000 Series:
Specs, release date, and price
All three new Ryzen 5000 CPUs will be released on the 5th of November, 2020.
Ryzen 9 5900X
Cores/Thread: 12 cores/24 Threads
Base/boost clock speed(GHz) : 3.7/4.8
Cache: 70MB
TDP: 105W
Price: $ 549
Ryzen 7 5800X
Cores/Thread: 8 cores/16 Threads
Base/boost clock speed(GHz) : 3.8/4.7
Cache: 36MB
TDP: 105W
Price: $ 449
Ryzen 5 5600X
Cores/Thread: 6 cores/12 Threads
Base/boost clock speed(GHz) : 3.7/4.6
Cache: 35MB
TDP: 65W
Price: $ 299
Performance and Architecture
AMD's new Zen 3 core architecture is still based on the 7nm manufacturing process developed by AMD, but with a redesigned core arrangement and new cache technology, it is easy to see why the Ryzen 5000 series can offer incredible performance boosts.
With up to 19% boost in the instructions per clock increase from the last generation of Ryzen CPUs, AMD is set to make the largest performance leap in that area since the Zen processors' launch in 2017.
According to AMD, the new Ryzen 5000 CPUs will offer up to 24% more power-efficient than their previous generation of Ryzen processors, which in turn promises to provide more performance per watt. Ryzen rubbed their performance gain in Intel's face by saying that their users should expect 2.8x more performance per watt than the Intel Core i9-10900K processor.
Gaming performance
Gaming performance is one area that Intel has managed to stay ahead of AMD for years, but the Zen 3 promises to change that too. AMD exhibited some of the gaming benchmarks obtained in big titles on the Ryzen 9 5900X, and it was quite better than what Intel's Core i9-10900K had to offer.
With the graphics settings of all the games tested set to high, AMD's Ryzen 9 5900X delivered up to 21% more gaming performance in many of the titles tested than the Intel Core i9-10900K. In some games, however, both processors were on par. Intel remains the better processor for Battlefield V as the Core i9-10900k takes the lead in performance over the Ryzen 9 5900X.
Pricing Difference
Traditionally, AMD has always been referred to as Intel's budget version, both in performance and pricing. The reverse seems to be the case this year, as the Ryzen 5000 series chips seem to offer better performance over their Intel counterparts and are also priced higher for the first time in a long time.
The Ryzen 7 5800X, for instance, would launch at $449, making it more expensive than Intel's Core i7-10700K. AMD's flagship processor in the 5000 series lineup, the Ryzen 9 5900X, will launch for $549. This is unusually expensive for an AMD processor. But it is exciting to see what the future holds with the Ryzen launch.
Final Verdict
It is safe to say that with the benchmarks released by AMD, the CPU choice for gamers in the coming months might shift heavily from Intel to AMD, especially for users that also perform content creation or other professional tasks.
With the release of the Ryzen 3000 series, AMD has shown that their CPUs are the best for performing content creation tasks and other professional tasks. With the gaming community shifting more towards catering for both streamers and professional gamers, these new CPUs from AMD are certain to be game-changers (literally and figuratively). We expect companies trading laptops based on AMD processors in higher quantities than before.