A lot of programmers use MacBooks for their work and I just wondered why. This prompted me to do some research on why developers love the Mac and the best choice of all for programming. The first thing I did was to establish the least requirements a MacBook needs to be considered a programming laptop.
Before we proceed, let's take a look into why the MacBook is good for developers
In the world of information technology, the Windows-based PCs were the dominant force a few years ago. But lately, Apple PCs have increased in popularity especially among developers. The big question is, why the sudden change any what influenced it?
When I asked a couple of developers, they said it was all about the command line, Unix. The current servers and system files come with Unix as the foundation. The Unix fast grew into everyone's favorite.
Another benefit is the compatibility of the macOS cross-platform. It makes it easy to run other OS like Windows and Linux.
When you add all these to the exceptionally looking build that characterizes most Macs, it's easy to see why it's become everyone's favorite. Although, some macs are better built for developers than others.
Now that we know why the mac is good for developers. Let's look at the least requirements needed by a programming mac.
Screen and display
For app and software development, a large screen is vital. It will be best to work with a display that is high-definition Retina. Developers use about three tabs simultaneously. Therefore, it is good to have a display that is big enough to accommodate all at once and you wouldn't have to start making contact switch between tabs (it can be exhausting).
CPU
A processor powerful enough to manage the developer's applications is essential. Using an i5 or i3 dual-core should be fine in most cases, even though you'd a higher speed processor will make the work faster.
i5 is the least requirement to run the up-to-date Xcode versions. For graphic-heavy works, you will need an i7 and better RAM.
GPU
The GPU that comes with the most recent MacBooks is fine enough to run any app development.
Storage and RAM
RAM is the most important requirement of all. At the moment, an 8GB RAM is required to run a code comfortably
Older MacBooks with 4GB RAM cannot work. You will need to upgrade it.  It is advisable to go for 16GB and above so you'd be ready for any future changes.
Ports
As a developer, it is important to get a mac with enough ports. There might be a need to make use of another display a flash drive, an external keyboard, or a mouse.
Battery
Developing software or app consumes a lot of power. This is why battery life is so important in a programming system. The latest MacBooks have a battery life of up to 12 hours and that should do the work.
Best MacBook for programming in 2020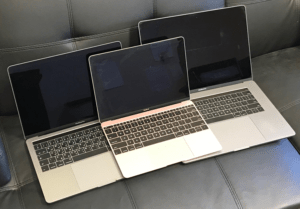 Now that you know the least requirements for a programming app. It's time to know the best MacBook for programming in 2020.
After a lot of considerations and tests. I noticed that the best MacBook for programming is the MacBook Pro. It is light in weight and quite portable, which makes it convenient to move with.
It combines this with the well-powered processor, a display that is high-definition Retina, a good enough 8GB RAM, and four ports that are Thunderbolt 3.
There is the 2020 13-inch model and the bigger 2019 16-inch model.
For developers who prefer working with a smaller screen, the 13-inch model is fine. It also comes with the latest configurations.
It starts with a base model that has the 8th Generation 4GHz quad-core Intel Core i5. It is upgradable to the 10th Generation 2.0 GHz quad-core Intel Core i5. The base model 8GB RAM is expandable to 16GB, while the 256GB storage can be increased to 512GB. It comes for a price between $1,299 to $1,799.
The 16-inch model is a replacement for the 15-inch Mac price range here is from and it was an upgrade. The processor is the 9th Generation 6GHz 6-core i7 and it is upgradable to a 9th Generation 2.3GHz 8-core i9. It has a 16GB RAM and a storage of up to 1TB. You can get it for a price between 2,399 to $2,799.
Final Verdict
When compared, the 16-inch MacBook Pro sports a better spec than the 13-inch. However, the latter is good enough for most programming needs. Apple is trading Macbook laptops of all sizes with great success.
If the display isn't big enough for you. You can always get an external monitor that is affordable.