What Is The Most Affordable iMac For Content Creators?
Sep 22, 2020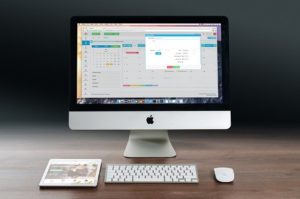 Content creators want a PC that will deliver great performance under huge workload. Several macs will deliver high level of performance, but they are not so affordable.
For the average Mac user who only needs it to send and receive emails and other normal daily activities – you could easily get one that is right for your pocket.
The Apple iMac 21.5 inches is one that has proven a good value to performance ratio. For content creators on a budget that need a Mac for the basics, the 21.5-inch iMac (Non-Retina) is a worthy choice to consider.
Here is a look at what the iMac offers.
Pros:
-         It is not so expensive iMac
-         The Graphics level is good
Cons:
-         The last update was in 2017
-         No option of 4K or 5K Retina Display
Screen and Display
Although it doesn't look different on the exterior, the screen has had some upgrades from its previous versions. It has a 4K, wide-gamut display with a 4,096 x 2,340 resolution.  It is easily noticeable that it can produce very vibrant colors.
When put through the test, it had a 98.3% color gamut coverage that matches with its brilliant color accuracy. It is really bright, but its contrast ratio is lower than expected on a modern Apple computer.
As expected from an iMac display, the overall quality is stunning. Everything looks so sharp, the colors exude vibrancy and accuracy. You can easily split the screen and multi-task thanks to the size.
However, for all the positive remarks, the vast amount of black bezels present, let the display down a bit. In a time where smartphones, TVs, and most devices come with edge-to-edge displays – it could have been better.
The bezels on the iMac are quite evident, especially at the bottom, as there is an aluminum bar and the Apple logo which already reduced the screen space available to us.
Performance
The performance level of the updated iMac shows improvement from the past. The latest processor options consist of the quad-core Intel Core i3 chips and the 6-core Core i5 and Core i7 options that offer more power.
This processor is a low-end desktop part, and it doesn't have hyperthreaded cores.
When put through the benchmark tests, it recorded a good overall score of 196 and performed excellently in other areas. This result means it's ahead of the 15 MacBook Pro and its 6-core, Core i9 processor. It records almost twice the speed of the 27 iMac 2017.
It's just about 30% slower when compared to the 27 inch Core i9 iMac that launched in the same period. It is important to note that the 27 inch Core i9 recently surpassed the Mac Pro to become the fastest Apple PC ever tested.
The Radeon Pro Vega 20 graphics chip delivers good graphical performance.
Overall, this means that the 21 inch Core i5 iMac Pro delivers a processor performance that's almost at the level of what you expect from a professional workstation.
Storage
I ran my test with a 1TB Apple Fusion drive, which is only a name for a Hitachi 2.5 in 5,400 rpm hard disk and a flash drive of 32GB. The 32GB flash drive is also only used for caching generally accessed files.
For users used to the speed of SSDs, this old hard disk might be a little too slow, mainly when you open programs and large files for the first time. This assessment is for the more expensive model, as the cheaper model comes with a 1TB hard disk that is slower. It is advisable to pay for a more current storage device.
With the price of SSDs constantly falling, one wonders why Apple has stuck to using mechanical disks in these modern times.
Keyboard and Ports
The keyboard lives up to the 'Magic' branded tag. The look is fantastic, and the usage is good. I had great joy typing with it. It incorporates effortlessly into the iMac.
Behind the screen, at the right, there is a good collection of ports. It has two 3 USB thunderbolt Type-C sockets, Four USB 3 ports, an Ethernet port (Gigabit), a card slot (SDXC), and a headset jack (3.5mm).
Final Verdict
Apple is trading iMac for just over $1,000 which is quite affordable. It delivers great performance and the display is superb. However, you should shun the 1TB Fusion Drive model and go for the 256GB SSD model. For content creators with little cash to splash, the 21.5 inches iMac might do the job. But some better models will deliver greatly in producing content.