Gigabyte Aorus 15G is the World's Lightest Mechanical Keyboard Laptop
Sep 17, 2020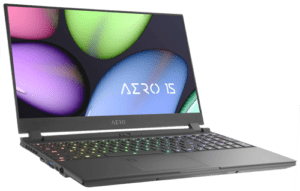 For a very long time, laptops and mechanical keyboards were never used in the same sentence. That's because most laptops never came with a fully mechanical keyboard. Gamers worldwide prefer using a mechanical keyboard to enhance their gaming experience as it offers them the maximum possible feedback during gameplay.
Eventually, laptop manufactures started incorporating mechanical keyboards into their laptops but it usually came at the price of more weight. The Aorus 15G has come to change all that. The Aorus 15G is the world's lightest fully mechanical keyboard laptop.
Specifications
The new Gigabyte Aorus 15G is a gaming laptop in all the sense of the concept. Although the base model starts at $1,699, the model reviewed in this article costs $2,299.
The model reviewed comes with a powerful 8-cores Intel Core i7 processor, 16GB of DDR4 RAM, Nvidia GeForce RTX 2070 Super Max-Q edition with 8GB graphics memory and a display with 240Hz refresh rate.
Design
According to Gigabyte, the Aorus 15G weighs around 2.2kg and is only 2.5cm thick. It makes it lighter and thinner than other gaming laptops with a mechanical keyboards.
This laptop was designed to somehow look aggressive for a gaming machine. Yet it still looks quite professional. The chassis is finished with the gunmetal exterior finish and a black chiclet keyboard. There is a significant lack of bright colors.
The entire chassis is made of aluminum which makes it a very sturdy. The competition, the Razer Blade 15 Advanced weighs about 4.7 pounds. Very strong chassis was designed to easily open the laptop with only one hand.
One feature you should watch out for is the webcam located at the bottom of the screen's bezel. This might make for some awkward selfies.
On the left side of the Gigabyte 15 laptop, there is an HDMI 2.0 port, a mini-DisplayPort, 1 x USB Gen 1 Type-A port, a headphone jack, and an RJ-45 Ethernet port.
On the right side, there is a Thunderbolt 3 USB Type-C port, 2 x USB 3.2 Gen 1 Type-A, an AC jack, and a microSD port.
Keyboard

The Aorus 15G is a beautiful high-performing laptop. It's great for gaming and work related tasks. The mechanical keyboard takes this laptop to the next level.
The keyboard features mechanical switches made by Japanese maker Omron. It provides all the clicks and clacks that you would get from desktop-grade mechanical keyboards. If you are using the keyboard, you better be killing your enemies because they make all the delightful sounds that announce victory.
The keys are tall and have very long keystrokes that let you feel every keystroke. The function keys on this laptop are full-sized which allows better function key mapping and usage.
To top it off, you get per-key RGB backlighting that can be customized in the Aorus Control Center application.
Performance
If you aim to buy a gaming laptop that has the most performance to a dollar value for this price range, then the 15G is the way to go.
Gigabyte is selling laptop that we tested for $2,299. It is the best in terms of price to performance value. The eight-core CPU that comes with this model makes all the difference and makes it a way better option than the six-core models of the Aorus 15G. Even though the price tag of $2,299 might seem like a lot, you simply cannot get the level of performance that the Aorus 15G equipped with Nvidia GeForce RTX 2070 Super Max-Q edition has to offer.
Most of the people that will get this laptop will be getting it for playing games and perhaps performing some productivity-related task on it. It is safe to say that the Gigabyte Aorus 15G is a very fine performer for full HD (1080p) gaming even at ultra settings.
Display
The display of the Aorus 15G is a 1080p 240Hz panel with reasonable brightness level, as well as color accuracy. The matte surface offers a solid anti-glare function for a solid viewing experience.
Instead of the common IPS panel, it features an IGZO panel that offers wide viewing angles and great color representation similar to IPS panels.
The screen lacks G-Sync support but you are not likely to experience any frame-tearing while gaming.
Final Verdict
The Gigabyte Aorus 15G is a solid gaming laptop that offers something very few gaming laptops can offer; a fully mechanical keyboard with awesome tactile feedback. The models with the 8-core Intel 10th Gen processors offer the best performance to price value.