Lenovo Legion 5i Review: Quality Gaming at an Affordable Price
Jul 28, 2020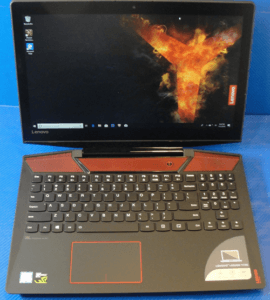 Lenovo has released the Legion 5i an upgrade to its predecessor, the Lenovo Y540. The 'i' there tells us its an Intel version of the laptop. The Legion 5 itself will be using an AMD Ryzen processor, which is going to be released later on and is expected to be way cheaper than this Intel version.
The AMD version will have a base price of $800. It will be delivering basically the same performance as this Intel version, and it starts at that price because AMD processors are cheaper than Intel's processors.
Today I'm going to be taking a dive into what the Legion 5i has to offer.
Design
The design is immaculate and mature.
There are no weird logos or designs, and it has more of a minimalistic look. In fact, this is probably the most non-gamer looking gaming laptop I've seen so far.
They changed the legion logo this year, and this one doesn't light up like last year's model. There's also a small indented Lenovo badge.
It's made of plastic, but I'll say it's very well built and feels durable. There's been a lot of questions about the durability of its hinges, but I can assure you it's really sturdy and won't give you any trouble.
Display
For the display, we have a 1080p resolution and a 144Hz screen, which is amazing for gaming. It also has a 308nit screen brightness that will give you an amazing gaming experience. There's also a base model with a 60Hz refresh rate screen if you are on a low budget, but I won't advise that if you're looking to do some serious gaming.
Also, please avoid going for another option that Lenovo offers, which is a 250nit and 120Hz screen.
Why?
Because a 250nit brightness is poor for gaming, and the picture quality will be dim. It's good for minor things like word processing or browsing but not bright enough for gaming and outdoor use. And let's face it, no one wants to buy a gaming laptop that won't be able to play big games.
The webcam has also been moved from the bottom of the screen (which was pretty lame) to the top of the screen. This is one change I was really excited to see. Also, the webcam now has a privacy filter, which makes it more secure. You can now close your webcam physically when you're not using it.
Keyboard
The keyboard is great.
They included a number pad on the right side if you're into that kind of thing.
It's got white backlighting, which gives it a neat finish, and the trackpad is functional. However, the trackpad is missing the dedicated physical buttons that came with last year's model.
Another thing about the keyboard you will love is its deck. It's made of this durable soft-touch material that feels really comfortable while typing. I'm glad that it's not sticky like many mid-range gaming laptops.
Performance
The performance pf the legion 5i is quite impressive, thanks to its 6-core intel processor combined with the RTX 2060 (not the Max-Q version). This combination outdoes the performance of most laptops with the RTX Max-Q version.
It is well cooled and doesn't overheat. The fans aren't annoyingly loud, although it doesn't have a manual fan control.
However, in place of manual fan control, it has shortcuts you can use to switch between performance modes. There is a colored LED power button that displays different colors when you switch between its different performance modes, which are balanced, high, and quiet performance modes.
Internals
Legion 5i has big fans that expel heat from the sides and the back. It has a very good thermal system, and you be guaranteed to have no issues with overheating. The SSD and Wi-Fi cards are covered by two shrouds but easily accessible once you remove them, just in case you want to make a memory upgrade.
The battery is not so good, and I'm not surprised, considering the price. It comes with a 60-watt battery that will last for 3 hours and 30 minutes.
I'm not impressed with this battery life, but if you weigh the other specs it has to offer, it's quite understandable.
There is an option for a bigger battery, but you will have to lose the hard drive. The good thing is there's also a space below the hard drive for a secondary SSD card. So, if you want a bigger battery, you should be prepared to buy a secondary SSD card.
The speakers are fair, like most gaming laptops. For a better gaming experience, I'd recommend getting a headset.
Ports
There are four USB-A ports on the Legion 5i, two at the back and two at the sides. Most of the ports are located at the back of the laptop, which is something I love because it keeps everything neat and orderly.
It is important to note that the USB-C port at the back doesn't support Thunderbolt 3, in case it's something you would like to have.
Pricing
For the pricing, the base model starts from $800-$900, which is good, but it's only limited to the AMD Ryzen versions. For the Intel version like this one, the price goes up to about $1149, which is a bit pricey if you ask me. The best thing to do is to purchase this laptop when it's on sale because it won't give you the best value if you buy it at the original retail price.
In summary, buy it when it's on sale. You can trade in your old laptop and use the cash to buy the new Legion.
Final verdict
Overall, the legion 5i is a great gaming laptop for the price, and it's something I'd get if I wanted to enjoy quality gaming at an affordable price.