Dell G5 15 5590. Strong and Durable Gaming Laptop
Jul 21, 2020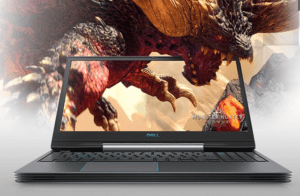 Recent studies have shown that one major cause of laptop damage is dropping it on hard surfaces. I believe aside the many other crazy benefits of the Dell G5 15 5590, one primary attribute of this system that makes it stand out is its thick and sturdy chassis. Laptop is constructed of a combination of metal and plastic, which makes it very strong and durable.
Pros
It is solid and thick

Has a strong battery life
Cons
Poor camera quality

Bulky in size

Its look is not attractive
System specifications
Laptop boasts of a powerful 2.2GHz processor powered by six-cores. It has 16GB of RAM, 128GB in-built memory, and 1TB HDD. It also has a strong battery capacity of 90 WHR, which enables you to use it for a long-range of time without the battery depleting.
Dell G5 screen is 15.6 inches and has three USB ports. The crazy thing is that with all these unique capabilities the laptop is relatively cheap.
Perfect gaming system
Dell G5 is widely known as the ideal gaming laptop. As a lover of games, one thing I know is, you can hardly find a laptop that can accommodate high-quality games without the system speed slowing down, and this, in turn, even affects your gameplay.
Now the Dell, due to its powerful core I-7 9th Gen processor and RAM size, can comfortably accommodate any game at all. It also makes use of a powerful graphics card (NVIDIA RTX 2060) and a 1080p display and has IPS PANEL technology.
Battery Life
Also, gaming laptops tend to have a low battery span. It is not the case in the aspect of Dell G5. There was a study carried about by Gaming Rig, which showed that the laptop lasted for about 7hrs on the laptop mag battery test, which also includes continuous internet browsing. It is quite impressive for a laptop.
The downside of DELL GS 15 5590
Despite significant benefits of the Dell, like any other laptop we have on the market, there are also downsides to it.
The major one is a poor camera quality. For that loves skyping and video call with friends and relatives in distant places, you might need to get an external camera.
Also, although the Dell 5590 offers a very robust and sturdy chassis for system protection from the environment, this, in turn, makes it bulky and not too fashionable.
Final verdict
If you are looking for a laptop for a great gaming experience, the Dell G5 is the right fit for you. However, for other media functions like camera and video, you might trade in laptop online and get one that suits your needs best.