Is the HTC Vive Pro Mclaren Worth Buying?
Jun 10, 2020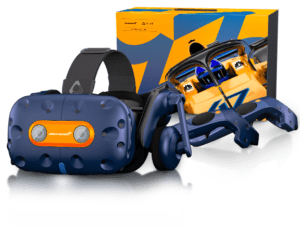 The HTC Vive Pro McLaren is a co-created product of the HTC Vive in coop with McLaren Racing. It is a limited edition which offers a tremendous racing adventure to VR lovers. It is mainly for Formula one fans. However, the VR set sells for $1,549, which is a bit on the high side.
The Vive Pro Mclaren Limited Edition combines Vive Pro's vibrant display and audio to deliver the ultimate VR experience. The headset provides a realistic experience, such that fans can sense they are feeling the heat of the fun at the Racetrack with the McLaren racing squad. It also includes 2.0 tracking peripherals to the VR headset.
It is quite enthralling for both VR and racing fans alike. Let me spare you the boring details and take you through a brief guide to decide whether this headset is worth buying it not.
Pros
High-resolution display

Expansion of the tracking area

HMD weight distribution design

It enables user voice control and communication with other players
Cons
It is quite expensive

Jitteriness with all non-new hardware
Design
The latest Vive Pro McLaren Edition is equipped with a Dual AMOLED 3.5 diagonal screen, which is quite scintillating. It also has an impressive field view of 110 degrees. The headset has a multifunction trackpad. All those features enhance your experience when playing the best VR games.
The headset has a distinct appearance and feel. It is tethered with the 'McLaren Virtual Reality' experience and also a custom-built version 'R Factor 2' VR racing customized to operate without extra driving auxiliary. It is designed to make customers not just mere spectators but to feel the experience of being McLaren drivers even while in their living rooms.
The headset offers eye relief with lens distance adjustment; it also has an adjustable head strap and headphones.  The co-created product also comes with a McLaren VR experience. In this multi-player realistic game, gamers can join the McLaren pit crew, learning how to complete tire adjustments.
Performance
On the Vive headset, games look noticeably more precise, there's a little screen-door effect, however, but it is not quite noticeable. It is easier to fiddle with the straps than the original Vive. It has a 90Hz refresh rate. The headset has fewer jagged images end even at a distance; objects look incredibly bright. If there's any weakness in the system's performance, it is the slight form of jitteriness that happens at short intervals.
A significant difference between the Vive Pro and other headsets is the text resolution and environment of the games. The more pixels on the screen make high-resolution objects look crisper, and surprisingly, this doesn't in any way affect the performance of the headset.
The controller also has a Stream VR 2.0 sensor, and when charged, it can be used for approximately 6 hours. All these, coupled with racing peripherals, are quite top-notch.
Final Verdict
If you are a Formula One lover and you want to enjoy an immersive experience similar to that of your racing hero when he's on the race track, then this Mclaren edition is perfect for you. Though it is expensive, it is worth every penny- if you can afford it, that is. This extra peripheral that comes with the Vive Pro this time around is worth it if you love a good race.