Best 3 HTC Vive VR Games
May 13, 2020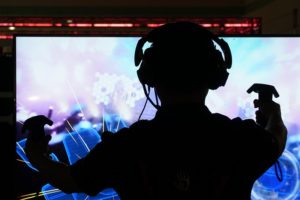 Since the debut of Virtual reality in the '80s, it has evolved rapidly over the years with more sophistication and realism, making its way into the VR universe.
Now in 2020, VR games are very realistic and give a much more immersive feeling than the previous generation.
The HTC Vive is one of the best selling vr headsets in the market that takes you to a new gaming dimension with groundbreaking upgrades.
Let's have a look at 3 of the best games on the HTC Vive headset.
Beat Saber
This game developed by Beat games combines vibrant visuals with original beats and frantic gameplay. Beat Saber is just about maintaining rhythm; you hold a lightsaber in both hands.
As soon as the music starts playing, small blocks begin to glide towards you with arrows on each block. All you have to do is slash these blocks in the direction that is noted by each indicator.
Although cutting on these blocks might not be as fun as killing a Stormtrooper from Starwars, where the game obviously draws its inspiration from. Yet it is quite satisfying and can be treated as a workout if you move fast. It has ten spectacular tracks and also a plethora of difficult stages to master. Beat Saber captures the magic in VR, just the way Guitar Hero captivated the world back in the day.
The game seems like a combination of Fruit Ninja, Autoshield, and Rockband all in one.
Arizona Sunshine 
This is a first-person zombie survival video game released in December 2016. Motion controllers are required to play the game; these controllers are used in manipulating virtual firearms and also interact with the environment and player's inventory.
It is your job to go on the gruesome journey of saving survivors of a zombie apocalypse. Yes, of course, it is another game filled with flesh-eating zombies, but it is in VR this time.
You continuously encounter small groups of zombies that are quite easy to dispatch. However, some player actions, like picking particular objects to continue the story, will trigger vast zombie hordes.
The game can be played in single-player and multiplayer modes. After you're done, there's a proper horde to hit with up to 4 players.
Superhot
The Superhot VR takes an already innovative and thrilling shooter puzzler and makes it a more engaging experience on the HTC Vive. It is a first-person shooter game where time moves when you move. The game was developed by Superhot Team.
The graphics are quite simple, yet very cool, with the weapons in black and the enemies in red. The weapons picked by your character break easily and also have limited ammunition, hence requiring your character to depend on killing enemies to get new weapon. The best part is the time slowing down when you stand still. That let's you avoid bullets and plan your next move.
The Superhot VR has the same goal the original has- find your way around rooms by dismembering enemies using calculated moves. The game pumps adrenaline and proves how immersive Virtual Reality can be, making it one of the best experiences available on the Vive.