The 13-inch MacBook Pro 2020
May 11, 2020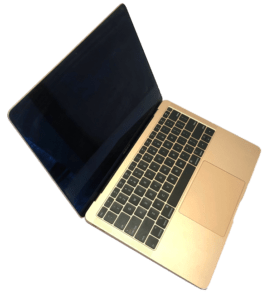 Apple has finally released the 13-inch MacBook Pro 2020, and it is the smallest laptop in the pro series.
Just as the MacBook Pro 16-inch came along with exciting updates like a new keyboard, narrow bezels, fantastic speakers, the 13-inch MacBook Pro 2020 also has that astounding Magic keyboard.
It comes with a Touch ID and noticeable lighter design and some incremental hardware upgrades. Enough of the dilly dally, let's see why you should consider getting this latest upgrade to the Pro series.
Pros
Fantastic keyboard

Strong battery life

Brilliant display

Multiple colors options
Cons
It is expensive

Only two Thunderbolt-3 ports
Design
On the design front of the MacBook Pro 2020, Apple doesn't do much on the aesthetics department, no sleek new design. So if you trade in Macbook that you purchased within the last 2 years for this one you won't really notice any difference.
The laptop still has the same aluminum body design as the previous generation. Although it is slightly thicker and heavier, it weighs 3.1 pounds and is 0.61 inches thick.
The bezels which are around the display look a bit husky compared to some laptops. The Pro 2020 has the same space gray and silver color as before, it comes with just 2 Thunderbolt-3 ports, and you have to upgrade the $1799 configured MacBook Pro if you want four Thunderbolt-3 ports.
The keyboard on the MacBook 2020 is easily the most significant upgrade on the laptop. The butterfly keyboard has been ditched for the magic manual, which comes with 1mm of essential travel, which is quite fast, comfortable, and reliable.
The keyboard layout has an inverted T-arrangement for its arrow keys making them quite easy to find; it also has a Touch ID sensor and a physical Escape key.
Display
The MacBook pro-2020 has a sharp 2560×1600 pixels of resolution with about 500 nits brightness and also full-color (P3) support. This gives it an all-round crisp and outstanding display.
Performance
The laptop starts with a quad-core 8th generation processor, but it can be ordered with a 10th generation quad-core chip with up to 4.1 GHz turbo boost.
Apple says that customers will see the performance of their laptop three times faster for those that upgrade from a MacBook Pro with a dual-core processor.
The laptop offers Iris plus graphics, which delivers close to 80% faster performance than the older generation 13-inch MacBook Pro, and this will provide more crisp 4K video, faster rendering, and better gameplay.
The entry version of the MacBook Pro has 2133 MHz memory. However, if you wish to step up, you can get the configured MacBook Pro 2020, which offers 16GB of faster 3733 MHz memory at $1799.
It has a solid battery life of about 10 hours of wireless web surfing and close to 10 hours of the Apple Tv application movie playback.
Final Verdict
The MacBook Pro-2020 seems like a good apology though it's a bit on the high side. Rather than invest exceptionally on the design, Apple keeps it simple and just fixes the big problems and added bit by bit improvements.
Even though the design isn't flashy, the essential things have been worked upon by Apple, which makes the laptop a good buy.