Gigabyte Aorus 15G Review
May 05, 2020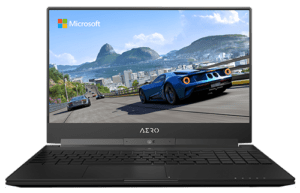 The Gigabyte Aorus 15g is an excellently styled gaming laptop designed with a mechanical keyboard and the latest Intel 10th generation H-series processor. The Gigabyte Aorus 15g is among the best gaming laptops money can buy right now. It boasts of so many impressive features such as the mechanical keyboard, the gaming performance, and many other features which we will dive into shortly.
Let's get into the details
Pros
Excellent display

Mechanical Keyboard

Good cooling system

Great gaming performance
Cons
Expensive

Aggressive design

Poor battery life
Display
The Gigabyte Aorus 15g comes with an impressive display; the screen is a 15.6-inch FHD display with a 240Hz refresh rate and a resolution of 1920 x 1080. With this display, you get vivid and bright colors when viewing images and videos.
It has bezels on both sides and top, but the bezels are so thin that they are nearly invisible, the bezel at the top keeps the slim size of the laptop. The screen can play a 4k video without breaking a sweat.
Design
The Gigabyte Aorus 15g is designed with a silver case. This is really amazing because it makes it laptop strong and durable such that it can withstand few bangs. It is very slim and only weighs about 4.85kg.
The Gigabyte Aorus 15g comes with enough ports to give you better connectivity. It has 3 USB ports, two 3.2 Gen 1 port on the right-hand side of the laptop, a thunderbolt type C USB port, charging port, and the SD card. All these are located still on the right side while on the left side is the third USB port, Ethernet port, HDMI port, and a headphone jack for the music lovers.
It has a stellar screen. It's a 15.6-inch display screen with a resolution of 1920 x 1080 with NVIDIA Geforce super graphics, which can make it to play a 4k video easily. The power button is placed just below the webcam. The webcam is located on the bottom case, which comes with a cover that you can slide to block the camera for your privacy.
Finally, on the design of the Gigabyte Aorus 15g laptop, the keyboard is excellent. It has a mechanical switch for more tactical typing, which is way better than old fashioned membrane notebook keyboards. The keyboard keys have a travel distance of about 2.5mm, which makes typing more comfortable. It also has a responsive trackpad.
Performance 
The Gigabyte Aorus 15g comes with a 10th Generation Intel Core i7-10875H processor, which won't lag or break when you are using it. It can perform most of your daily activities efficiently without stressing you.
It has an excellent performance, and the NVIDIA Geforce super graphics makes it superb for gaming. It is suitable for playing any type of video game without breaking a sweat.
It has a 16GB DDR4-2666 RAM, which is suitable for any kind of work, also has an SSD with enough space for the game library.
It has a battery life of about 8 hours, which might be a downside to you depending on what you use the laptop for, but for those who only need it for office work, it's okay.
Final Verdict
The Gigabyte Aorus 15g is an excellent gaming system, well designed, and with impressive features. For people looking to trade in laptop for a gaming laptop, this is it.