Razer DeathAdder V2 review
Apr 14, 2020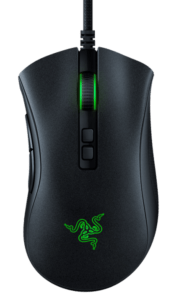 The Razer DeathAdder series is one of the most famous, used, and most loved gaming mice of all time if you ask me. Everything from the design to its functionality is so high performing that it's not a wonder why they've sold 10 million of this series.
Razer has upgraded their DeathAdder and added the "version 2" to its name. I know you are excited to learn about the new features, let's get to it then.
Pros
Lighter weight

Ergonomic design

On-board memory

Major hardware upgrades
Cons
Optical sensor
They have upgraded the mouse sensors to an optical sensor, which is currently the best in the market right now. Yes, you heard right, it's better than anything Logitech is offering at the moment. New optical switches have also been added and PFTE materials that make movement smooth on the pad. There's also been a change to the cables, as they have adopted the new speed flex cables which are better than what they had in the previous version.
Design
The body has also been reshaped. That bulge on the left side that feels weird when you are playing has been trimmed down. This makes it easier for people with small and average-sized hands to use. Although those with bigger hands might opt for the previous version, it all depends on what works for you.
Weight
There's one thing I'm really impressed about in the DeathAdder V2, and it's the weight. It started getting ridiculously heavier three years ago. I'm glad to see that this one weighs just 82 grams, which is obviously less than their 100gram version 1 model. Some people might love the bulk, but I definitely didn't enjoy it. However, this upgrade is thoughtful of them.
On-board memory
At last, on-board memory has been added to the DeathAdder V2. This is probably the best news about this new version. You remember those bulky, messy, and annoying synapse you have to install o your laptop before using the mouse? Yes, you don't need to go through that unnecessary and unpleasant procedure anymore. With the on-board memory, you can configure the mouse easily and faster and delete the synapse immediately. It's never been easier than this. And even when you sell your laptop you can easily use the mouse with a new one.
Summary
Overall, the new DeathAdder V2 is a great gaming mouse, and I would recommend it for those who've been waiting for a worthy upgrade. Its new features and ergonomic design will give you the satisfaction you need when gaming. However, if you prefer a lighter mouse, consider their Viper mice series.