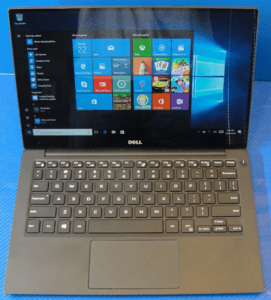 In current times, due to spreading of corona virus big electronics stores are beginning to shut their doors. We need to relay more on online stores that sell laptops and ship them to your door. Internet, online shopping and home delivery make it possible for all goods to be traded and quickly shipped to customers.
When buying a new computer it can cost you a whole lot of stress in trying to figure out the model or make of a laptop you should buy. Many at times, it seems as though there is no "perfect" laptop on the market. It is because although the computer may be excellent in some particular aspects, it could still be deficient in the others.
In the case of DELL XPS 13 7390, I would love to state that even though the laptop has a downside to it, the pros of using this particular system significantly outweigh the cons as compared to other systems. Another exciting fact about this system is that it is cost-effective.
Pros 
Beautiful design

Long-lasting battery

Multitasks without slowing down

Light in weight

Fingerprint enabled
Cons
Memory cannot accept an upgrade
Performance
Performance is one of the criteria when it comes to rating laptops. The Dell XPS 13 series is widely known for superb performance and functionality. The XPS 13 7390 is among the new generation laptop breeds taking over the market.
DELL XPS 13 7390 gas a processor of 1.3 GHz, PC memory of 16GB, storage of 512GB, and runs on Windows 10 Operating System. It has a unique slim body, beautifully designed to capture the attention of onlookers.
Its battery is like a power horse capable of withstanding long hours of usage. It has ease of access capabilities, such that once you lift the lid of the system, it automatically turns up. DELL XPS 13 7390 also has a dual auto-fan cooling system, which makes it possible for you to run a vast number of tasks on the computer without over-heating.
Design
Now unlike its contemporaries of the Dell family, DELL XPS 13 7390 goes a long way in cutting its screen size, making it very portable and also flashy to use in a social setting. DELL XPS 13 7390 has a tiny camera fixed above the display and fits perfectly to the screen without adding any length to the bezel size.
Dell's active pen can also be attached to the right side of the laptop or slightly above the logo with an inbuilt magnetic plugin. DELL XPS 13 7390 also makes use of fingerprints. The computer is in aluminum, which makes it very strong and sturdy to use on a variety of office desks and tables.
It is also light in weight, so it is easy to carry. The Dell XPS 13 7390 comes with a sizeable 4k screen with beautiful colors and has a webcam placed slightly above the screen, with diverse, brilliant colors to select.
Final verdict
The major disadvantage of the DELL XPS 13 7390 is the fact that the memory cannot upgrade. It means you cannot install external storage or RAM to the computer system. Although the DELL XPS 13 7390 makes use of 16GB RAM and 512 in-built memory, so the chances of any computer operator exhausting it all are rather slim. 
However, on an overall basis, the DELL XPS 13 7390 is an excellent choice for a PC.