Asus Zenbook Pro duo Screen 2020
Mar 06, 2020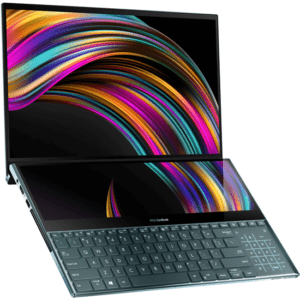 The Asus Zenbook Pro duo screen is a unique type of computer that a normal buyer wouldn't buy. This system is different from every other type of system out there that it won't make sense to you except you have a particular need for it. As it stands, we're not sure of every quirk of this machine but if you want to buy, you are advised to get some extended warranty.
This device is named the laptop of tomorrow by the Asus family as its dual screen is its main selling point. You'll actually find it useful but not at first, rather as you gradually begin to use the device daily. The device is put together using standard construction technique, reliable IO, fast keyboard and standard hardware.
Specs of the ZenBook Pro duo
Screen: 15.6-inch, OLED, 3840 × 2160 PX, touch screen, Samsung SDCA029 panel or 14 inch, IPS, 3840 × 1100, touch screen, non-glare, BOE BOE085F Panel.
Processor: Intel Core i7-9750H, six-core
Memory: 16 GB DDR4 2666 MHz
Connectivity: Wireless 6 Intel AX201, Bluetooth 5.0
Storage: 512 TB M.2 PCle SSD — single storage slot
Battery: 71 W/h, 230W charger
Size: 359 mm x 246 mm x 24 mm (14.13" x 9.68" x 0.94")
Weight: 5.44lbs (2.47 kg) + 1.76lbs (8 kg) charger and cables
You can also get a higher configuration of this computer which has Core i9-9880HK processor, 1 TB of SSD storage and 32 GB Ram.
Design
The ZenBook is built to be sturdy and look nice. It has a metal outer case with little or no flex in the keyboard frame or the lid. The interior of the laptop is covered by its keyboard and second screen. This machine though is rather heavy for a 15-inch notebook. You may need to get a power bank for this laptop because the battery life is not guaranteed and there's no support for USB-C charging.
This machine has an Ergo lift hinge design with a rubber padding placed under the bottom of the screen to aid increased airflow. The trackpad and keyboard have been pushed to the front due to the addition of a secondary display unit on the laptop. This sort of design on a computer is fine as long as its placed on a spacious desk. The keyboard is that of a regular desktop keyboard while the touchpad is found on the right side of the laptop. There's provision for arm rest to compensate for the tall upper part of the laptop although you'll need to constantly adjust the arm rest if you move the laptop because it's not physically or magnetically attached to the laptop.
Price
The Asus has been released into the market for quite some months now. Depending on the model, Asus will sell laptop at different prices. For the lower-tier model, which is the Core i7, you can get it for $2500 while the higher-tier version goes for $2999. Pricing and configurations may vary among regions so check with your local dealer to see what's in store.