Acer Spin 5. Best Bang For Your Buck
Feb 21, 2020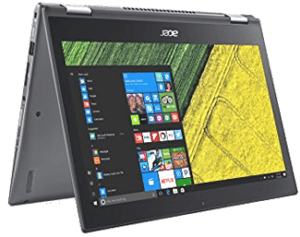 Acer Spin is among best selling laptops in the convertible segment. It's a truly versatile machine with great specs offered at  a good price.
PROS
Offers Solid performance at its price range

Battery life is decent enough to get the job done

More than average build quality

Functional and Aesthetic design

First Alexa Enabled laptop

Comfortable keyboard to type on
CONS
The display could be way better than it is

The speakers sound dull

Big bezels that draws attention away from the screen

Slow SSD storage
Overview
Even though this 2-in-1 laptop belongs in a mid-range market, the performance offered by it is more than the price that is paid for it. Also, it also has the new partnership with Amazon's "Alexa" going for it.
Specifications
CPU: 8th generation Intel Core i7-8550U quad-core processor.
Storage: 256GB SATA SSD drive
Memory: 8GB RAM
Display: 13.3-inch @ 1920 X 1080 resolution
General Review
One of the best things about the Acer Spin 5 is its solid build that allows very minimal flex in the lid area and keyboard bed. At this price point, this is one of the most solidly built Chromebooks on the market. In terms of Aesthetics, this model comes in the common dark grey color layout, and a metallic effect on the laptop's lid. In general, the design would make it easy for you to blend in as it doesn't really stand out in many ways.
Spin 5 has relatively large bezels when compared to the other laptops in the Chromebook department. The Yoga 730 for instance has bezels that are much smaller than the Spin 5 and therefore makes it more aesthetically pleasing than the Spin 5.
The connectivity of the Spin 5 also makes it a desirable Chromebook. The Spin 5 comes with a USB-type C 3.1 port that can be used for data, power, and a display port as well. It also comes equipped with 2 USB-type A 3.0 ports and a single USB-type A 2.0 port for backward compatibility support. The fact that it also comes with an ethernet port, as well as a fully featured HDMI port makes it a power house of productivity. To sweeten the deal, an SD card port was also included to make sure you have absolutely no reason to complain about ease of file transfer.
The keyboard is backlight with black keys and white characters. The keyboard on the Spin 5 has very shallow travel that makes it sometimes hard to know when you have pressed a button on the keyboard. However, to reduce this effect, Acer added a springy mechanism at the bottom of the keyboard for a bouncy effect.
The touchpad is excellent but it was situated slightly off center, therefore, it might take some getting used to. It comes out of the box with Alexa support which makes it the first laptop to do so.
For security, it comes with a fingerprint reader that allow you access your laptop with Windows 10 Hello feature.
The major downside to this device is the display as it is dimly lit and offers less than average experience with its average color accuracy.
In the end, what you get with this laptop is still a mid-tier laptop with a more than mid-tier performance and good build quality. You will have to make do with the display.