Best Dell Laptops of 2019
Jan 28, 2020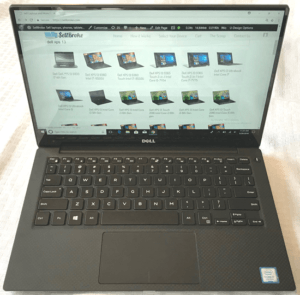 Dell laptops have always been known for their durability, and lately, they have added good looks. Dell has a long history of making solid-looking laptops, not only in specs but the body structure. These days they now have an array of portable computers that are as equally solid in functionality. They have laptops for quite a number of purposes, from gaming to heavy content creation. They also have laptops that are very lightweight and easy to move around with, and you can get always get a Dell that is in your budget range.
We have come up with a list of the best Dell selling laptops in 2019, in a bid to help you make a good decision if you crave a Dell laptop.
Dell XPS 13
This slim looking Dell laptop is one of the best laptops you will find in the market in 2019. It comes with the new Intel Whiskey Lake processors, which has made it faster. The Dell XPS 13 is a premium ultrabook that you will absolutely fall in love with. Its Intel UHD graphics 620 will enhance your viewing pleasure on a 13.3-inch screen. They have also fixed the issue of their webcam placement in the Dell XPS 13.
Alienware Area-51m
When it comes to gaming laptops, only a few laptops come close to the Alienware Area-51m. It is extremely powerful and largely regarded as the best gaming laptop in the market right now when it comes to power. It is pleasing to the eyes through its standout chassis and well-placed keyboard. It gives a great performance that is rarely matched in the market by any other laptop, enhanced by its 9th generation Intel Core processor and high-end graphics cards. It is user upgradeable and will give you a gaming experience you will never forget.
Dell XPS 15 2-in-1
Everyone wants something comfortable to carry around when it comes to laptops, yet not lacking in power. The Dell XPS 15 2-in-1 is a perfect fit for this category of laptops. A very powerful laptop, yet light and thin to aid mobility. With a thickness of only 16mm and a weight of under 2kg, it is easy to fit into your travel luggage or carry around in your backpack.
Dell Latitude 7490
One of the best laptops on the show by Dell in 2019, the Dell Latitude 7490 offers excellent performance and a good look. One of its biggest selling points is its battery life as it is one of the best you will find in that regard. Its storage capacity is also great along with great memory. The Dell Latitude 7490 is worth every penny you spend on it.
Dell G5 15 5590
For a gamer with a limited budget, the Dell GS 15 5590 is the perfect fit. A gaming laptop, not with the best of specs, but consistently delivers a great performance. Its battery life is commendable, and it has a well-balanced feature set. You could see better in terms of specs, but you cannot get a better-gaming laptop that this within its price range.