Looking through the latest offerings in 2019 laptops, size and weight are some of the most prominent laptop selling features. Computer manufacturers are taking advantage of the latest in technology to cram more and more power into a smaller space. This is fantastic if you are lugging around your computer wherever you go. But, if you use your machine in environments where there is a high potential for drops, bumps, splashes, or other computer-killing factors, size and weight may not be the most critical factor in your purchase decision.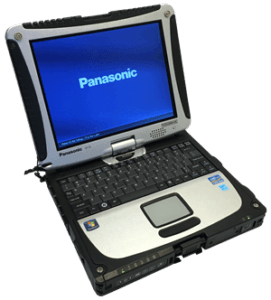 Here are some machines that can handle almost everything you can throw at them.
This might be the most durable laptop on the market, but it doesn't come cheap. The highest spec machine with all the options clocks in at over $6000. You can save some money by downgrading to an I3 chip and giving up some memory and storage, but you would still be looking at a $3000 price tag. However, you will get an extra workout at no charge – this machine weighs in at over 7.8 pounds.
Dell offers add-on features that make sense for an offering in this class like an encrypted hard drive, rubberized keyboard, fingerprint reader, mobile broadband, and dedicated GPS.
Tempted by the flexibility of a 2-in-1 laptop but afraid it won't last more than a few minutes in a harsh environment? Panasonic's Toughbook CF-33 combines a tablet and a laptop into one field-ready design. The tablet slips out of the case for ultra-portability and docks back in when you need the keyboard. You are still going to shell out big bucks for this one with a starting price over $3000.
Panasonic offers many of the same add-ons as the Dell and adds some more modular extra like a barcode reader and even a serial port.
Need a rugged laptop but don't have thousands of dollar lying around? If you think you can avoid many drops of more than a couple of feet and don't plan on actually letting it fall into water, this ASUS VivoBook might do the job. ASUS designed this machine for something even tougher than the toughest job site, school classrooms. Created for hands that tend to bump and drop things, ASUS claims military spec durability with rubber guards and even a spill-proof keyboard. It comes preloaded with Windows 10 in S mode, which isn't great if you need a true laptop experience but you can upgrade to Windows 10 Pro at no extra charge. You can pick one of these up for under $300 but don't expect it to be a powerhouse. It runs on a 2.4 GHz Intel Celeron processor and comes with 4GB of ram and a tiny 64GB of flash storage.
Of course, it is the lightest of the bunch, weighing in at a mere 2.6 pounds. It doesn't have any of the professional field add-ons like the Dell and Panasonic, but you could buy about 10 of these before you get to the base prices of the beefier options.