Back in 2016, I called the Lenovo Yoga Book C930 the most interesting laptop I'd ever touched, and now it just got a sequel. From late 2018 we got a new contender in the crowd, that is, if you don't need any physical keys. Lenovo is calling this thing the Yoga Book C930, which brings it in line with the rest of the company's branding, but in my opinion, it isn't quite flashy enough to give this product justice. After all, where else are you going to get a Windows 10 laptop that's only 10mm thick? Maxes out at 800 grams? One that pops itself open with a little knock-knock on its casing? That's right, tap the lid a couple times and it springs open. There are a lot of minor changes to the new Yoga Book, and also two major ones, which I'll cover first.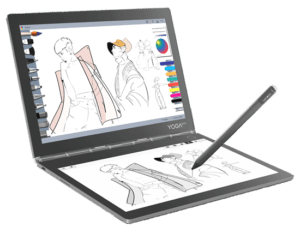 Ok, I mentioned Windows and that distinction is important. Whereas the 2016 model came in both Windows and Android models, this C930 is only offered with Microsoft's OS. In my view, this is no great loss. Android on tablets, if not dead, is then at least on life support, and from what I've heard, the old Android variant didn't sell well anyway.
With full Windows 10, this thing seems like it would be a great platform for the new always-connected PC devices running on Snapdragon, but nope. Instead, this runs on either Intel Core i5 or M3, with optional LTE in some markets, but that doesn't include the US. That means American buyers will have to settle for WiFi only for now.
Lenovo says the battery should last up to 8.6 hours.
Keyboard
Let's talk about the other big change: the keyboard. it's just as flat as last year's frosted glass, and you still get audio and haptic feedback. when you type, but now, instead of a stenciled touchpad, the keys are e-ink. That means that you can change the way that the keyboard looks, or change the language. And this is a neat trick, you can call up the trackpad only when you need it and discard it when you don't.
Once again, you have the option to use the keyboard as a memo pad, too. There's a built-in MyScript engine to convert your handwriting to text. However, one thing that there isn't, and this is a keyboard backlight. Lenovo said that they didn't have the room and given the tolerances here, maybe it won't be a big deal for everyone, and maybe the light wash from the screen will be enough to keep the keyboard visible in a darkened plane, but if not, this will be a big deal for frequent travelers or those that have a habit of looking at their keyboards while typing. There's also a reader-mode so you can throw PDFs onto the e-ink panel. It'll be great to use this thing as an e-reader, but again, not without a backlight.
Display
Thankfully, the other changes are welcome. From the bigger display with a higher resolution to the addition of a fingerprint sensor to the updated USB-C ports, two of them. I was eager to get this new Yoga Book in for some testing before it released in October of 2018, for $999.99. Is that too much to pay for the kind of extreme portability this little guy promises?
I was entranced by the first Yoga Book because I love products that look like they just walked off the set of a sci-fi movie. But I must tell you, the second I wrapped that review video, that Yoga Book went right back on the shelf. Part of the reason was that I had the Android model, and if I'm honest, I just don't think I was willing to take the time necessary to retrain my fingers to accommodate a touch keyboard.
Well, things have gotten weird since 2016. In 2018, I had to retrain my thumbs to get used to a Blackberry again. So, I might be more willing now to go the long-haul for the Yoga Book 2, especially given their switch to Windows. Seeing how other laptop manufacturers are reintroducing the concept of dual-screen notebooks, maybe it's just the early part of a new trend.
New trends
Speaking of new trends, it seems like the world we live in today is just chalked full up in electronic devices and equipment. This is to be expected given our great dependence on our phones, laptops, and tablet. However, all of these items get old or broken. Though our equipment may be broken, we know there are still good working parts in our devices and those should be recycled or reused. Well, luckily for us online commerce freaks, there is a company that provides such a service. See, at SellBroke.com, we buy laptops and electronics.
Yup, that's right, do you have an old iPhone or MacBook Pro to get rid of but don't know how? Simply stop by our online buying market and select your device, or devices, that you want to sell and get an instant quote. The rest of the process is super simple to follow, and best of all, you get paid really quickly and hassle-free.