A Few More Hononarble Menitons of CES 2019
Feb 06, 2019
Let's step into another brand for a minute. Razer, they now have the upgraded Razer Blade 15. It now supports RTX GPUs up to the 20180 Max-Q and the webcam up at the top has been upgraded to support Windows Hello. You will now be able to log into your device with just facial recognition.
Razer
The Razer Blade Stealth didn't have an upgrade. I was hoping it would have the rumored MX250, but the Stealth remains unchanged.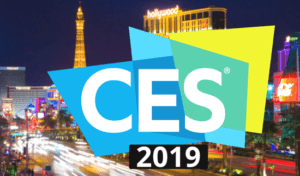 I also want to mention Razer's new monitor. It's called the Razer Raptor and it looks awesome. It's a $700 display, so obviously, it's super expensive and truthfully, most gaming displays don't really differentiate between one another. Once you're at that 27-inch, 144 Hertz or higher refresh rates, and it has 1 millisecond response time, they all look, feel and play the same. However, this display looks really clean and the one thing that I think that separates this one from the rest on the market is the cable management on the back.
Razer outfitted this guy with custom cables that flow from the inputs of the monitors and threaded through some channels that keep it looking especially clean. Now, once you're out of those channels you do still have to connect your regular cables to them, but it still looks really clean. As for whether or not it's worth the premium price of $200-$300 more than its competing products, well, that really comes down to what you value. I think it looks cool and also one of the best-looking gaming displays on the market.
Asus & Msi
Asus had a couple of really cool devices the Mothership and the Zephyrus that we talked about last week.
MSi did an RTX refresh on basically all of their devices. The GS65 is going to be super popular again and running up to an RTX 2080 Max-Q. They also have a GS75 which has a 17-inch screen, so if you're looking for something a little bit bigger but still retains that whole thin and light gaming laptop idea, that too is now an option.
Acer
Acer did another update to their Swift 7, the thinnest laptop in the world. It's super thin, and they are going for the thinnest laptop title, but there's a diminishing return when it comes to thin laptops to the point where the keyboard is difficult to use. I've mentioned this before that's it's not for everyone, but if it fits your style, there you have it.
Acer also has a new Chromebook that is running AMD hardware, so an AMD CPU and a Radeon GPU, which is great and for $280, it's relatively inexpensive and seems quite powerful for what that device is. It's pretty solid.
They also have a Triton 900. This feels like a bit of a miss. It has cool looking easel hinges that look cool in photos and videos, but the reality is, that this device doesn't need these hinges. There's very little utility to them, after all, it's a gaming device, that means you're not going to be using this device in a manner that requires it to flip around the display. Speaking of the display, it's a 4K, 60 Hertz, G-Sync enabled, but again, the hardware in here supports really high frame rates, and yet they put a 60 fps screen, I don't get it. It's definitely not my top pick of this year's CES.
The Triton 500 however, looks really nice. It's a nice blue color, it's not crazy expensive, it's 15-inches and it's in the mid to premium tier for gaming laptops. This will probably be a big seller for them.
Gigabyte
Gigabyte also updated their Air 15 to support the new RTX GPUs, but unlike all of the other devices out there, they have an extra feature that they kind of slipped in. It now supports Azure AI. It's something they've done with Microsoft to basically allow the computer to learn your usage habits and to under and over-volt the CPU and/or the GPU.
Samsung
Some outliers here, Samsung has their new Odyssey laptop. This is their 3rd time that they have done their Odyessy gaming laptop and the previous two generations have been trash. They were expensive, had poor performance and were quite ugly. With this latest one, I feel like Samsung doesn't get it. At least not for the Northern American market.
Lastly, there is the Huawei MateBook 13. Here's a device that starts at $1,000. It's going to compete quite well with any of the 13-inch ultrabook devices, particularly the MacBooks Air that has a significantly worse value than the MateBook. However, not all  Chinese brands that sell laptops are well known and you must be comfortable purchasing from them. But I think it's looking pretty solid. It's well-built, looks good and has good performance for the money.
These are but a few of the laptops of interest from this year's CES.