Asus is selling laptops for all kinds of users. For ultrabook enthusiasts is the Zenbook line. They have big ones they have small ones, and this is their latest thin and light ultrabook; the S13. What makes this device special, are the very thin bezels. This device has what I think are the thinnest bezels on the ultrabook like this. They've done it to fit a relatively bigger screen on a smaller chassis. This one has a 13.9-inch screen on a chassis that would traditionally only hold a 13-inch screen. So, you get a bigger screen on a smaller footprint. In doing so, they were forced to make a notch, or hump, at the top of the screen.
Design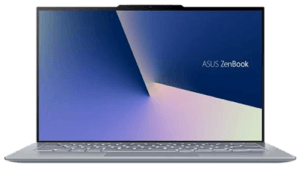 Now, for most people, they are going to look at this hump and may think it looks kind of weird. It's just not following the traditional laptop look. When I first saw the pictures I thought it was pretty weird, I wasn't sure if I was going to love the design. After having used it a little it, I actually don't find it to be at all offensive like I imagined. In fact, when you have it closed, it serves as a little grip to open. However, it's still a bit weird because there's a protrusion on the device and obviously most laptops don't have protrusions like that.
The reason why they have this protrusion is that that's where they suck the camera housing. They've done it in a way that looks reasonably nice, but it's still strange to have a hump at the top of the laptop.
Display
The display itself is quite nice. It's a 1080p screen color accurate RGB 99% and Adobe RGB 83%, it's quite bright at 400 nits. It's brighter than a lot of other 1080p screens in the ultrabook market. Also, because of the hinge it almost hides the bottom bezel completely and gives you a very clean looking visual.
Ports and charger
The port selection is OK. There are two USB-Cs, one USB-A and none support Thunderbolt 3. There are a microSD card reader and a headphone jack.
There's one thing that I like about the Zenbook which other older Zenbook laptops don't have and that's the fact that they include a 65W USB-C charger. All of the older Zenbooks use barrel plugs which I am not a fan of for 2018 and 2019, but they finally switched over to a USB-C universal charging, and that's pretty nice.
Keyboard
The keyboard lifts the back of the device when you open it. They call it ErgoLift. This is something that people will either love or hate because of the tilt. I tend to like it. However, there are a lot of people that don't like tilted keyboards because of carpal tunnel problems but is so very slight you probably won't even notice it. But, if you can use it in a store first before committing to it, that would be a great idea.
The layout is nice and spacious, the keystrokes are a little bit softer. It seems like the mechanism they are using to lift the keys back up could be a little bit stiffer.
Trackpad
The trackpad has Windows Precision drivers. It's a nice trackpad, but they have this option where you can get an illuminated keypad on the trackpad. As I've mentioned before with this technology that it looks really cool and the tech is super dope, but the functionality of it, just isn't there yet, and for me, it's a novelty item that quickly loses its appeal. In theory, this should work great because it's should be faster than using the number row, but since there's no tactile feedback and there's some input lag, it's just not ready yet to be what we want it to be.
Performance
The CPU in this is the 8th gen Whisky Lake. It turbos a little bit faster than the previous generation, but it's still an 8th gen, four-core CPU. The GPU in it is an MX 150. Despite the MX 150 with a pretty powerful CPU, there is a relatively large problem on this device: the thermals.
This device has 2 fans, and when it's at idle it's pretty much silent, but even when it's running benchmarks it's still very quiet. The thing is, they shouldn't be so quiet because the CPU and GPU are capable of pushing out a lot of performance and a lot of heat. Asus doesn't have any software in it to control the fans manually. Ok, I get it, it's a Zenbook and it's not a gaming device, but it's capable of pushing out decent frame rates in games. However, due to the thermal situation, it's put in, it can't.
The 512GB NVME is replaceable but the RAM and WiFi card are both built onboard.
Battery life
It's a 50W hour battery that kicks out a little less than 7 hours with the screen at 250 nits, and when it comes to production time, they'll probably get that up a little higher as well.
Speakers
The speakers are good. They aren't amazing since they are down-firing and because of the ErgoLift, there's a chamber of echoes below it. They are reasonably loud, but not with super clean audio.
Competition
This is just another bit of awesomeness in the ultrabook world. If you're looking at this you'll be looking a the XPS 13 and Razer Blade Stealth as well I'm pretty sure, and what this one has on the others are the super small bezels. No matter what, you're getting a decent ultrabook with plenty of power.