Gaming Phone Razer 2
Dec 18, 2018
Back in October Razer announced a whole bunch of new products, and one of them is the new Razer Phone 2. They also announced some laptop, but this will be about the Razer phone 2.
The phone from last year the Razer Phone 1, has a very similar design to the new one, but they've changed quite a few things this year. Last year's phone had a super fast 120 Hertz display, but the screen wasn't very bright. The Razer Phone 2 increases that brightness by about 50%. It still has 1440p and is still super smooth at 120 hertz and with its improved brightness, this is going to be one of the best experiences you're going to get on a smartphone.

Other notable changes:
It has a glass back this year that supports wireless charging.
The camera system has been updated. It's still a dual lens system with updated optics and software.
The logo on the back of the phone also supports Razer Chroma, which for those that are unfamiliar, it's Razer's RGB lighting system that you can use for notifications or just for lighting effects. You have a ton of colors to choose from.
It's also IP67 water-resistant this year, which is something the original Razer Phone was missing.
The speakers have also been upgraded and that's saying a lot because last year they were the best on the market and this year they're even better. They are louder, they are cleaner and it's very likely that the Razer Phone will have the best speakers this time around as well.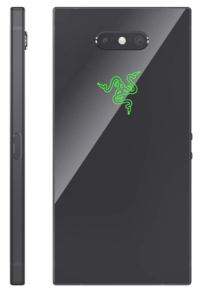 Performance upgrades
It's been updated to Snapdragon 845 and cooled with a vapor chamber this year to keep things running smoothly while playing games.
It still has 8GB of RAM, and it still has a 4,000 milliamp battery. Also, the phone has been optimized more with a new SOC, so especially at 120 Hertz, you're going to get better battery life. Even with the higher refresh rate, you should get about 10 hours.
This year it has gone up in price a bit. Last year's model would set you back about $700 and this year they upped it a $100 more to $800. Last year's price was pretty competitive, and this year it feels like that they are trying to hit that more premium segment, because $800 for a smartphone, in 2018, certainly is not cheap. So, that's when you should consider to sell phone you currently have to give you a bit of extra money to put towards something like this new Razer Phone 2.