SellBroke's Last Minute Cyber Monday 2018 Gift Ideas Under $50
Nov 25, 2018
https://youtu.be/7aoNJJ95RWY
We only have less than a few hours to get ready for Cyber Monday. Do you already have your list made so you can purchase them directly without any issues? Well, if you're one of those people like me, you're going to wait until the last minute before you even begin to research gifts. In efforts to help you out a bit, I've gone ahead and have done some pre-research, at least I call it "pre-research, because for me it's still early, and it's already the weekend!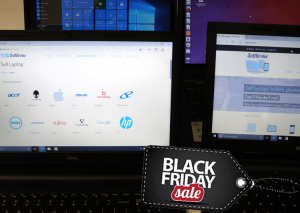 OK, so scouring the internet and looking for various gadgets to buy, I ran across a couple that I think are pretty cool. Another thing that is pretty cool is SellBroke.com. Because of their service, I was able to sell my laptop to them quickly and hassle-free. See, what I did was, I sold my older MacBook Pro went ahead and replaced mine; however, I still had a fairly well-functioning laptop that I had no need for any longer.
So, I jumped online and Googled: "sell my laptop", and they were one of the first search results. From there, everything was easy. I just selected my device as instructed on their website and answered a few questions, and voila, I was sticking an already paid for shipping label I got from them and I was sending it out the door before lunchtime. The end result: I had some extra cash on-hand, so I decided to do some Cyber Monday research. Your win, my win.
So, back to the last couple of gadgets that under $50.
Razr Firefly Mouse Mat
Here's the Razr Firefly Mouse Mat, this is an awesome RGB lit, sizable gaming mousepad. It has two finishes to choose from. You can choose between a cloth material finish or a hard plastic finish. The cloth one is nice, but it'll get dirty quickly, so if you want something a little less demanding, go for the hard plastic finish.
The best thing about this mouse mat is the RGB light lining the perimeter. It has a soft and subtle glow so it adds a little flair into any setup, but it's not overwhelming, that's where Razr got it right. This really compliments any theme very well.
Notti Smart Mood Light
Moving on, Here's the Notti Smart Mood Light. Don't let the name fool you, this is more than just a lamp. While you can simply use it as a decorative piece and change the colors to fit your needs, the Notti also has a multitude of uses. It functions as an alarm by slowly brightening up your room for whatever time you set and can pulse various colors to the beat of your music, all the while alerting you when you receive notifications.
This is cool if you're working and your phone is out of reach and you still want to know when notifications come in from various apps. For example, you can set it to blink blue when you get a Facebook notification, yellow for Snapchat, green for WhatsApp, red for Instagram, etc... It'll also flash if you're getting calls or texts. For me, it's a functional and dope piece to my office setup.
That sums up our 2018 season of Black Friday and Cyber Monday finds. Tune into to our social media and blog forum to stay up-to-date on tech reviews, gadgets and finds, and just some really cool stuff, well, at least we think they're cool. But know what's always cool? Getting paid easy-money to sell your laptops, old or broken, that's the best.