The 11-inch HP Stream laptop is a student targeted laptop. It has a budget-friendly price and comes with an office 365 subscription worth a whopping $100. The laptop is very popular as it has racked up an enviable 700+ reviews on Amazon.com, having constantly been featured in Amazon's top 10 laptops lists.
The version I reviewed is the HP stream 11 x360 which boasts a HP DataPass 3G bundle at $300. Currently, this configuration is available in the USA.
Now, for the review proper, we'd take a good look at the specs at a glance.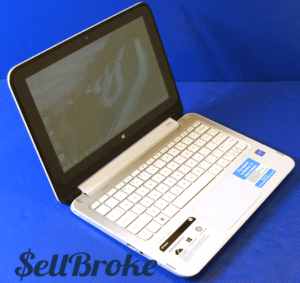 DESIGN
For this review, I have the very blue version of the HP Stream 11 here. There's a pink option too. Although the rotating hinge feels a little bulky, the HP Stream 11 has a solid build. With a 1.5kg weight, it is about 50% heavier than the lightest Windows laptop within its size range.
Plastic has a pretty good feel; the fitting is equally as good. Sweaty marks from clammy fingers fade away in seconds.
The laptop has a Sim card slot, three USB ports, an HDMI port. The SD card slot allows the storage to sit entirely inside the unit. It also supports the use of a large SD card. It has a 32 GB eMMC internal Storage.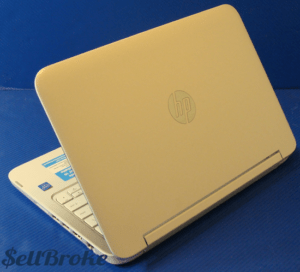 As a result of its convertibility, it supports up to four modes, viz;
1. Laptop mode
2. Tent mode
3. Hinge mode
4. Tablet mode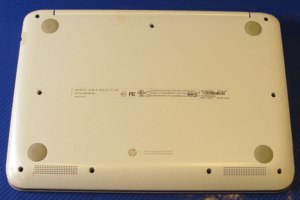 CONNECTIVITY
HP X360 convertible boasts a good range of ports starting with a power connector, an Ethernet port (100Mbps), a USB 2. Port, another USB 3.0 port and next to it is the Sim card slot. On the left-hand side, there's a Kensington lock hole, the power button, a volume rocker, a headset port, and an additional USB 2.0 port. The underside of the unit holds two speakers while the rear of the unit is all hinge.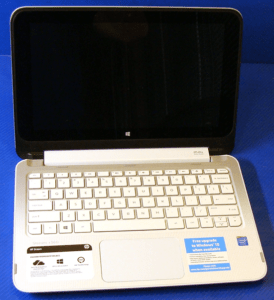 SOUND AND SCREEN
Truth is there is nothing special about the HP Stream display. The screen is 11.6 inch. I found the display quality of the screen to be poor even before we subjected it to test. It is a plain LCD-TN screen with poor maximum brightness, poor color representation, and black levels. The color contrast is equally as poor.
 Maximum color distribution is 197 cd/m2
 Average color distribution is 189 cd/m2
 Brightness distribution percentage is 91%
 Color contrast: 494:1 (Black 0.5 cd/m2)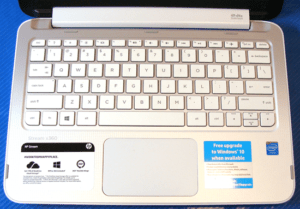 For a modern laptop, the delta values on the colors (variation from trueness) is too high and its contrast level of 493:1 is poor. The weakest point of the laptop is the poor viewing angles accompanying the poor color reproduction aspect of this 11.6-inch 1366×768 screen.
The speakers are of average quality even though its sound is clean even at the highest volume. Digital audio is available through Bluetooth and Miracast, and also through the HDMI port. The headset port supports analog output.
BATTERY
The HP Stream 11 X360 has a standby life of 12 hours without a charge, and this is possibly due to low power backlighting.
Using video playback and WiFi browsing, the battery lasted 6 hours. Battery runtime using WiFi is 396 minutes.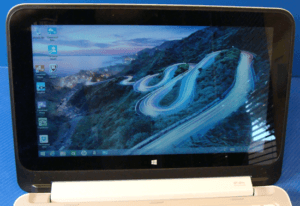 PERFORMANCE
The laptop uses a bay trial-M entry-level PC platform. It is ideal for daily browsing, basic office usage, video playback, basic photo editing. It does have barriers though, as unzipping large files, basic video editing, and preparing online documents and applications would be problematic.
Laptop runs on Intel N2840 dual-core processor. The performance of the laptop is about enough to give a hitch-free browsing experience. The laptop also comfortably run office apps without too much delay. It also boasts of an SDD which helps to boost the overall snappiness of the laptop. But this processor cannot raise shoulders, especially when compared to high-end laptops.
Gamers will find joy in the fact that Minecraft works at a pinch while Warcraft, well, not so much!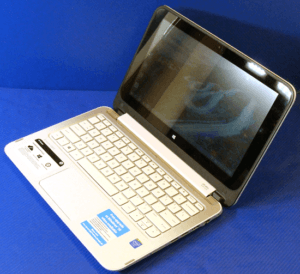 VERDICT
HP stream for its price, is a portable laptop with an appealing 3G data bundle. For the price, the build quality, keyboard, and battery life are brilliant. Two issues, however, stands out. First, the poor screen quality, which undoubtedly can rank as the worst screen we've seen in a while on a laptop. An LCD display instead of an IPS display is quite out of place, especially for a convertible laptop. Also, the weight makes it difficult to use in a fold-back tablet mode. If these cons aren't so critical for you, then this laptop represents excellent value.