2018 Dell XPS 15 Convertible Laptop
Apr 23, 2018
Today, we're getting into the Dell XPS 15 2-in-1 laptop. It's not designed to replace the original XPS 15, they are still making those. It's more of a supplementary device for those people that want something a little more versatile that can do different modes.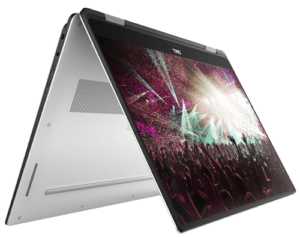 For $1,300 you are getting a 4.3-pound 2-in-1 device that's thin and light and running a new Kaby Lake G processors. Those have the AMD GPUs with the Intel CPUs. It's a very powerful system in a small package.
Convertibility
Anytime you use a big 15" laptop in tablet mode it's not exactly the most comfortable thing if you're going to hand hold it. If you are going to use it as a rested tablet to take notes or create creative projects then it's fine. But it's a little on the super big size to use in your hands like a regular tablet. You can use it in tent mode, presentation mode, you can pop it up to watch a movie or you can play games. You can connect a controller a mouse and keyboard as well. It's a nice experience to be up and close to your screen doing stuff.
Speakers and Ports
Now, the speakers are not in the best location on the back. They sound OK, not great, but they will suffice. If there is any difference between these and the regular XPS 15 speakers it's negligible. They sound the worst when it's in tablet mode because the sound really gets muffled.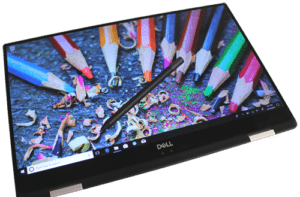 The ports on this device are all USB-C. There are four of them, two on each side and one of them on the left-side is Thunderbolt 3 supported. There is a four-lane PCIe support if you are curious about external GPUs. There's no USB-A and there's only a microSD slot. This is a bit strange because the type of people that are mostly of this type of machine are the types that would also be most interested in using a regular SD card slot. The charging is USB-C and there is also a battery indicator which is normal to see on the XPS products.
Display
I'm using the 4k panel right now and this is an excellent display. It's very bright, very color accurate, and I think most people will love it. Since the original XPS screen as already good, I expected the same but they really outdid themselves with this 4k panel. It is not as bright as a MacBook Pro's screen but it is more color accurate.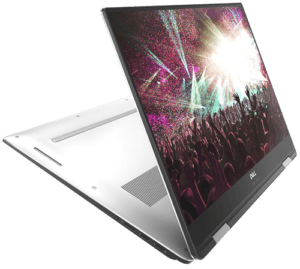 Dell has also included a dedicated pen for the 2-in-1 laptop, it has low latency and it's really useful for creatives and students. The nib feels good, it is reminiscent of the Surface products, it has a little bit of texture to it when writing on the glass.
The webcam is still located on the bottom so you get that up-the-nose perspective, but when you flip it into tent mode it's on top and just fine. It also has Windows Hello for facial recognition and there's also a fingerprint sensor at the top of the keyboard.
Keyboard and Trackpad
This keyboard is a Maglev keyboard. That means instead of using a spring or switch to raise the keys it uses magnets to give each key resistance. The purpose of this tech is to reduce the thickness of the base by shaving a couple millimeters off the key mechanisms.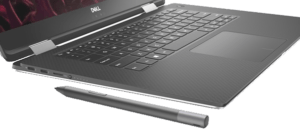 How do the keys feel? Well, at first they are a bit strange, but they are really easy to get used to. They are not butterfly switches like found on the MacBooks, and they are different from the butterfly switches just as the butterfly switches were different from the spring and regular chiclet keys from the past. At the end of the day, they feel really good and within a day or two, you'll be used to their unique feel. The keys feel like they snap back to the normal resting state a little faster than normal. It's safe to assume that they will be enjoyed by most people.
The trackpad is great. It's the standard XPS glass trackpad with great tracking and good button mechanics.
RAM and SSD
Like any XPS product, it's really easy to get inside of. Once inside you have a removable solid state drive, which is great. But they did solder the RAM on so that's not super awesome. And they went with the Killer WiFi card again.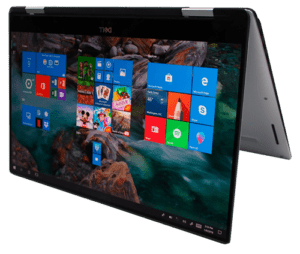 Battery
The battery life is not what I expected. It's actually a 75-watt-hour battery but it just has some really short battery life to it. maybe it's a software thing that can get addressed later, but for now, it doesn't yield too much time with only 5 hours with 250 nits.
Performance
This laptop is a solid performer. It's running an i7-8705G so the GPU pushes really similar performance to a GTX 1050 and most modern games seem to run at about 60 fps if you lower the graphics quality a bit. It's good, but not mind-blowing, but then again, it's a thin and light 2-in-1 laptop.
The thermals are fair. If you are expecting some crazy performance you will be disappointed. During benchmarks, there wasn't an issue, but during heavy and long gameplay they would throttle. Dell used Gore material like the XPS 13 to help channel the heat away from the keyboard and bottom panel so it's comfortable to use, but if you wanted a machine for heavy gaming, this isn't it.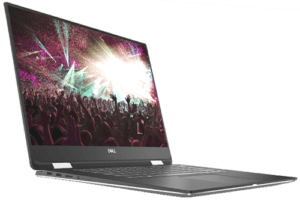 The video editing performance is also good. It's not as good as the new 6-core Coffee Lake CPUs, but it's pretty solid. Render times are a little bit slower than a 6-core, but the video editing experience is very similar.
The fans come on more often than I would like. They are quiet under load but when you stress the system hard, it does get loud.
Conclusion
I feel like Dell put a lot of effort and time into this laptop. It's not a half-baked attempt that we've seen from other companies putting together a 2-in-1 device. This device is well-engineered and thought out. It's not for everyone, but if you're a creator, then it's definitely up your alley.