Asus Zenbook UX306 Laptop (2016)
Mar 29, 2018
This is a review of an older laptop from 2016 that may be a good pick up for you on the secondhand market. It's nice to have the biggest and newest laptop available, but that's not always an option due to a myriad of reasons. Oftentimes buying an used laptop is a good idea. So let's take a look at the Asus Zenbook UX306.
The exterior is very similar to its predecessor, the 305 form 2015, essentially it has the same shape and size. The top surface has a radial brushed finish and the bottom is the more standard smooth plastic texture.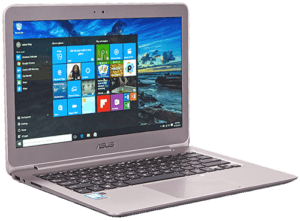 Memory and Storage
To open it up you will need to remove the T5 screws and then there are two more screws under the feet. It's kind of troublesome to get in there, but once you're inside you'll find a removable m.2 SSD and then there are 8GB of RAM that is soldered on. There is an option for 16GB of RAM if you need it.

Design
Now compared to Dell XPS 13 and the Razer Blade Stealth, it's the biggest of the bunch but it's still a relatively small package. It has the same amount of material flex as the year before. The chassis isn't as rigid as I'd like it to be, but the overall build quality is good. The hinge tension on the screen is perfect you can open and close it with one hand. The bottom of the screen hits the table when fully opened in order to keep it a bit elevated off of the table you're working on. The built quality is better on the Asus Zenbook UX430.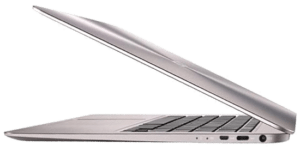 Ports
It's a little skimpy on ports; it has one USB-A, an audio jack, an SD card slot. On the other side, there is a USB-C, micro HDMI and that's it. To make things worse, the USB-C doesn't support Thunderbolt 3. Definitely not a ton of ports, but maybe there's enough for most people.
Video and Audio
The screen is a 1080p non-touch. It's a matte finish, viewing angles are not amazing but it gets bright at about 320 nits and the color accuracy is pretty good.
The speakers are still located on the bottom but they sound better than they did in the 305. They are not super loud and they still don't have a lot of bass, but they sound clear.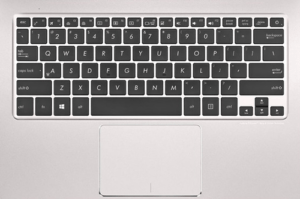 Keyboard and Trackpad
This model has keyboard backlighting that a lot of people wanted with the 305 but just didn't get. The keys are spacious to type on, the arrow keys are small, but the layout is good and none of the keys feel uncomfortable to use. The keystroke isn't as responsive as I'd like it to be. It's supposedly a 1.5mm travel but it feels shorter to me and I'd say overall that it a pretty average but decent typing experience.
The trackpad has been improved. The earlier UX305 laptops had a weird clicking issue and that's been resolved. It's a big plastic surface and uses Windows native drivers so tracking is really good. I wish the texture was a bit smoother but there's no skipping and the clicking and gestures are really responsive.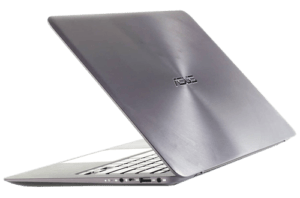 Performance
The SSD that they include is a SATA based m.2, so it's not super fast. System performance otherwise id really good. It's more than capable of handling your workload.
It's running the Intel HD 520 graphics chip, so gaming isn't its strong point but it can handle light games on the lowest settings and lowest resolution. Even something like Overwatch can hit 50-60fps with pixelation. By no means it performs like the gaming MSi GE 63 Raider Laptop.
The performance here is a really nice step up from the Core M chips that were in the prior 305 model and also if you want, 1080p video is viable, just make sure to use an external drive.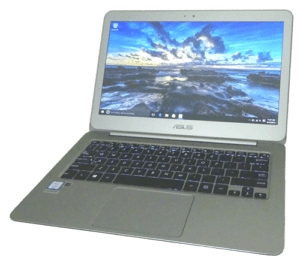 Cooling
In terms of fan noise, it's quiet on idle, not quite silent, but close. On load fan noise picks up but never gets super loud. Thermally, it has a pretty average heat output. It features something called Asus Ice Cool that supposedly keeps the palm rest cooler, and it does, but I didn't really see that much of a difference.
Battery
The battery life has been bumped up from the previous model. It's a 57-watt-hour battery and it takes about 3.5 hours to charge. And it'll get you about 7.5 -8 hours of normal usage.
So, there you have it, an older model convenient and a capable laptop that should get most people through their days of work or school. You can find this online from anywhere from $600-$750USD depending on sales. However, on the second-hand market, you're likely to find it for even less.