Buying Used Samsung S6 Edge Plus
Jan 18, 2018
Yes, I know, it's 2018, so why am I going to talk about a product from 2015? Well, the short answer is: because it's still worth it to get on the secondhand market. However, for the longer answer, you're going to have to continue reading. I am going to talk about both the good and the bad, so without wasting any time, let's get right into it.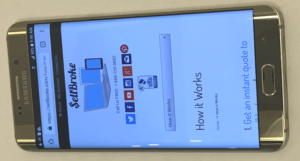 The original Samsung Galaxy S6 Edge was one of the nicest phones to ever hit the market in its time. Well, now imagine a bigger, sexier version of it with more edge, more display, and of course, more battery. The size is comparable to an iPhone 7 Plus. The Galaxy S6 Edge Plus screams premium now even almost 3 years later. Most users I know with the phone still love it and feel the same way.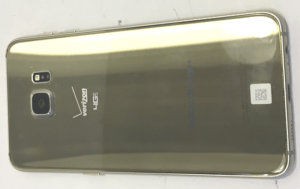 Design
The frame is made out of metal with the power button on the right side and the volume controls on the left. The placement of everything is similar to its younger sibling, except for the missing IR blaster. Even though the phone is only 5.7", you would think it would be a big device. It's actually smaller than the Note 5 and that's mainly due to the very thin bezels. So, a couple of things about the design. Because the back of it is made of glass it attracts fingerprints like nobody's business. Also, since it's so slim compared to the Note 5, it feels sharper in the hand making it a little bit uncomfortable.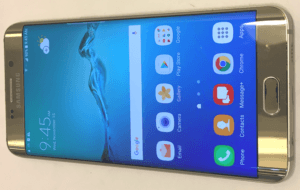 Display
The display is up next, and it's a 5.7" Quad HD display with a resolution of 2560 x 1440 with 518 pixels per inch. It's super AMOLED, bright, big and absolutely gorgeous. Viewing angles are good, the text is sharp and it was hands down the best display of its day. Samsung marketed this cell as the perfect media consumption device, and for the most part, they succeeded. Below the display is a single speaker port and it sounds OK. It would have been nice to have two external speakers instead of one, especially since this pone is so big.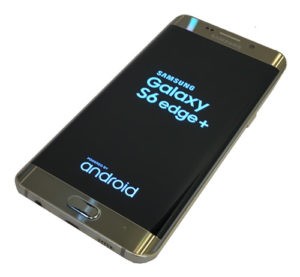 People were always wondering if the larger Edge display offered a better viewing experience. It didn't make things more immersive, in fact, sometimes it even distorted colors and images, but that was very rare. The bottom line was that the edge display was pure sweet eye-candy.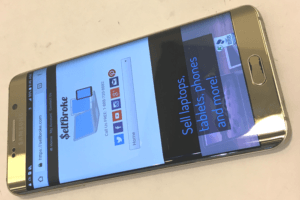 Performance
Software and performance were ridiculously fast. It originally ran an Android 4.4.2 (KitKat) but is easily upgradable to 6.0, Marshmallow. It has a Qualcomm Snapdragon 801 chipset and a Quad-core 2.5 GHz Krait 400. You won't experience too many slowdowns. With the 4GB of RAM, you are able to juggle multiple CPU intensive apps at once and even the big games launch fairly quickly. There's honestly nothing that this phone couldn't handle.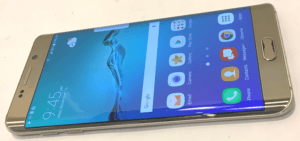 Apps
A lot of people wanted to know if this phone had aggressive memory management. I think this issue was completely blown out of proportion. Sure, if you have 10 aggressive memory apps open it might crash one. I also came with Microsoft Office Suite, it had a few Samsung apps such as the S Translator, S Health, and S Planner, to name a few. The Edge also has its own feature that allows you to swipe in a menu to quickly access your favorite contacts or apps.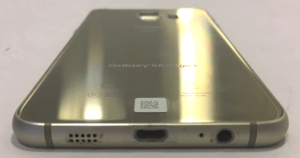 Storage and Battery
Next up, is storage and battery life. The Edge Plus came with 32GB of storage and 20GB of usable space. There was no MicroSD card slot, but you could buy a 64GB model if you needed more room. Thanks to the large 3,000 milliamp battery the Edge Plus lasts all day with typical usage. This usually involved a lot of Twitter, Facebook, Instagram, SnapChat, listening to podcasts, music and light browsing. At the end of the day, it would be normal to be left with 20% or so of the battery. The Edge Plus also came with fast charging and fast wireless charging. It was easy to quickly top-off your battery when needed.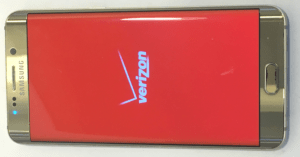 Good performance and cool features make the Galaxy Edge one of the top selling smartphones on second hand market.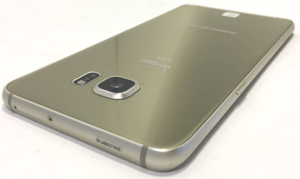 Camera
Last up is the camera. Inside the S6 Edge Plus was the same awesome camera that was inside the Galaxy S6. So, to no surprise, it took some great photos with its 16MP. Pictures would come out sharp and vibrant by simply using the auto mode. You could always count on getting nice sharp, color accurate 1080p video as well. Also you could do some 4K video as long as it didn't exceed 5 minutes. You could also live broadcast YouTube directly from the camera app. I know we all like to have the super brand new gigs on the market, but the reality is, is that there are a ton of older phones that are still quite competitive even in today's market of iPhone's and Android's flagship trends.