Aorus X7 V6 17" Gaming Laptop
Nov 28, 2017
Here's to hoping everyone had a good time with friends and family over Thanksgiving. Did you sit around talking about your upcoming Christmas lists and desires? Maybe some of you got caught up in the Black Friday sale madness. No matter what it was that you were doing, we here at SellBroke kept plugging away to make sure you... our valued readers, have enough info on hand to make wise secondhand computer buying choices. If you haven't heard of the Aorus X7 yet, here's your introduction.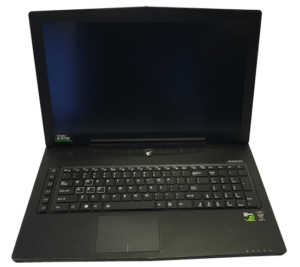 This is the slim 17-inch Aorus X7 V6 gaming laptop. It comes with Pascal and a bunch of other cool features. This particular model starts at $2,700 USD. Clearly, this is a very expensive laptop to put on your list. Let's see if it's worth it.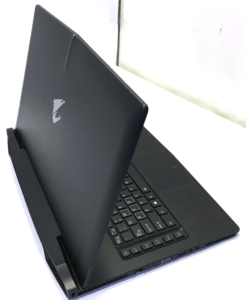 Design
The Aorus design is very clean looking with a smooth matte black finish with a lit up logo. To me, the logo looks like an eagle's head with a human arm bent like it's flexing its muscles. Speaking of muscles, you better have some because this bad boy weighs in at 7.05-pounds. It's a gaming laptop that doesn't scream gamer.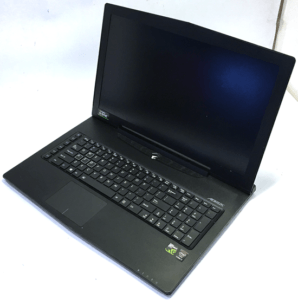 The build quality on the X7 has always been very good. It has a nice fit and finish, great hinge, limited screen and chassis flex.
It's a 17" laptop so there are a ton of ports, audio jacks, Ethernet, three display outputs, so you can set up NVIDIA surround, three USB 3.0s, an SD slot and a USB 3.1 Type-C that does not support Thunderbolt 3.

Internals
The internals are easily accessible and inside you'll find four RAM slots, so you can get up to 64GB of RAM, four drive bay, a 2.5" SATA drive and the other three are empty slots. You're getting 1TB HHD and a 512GB SSD that's crazy fast. There's also an optional Live Stream engine that fits into one of the m.2 slots. This supposedly takes the burden off of your CPU for recording and streaming gameplay.

The battery is a 94 watt-hour, it gets you around 3 to 3.5 hours, for regular use. There is no NVIDIA Optimus on the X7 because it has a G-Sync panel. However, you can check the battery status when it's off by using the system activity lights.
Keyboard
The keyboard has individual RGB lighting and it's easy to customize. There are some dim spots on the bigger keys, the overall typing experience is great. They have good travel, layout, and spacing.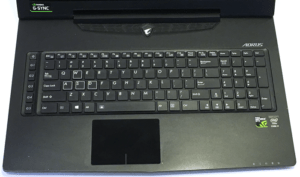 Trackpad
The Aorus X7 uses an ELAN trackpad. The surface is a nice textures glass with a big eagle head logo on it. Tracking is decent. The button mechanism is OK, there are no separate mechanical buttons, but its overall experience is decent enough.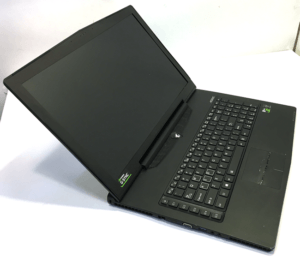 Display
The laptop can be equipped with a 17-inch 1440p panel with G-Sync at 120 Hertz. Games look incredibly smooth on this screen. It has a matte finish, and it's not a touchscreen. Once you calibrate it the color accuracy is pretty good with 92% sRGB and 71% Adobe RGB, and it's reasonably bright with 320 nits. Viewing angles are decent, but with a 5 millisecond response time, the screen is excellent for gaming. It's actually one of the best on the market for competitive gamers.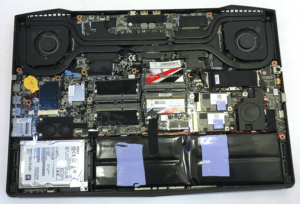 Performance
If you pair this 120Hz G-Sync panel with an unlocked CPU and a powerful GPU, you get the performance like a desktop would give you, it's simply awesome. You can easily overclock the CPU turbo to 4GHz, which is the base speed of the desktop 6700K and then the GTX 1070 in here has almost identical GTX 1070 desktop type of performance. It's a beast.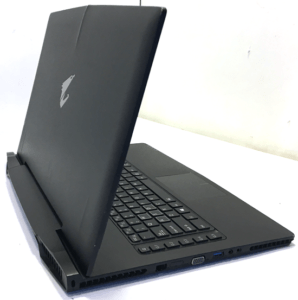 1080p gaming is a breeze. Overwatch on ultra settings goes above 150 fps, Doom on ultra is about 120 fps, Witcher 3 runs about 80 fps with hair works off, and 60 fps with it on. If you play at the native 1440p native resolution, you can't really tell that much difference between 1440p and 1080p gaming on a 17" screen.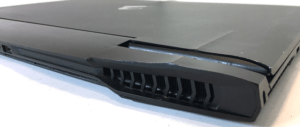 Thermally it is properly cooled. It has five heat pipes, two fans, and it doesn't throttle at base speeds, or even when overclocked to 4GHz. Aorus did a great job with thermal management. However, the fan noise can be loud. You can reduce fan speed with the software, and if you leave it stock it's audible on idle and loud under a load. With this type of performance though, you want the laptop to be aggressively cooled. There's even an optional kickstand in the box to help elevate it for better cooling.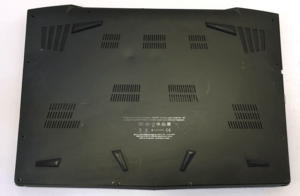 Speakers
The speakers are pretty good. There are two that fire at the side, and then there are two subwoofers on the bottom. Since the laptop isn't very thick they are not amazing, but they get loud and they are clear. They are great for media consumption, but because of how loud the fans get under load, you'll definitely want headphones while gaming.
So there you have it. A quick breakdown of a very expensive gaming laptop. Find out how to sell your laptop online and get cash for a new one.