LG Gram Ultralight Laptop
Oct 15, 2017
LG is another player in the electronics field across the globe and they sell laptops, cell phones, laundry machines, air conditioners, just about anything and everything, but today, we're talking about the LG Gram ultrabook.
This is really one of the first devices that LG has pushed into North America. The gram is extremely thin and super light and it's geared towards someone that really wants the true ultrabook experience.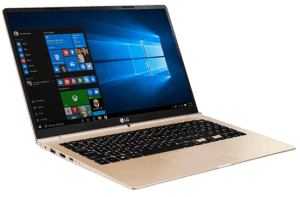 Configurations
This laptop comes in a few different models and screen sizes. We already introduced LG Gram 15 a while ago. Today we are going to talk about the 14-inch model. A quick breakdown of the specs are as follows: Intel Broadwell 5200U processor, Intel HD5500 GPU, 128 GB of storage, 14-inch IPS panel at 1920 x 1080p, with 8GB of RAM that retails at $999 USD. There's another model with an i7 that runs a bit more expensive and even a 13-inch model that is less expensive, but the 14-inch seems to fit the bill both in size and value for the money.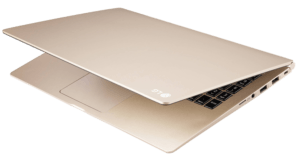 Design
The top lid plate has a texture that's very similar to a MacBook Pro with its textured finish. The bottom plate is similar but more of a plastic material and not metallic. The screen has a bit of flex, it's not too bad, so it's nothing to worry about. As for the keyboard deck, it has a bit of flex as well and just isn't a solid as it probably could be. The plastic hinges are sturdy and solid so they shouldn't present much of a problem either. The bottom plate is very flexy and the build quality just doesn't feel to be at the top of the laptop game.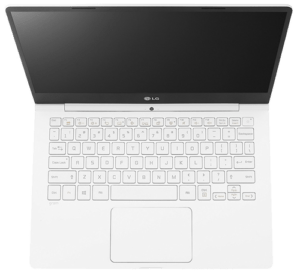 Interfaces
As for I/O they is a power port, two USB 3.0s, a full-size HDMI port, a microphone/headset combo jack, a microSD slot, and the security lock slot. The micro USB slot is for the dongle/adapter that was found in the original box. There are mixed feelings about the micro SD. It is great for transferring files, but if you are a photographer or video editor that used a full-size SD card, then you will need another adapter.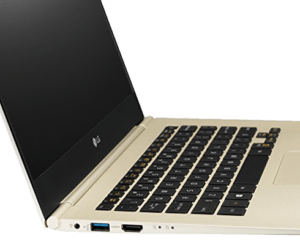 The 40-watt AC adapter is small and the plug is pretty slim and narrow and fairly delicate, so you will need to head caution to not damage it.
Thin like MacBook Air
The LG Gram is thin like a MacBook Air and thinner than Asus' UX 303. Length and width are the same among the three, but only the Gram has a 14-inch screen as compared to the other two with their 13-inch screens, and the Gram is significantly lighter only weighing 980 grams.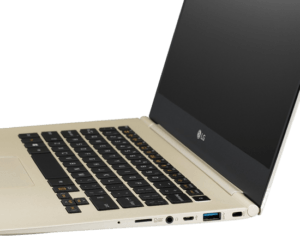 Keyboard
The keyboard types pretty well. In terms of spacing, it's pretty decent and the arrow keys are well placed too. The backspace key I found to be a little bit shorter than usual, so it could take a couple days to get used to. Overall though, it's a good keyboard. However, LG didn't equip this keyboard with any backlighting, and if you are like me and depend on it, for almost $1,000, it should be backlit. There's no excuse not to light the keyboard in 2017.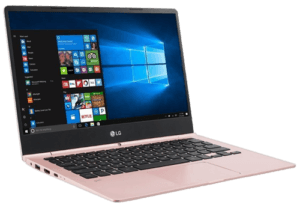 The trackpad is decent, the texture is great. The buttons click well mechanically but the tracking isn't perfectly accurate like others on the market today. It sometimes gets stuck or skips around some.
Display
The display is a non-touch, glossy, 1080p IPS panel. The viewing angles are pretty decent, but the color accuracy isn't the greatest, but not the worst either with an sRGB rating at 85% and Adobe RGB at 63%. It's got relatively bright as well, so that's nice for the brighter ambient light situations. It's not the best screen on an ultrabook, but it is respectable and it also houses its 14-inch screen in a 13-inch laptop's footprint. Since the side bezels are only 7 mm, it's doable.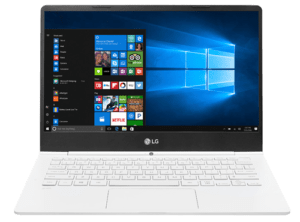 The speakers are small and down-firing that sound decent and get fairly loud. Since they are down-firing they sound best on a hard surface like a desk.
Cooling
This Gram idles really quietly. Even when it's under a moderate to higher load the i5 still is kept amazingly quiet. LG did a great job with that. Unfortunately, with the silence, comes heat. Since the fan is so slow and quiet the machine does tend to get pretty hot. It goes over 115-degrees F, so the really quiet nature of this device comes with a heat trade-off. Luckily, the Broadwell chip can handle a lot more heat, but it still comes with CPU throttling.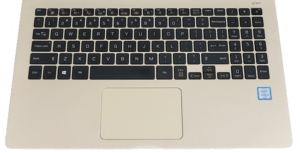 Performance
This LG is running an SSD and the read/write speeds are pretty good at 524MB/s and 150MB/s respectively. The write speed is a touch slow. For the most part, you won't really notice it unless you're into video editing. 4k and 1080p edits are slow and not very smooth.
Gaming in general isn't a very enjoyable scenario on this ultrabook. Even with settings set to medium, you won't see much higher than 20 fps even on low-intensity games. So, if gaming performance is important, you should probably pass on this ultrabook.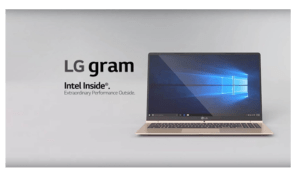 Battery life
Battery life is short. It claims to have 7.4 hours of life on a full charge. But in reality, it falls well short of that proclamation. With a half-lit screen and doing low intensity web browsing and word processing it only yielded about 4 hours.