Dell Inspiron 7577 GTX 1060 Gaming Laptop
Oct 05, 2017
Dell is pretty well known for putting out some really nice machines. Their XPS laptops are amongst best selling on the market. And less expensive Inspiron models had been quite successful as well. I remember the first Inspiron I bought back in 2004 before I deployed overseas, it was an Inspiron 6400, and it was an awesome little device. It handled the wear and tear of traveling and the extreme heat in the Middle East without any problems.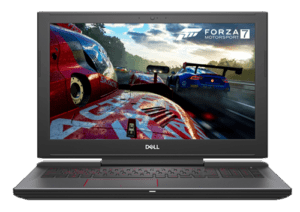 It eventually died on me in 2007 while I was living in Seville, Spain. Yes, it was only three years old, but man it had a hard, hard three years of life. I'm not sure if they make them that tough anymore, but the point here is that Dell has been putting out awesome Inspirons for well over 10 years now. Now, we have the new 7577 for an option, let's talk about it for a minute here.
The much anticipated Dell Inspiron 7577, which is an update from the popular gaming laptop, the 7567. The new model now includes an aluminum palm rest, Thunderbolt 3, NVIDIA GTX 1060 Max-Q, and the retailing base price is $999 USD.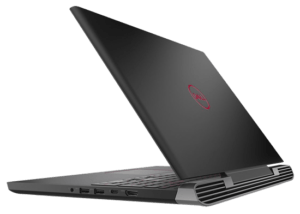 Revised exterior
The Inspiron 7577 also features a slightly revised exterior. Towards the back, the vents are more streamlined and modern and not flashy looking like its predecessor. In the front, they have also gone with a better and cleaner, simpler overall look. It looks a bit less like a flashy gamer's device and more like a casual daily user laptop. The top panel is now made out of plastic instead of the soft-touch coating. It weighs a bit over 6.25-pounds, so it's definitely not a light device by any means.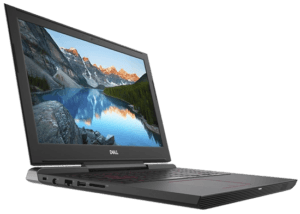 Aluminum palm rest
When you open the laptop you will find an all aluminum palm rest that feels very sturdy and looks great too. You can try but you won't find much flex in the keyboard deck. They protected the inside quite well with the deck. The display does have a fair amount of flex, especially towards the top. The overall look of the laptop looks a bit more premium than it did in the past.
Interfaces
On the left is the is the security lock slot, charging port, RJ45 Ethernet, a USB 3.0 and an SD card reader. On the other side, you'll find the headset/microphone jack, two USB 3.0s, and also a USB-C with Thunderbolt 3 and a full-size HDMI.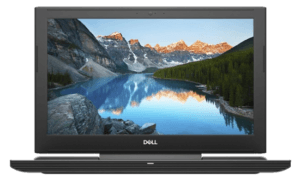 Just like the 7567, it has two rows of long rubber feet and one screw to access the internal components. As far of the internals there is the 4-cell 56-cell battery pack which is smaller than the 7567's 74-watt battery. You'll see along the side of the battery the 2.5-inch hard disk that is a 256GB NVME SSD that reads at around 3,250MB/s and writes around 1,200MB/s. Also in there, you will find your dual-band wireless AC 8265 with Bluetooth 4.0 There are two bays for additional RAM. it comes with 8GB from the factory but is expandable up to 32GB. This machine requires two fans to keep it cool. One of the best features of this machine is the new fingerprint scanner, it really makes using Windows Hello that much easier.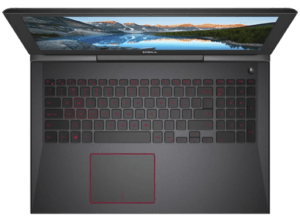 Display
The full-HD, anti-glare IPS display is very similar to its predecessors IPS display. It's still a really nice panel. It doesn't get that bright at only 220 nits and the color gamut range isn't super awesome with an sRGB of 68% and an Adobe RGB at 51%.
Trackpad
Since the trackpad is using Windows Precision Drivers it's very accurate. Two-finger scrolling and multi-touch gesture are all right on point as usual with these drivers. It also has a very nice push-to-click mechanism that feels very natural and gives great feedback.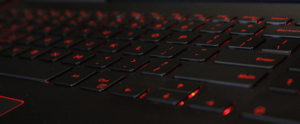 Keyboard
The keyboard is just about the same as found on the 7567 and the key travel is still pretty short; however, their feedback is nice. It also has a 10-key numeric keypad that's set just a bit off to the side of the keyboard. I really like its positioning. As far as backlighting goes it has two stages: medium and high, and it backlights in red.
Performance
In terms of performance, this CPU is running an Intel Core i5-7300HQ. This a quad-core Kaby Lake that offers good solid performance. Dell finally introduced the Max-Q GTX 1060 after listening to their base when they were asking for more performance. They used this graphics chip on last year's Alienware 13 R3 laptop. The GPU offers 6GB of DDR5 and has some pretty decent performance. This Max-Q GPU plays an array of games at various settings very well without too much issue and it stays cool doing so with its two fan cooling system. Even with the Max-Q deployed it stayed fairly cool and wasn't very loud at all.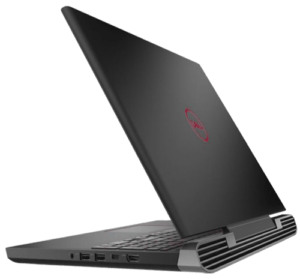 Audio
In term of audio, Dell put in two front-facing speakers powered by Waves MaxxAudio Pro that distributes a healthy amount of sound, but as per the norm, the bass is lacking. There is never much extra room in laptops for any bass providing speakers.
Battery Life
The battery, as mentioned earlier, is a 4-cell, 56-watt battery pack. It provides about 4-5 hours of casual usage on screen brightness set to 50-75%. And if you're getting your game on, you should expect just a bit more than an hour of gaming. It does come with Quick Charge capability and because of that, you can get about a 75% charge in about an hour's time and that kind of off-sets the smaller battery pack.