Microsoft Surface Book Laptop Revisited
Sep 01, 2017
I'll start out by telling you that the Microsoft Surface Book is a gorgeous and awesome laptop. Does it live up to its price point that we talked about in an earlier post? Still Microsoft Surface Book is one of best selling 2-in-1 laptops on the market despite its high price.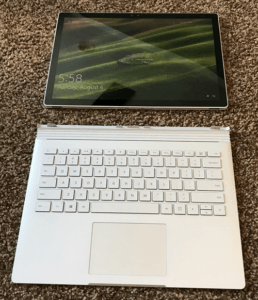 This is Microsoft's first laptop in the history of the company and I think they did an amazing job right out of the gate. It just looks beautiful and the build quality is super high-end. Think Apple MacBook, but maybe even a little bit higher on the fit and finish. The reason for this is because the entire body is made from precision machined magnesium with zero unintended gaps.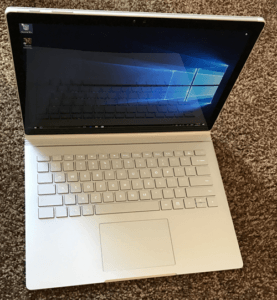 When you open it up, which may be a bit difficult due to the shallow edge for your thumb, you get the same gorgeous look on inside too. Even the precision glass trackpad feels and looks awesome as you finger effortlessly glides across it. The backlit keyboard is a real treat too. With its shallow key travel and the very quiet key clicking made it really satisfying to type with.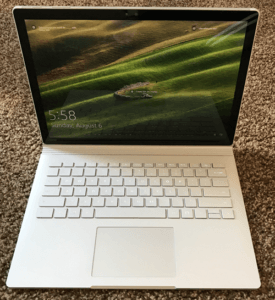 The Surface book as 2 USB 3.0 ports, a full-size SD card reader, a headphone port, and a mini-display and two charging points. That's right, two ports to charge too. One on the keyboard portion of the unit and another on the bottom of the tablet portion, or as Microsoft calls it, the Clipboard. To get to that portal all you have to do it click and hold the 'detach' button on the keyboard and wait for a second for it to disengage, and then simply pull it apart.

The charging port and cable are pretty awesome too. They took an idea from Apple and put it on their flagship laptop, their version on MagSafe. I must say that it a very nice addition. In order to reconnect it to its base simply align the laptop with the panel and push down a bit. It will lock on its own and you don't need to do anything else. And those piece together are very tight and snug, so don't be worried about that accidentally separating.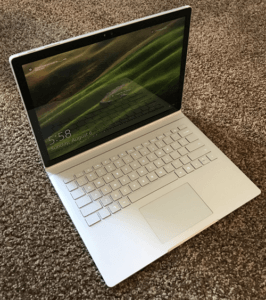 Getting back to the style aspect of the notebook, you have to take a look at the Fulcrum Hinge setup. It's great and offers great support for the panel.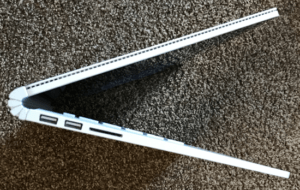 It is a 13.4-inch IPS display on a Clipboard that is pretty stunning. Not the best I've experienced, but it's still really impressive. It does have a strange resolution of 3,000 x 2.000. And sometimes it causes for the letter box while watching and making movies. Sometimes it can make adjusting graphic settings and games a bit "different" at times.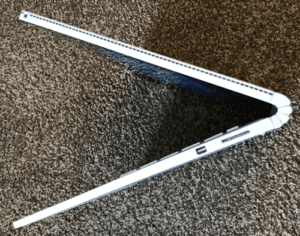 A bit of a pet peeve of mine is their marketing. they claim to have an anti-glare screen, but in reality that's not really the case, in the proper lighting it could be used as a mirror.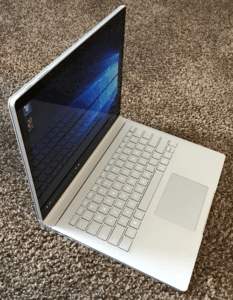 Because this unit is a laptop/tablet hybrid, the placement of the components is a little different than what we find in a traditional laptop. The Clipboard is where most of the components are housed, which makes it heavier than most traditional laptop displays, and as a consequence causes it to wobble quite a bit when using the touch screen feature.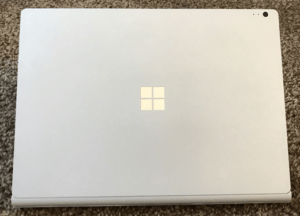 This can be remedied by simply holding the screen without another hand like you would with a tablet. In addition to housing most of the components that Clipboard also packs in two cameras. An 8MP in the back and 5MP in the front. For the life of me I still don't understand why people would be taking pictures with tablets, but nonetheless, the cameras are there for your use and are clear and pretty sharp, so, have at it.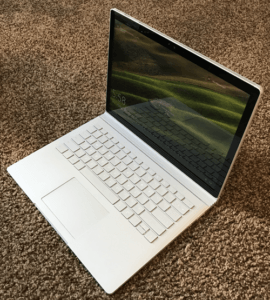 Our Surface Book is one step below the top of the line modelling. For what it is, it's pretty beefy with an Intel Core i7, 16GB of RAM, 512GB SSD and a dedicated NVIDIA GPU with 1GB of GDDR5 RAM. Other than all of the main ports, the keyboard portion is what houses the GPU and battery. This can be looked at as a positive and a negative depending on your needs.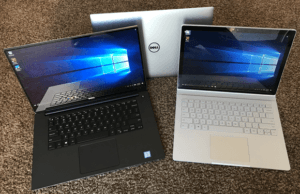 As a positive, when under a heavy load the Clipboard portion's fan will kick in as it begins to heat up and only get warm, instead of hot. However, the point here is that it's not the keyboard portion that gets hot sitting on your lap. It's the portion that doesn't touch you.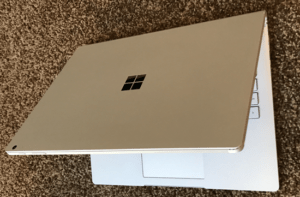 A negative is once you detach the keyboard your are removing it from the main battery source. That cuts your battery time quite significantly.
Thi unit is made up of two batteries, one in the keyboard and one in the Clipboard. When detached you're looking at a 3-hour maximum limit of battery life. As you can tell the majority of the battery is housed in the keyboard portion of the laptop.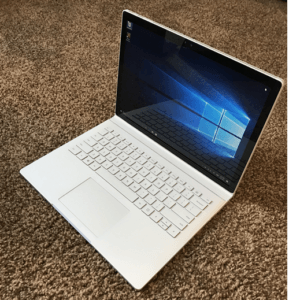 As mentioned before this Surface Book has a dedicated NVIDIA GPU. Not a Surface Book models have that, but this one does and it's no slouch. Microsoft is calling it a discrete GPU, though there's really no specific name for it. People are comparing its benchmark test results to that of the NVIDIA GeForce 940M laptops. While you may not be able to play games like Crysis and Battlefield 4 smoothly on high graphics settings, you may have fun playing some older games like Counterstrike at max settings.

And if you really are into playing games other GPUs will suit you better.
Focussing now on the pen will appeal to some of you, and maybe not to others. I for one, have never been a big stylus/pen user. But then again, I've never had a real world need for one. I find typing notes and memos faster than writing it down on a touch display. Microsoft and other professionals such a graphic designers and Photoshop illustrators may find great importance in the pen and I can appreciate that, and it's good on Microsoft to incorporate those people's' needs as well. My chief complaint on the pen is it's only held in place with a magnet on the side. So losing it may be pretty easy.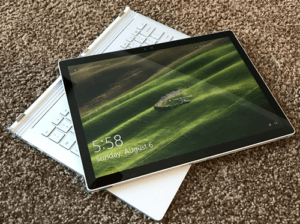 Overall, it's a significantly high-end laptop with beautiful construction and builds quality with very impressive performance and a gorgeous display which doubles as a tablet. You simply won't find anything like it on the market, it really is an impressive machine.