We all probably have the same question lingering on our minds. Which phone is better, the Apple iPhone 7 or the Samsung Galaxy S8? Which one offers the bigger bang for your buck? The most recent version of each is the S8 or S8 Plus for the Galaxy and the 7 or 7 Plus for the iPhone.
The Galaxy released April 21st runs on the Android 7.0 Nougat operating system while the iPhone, released last September, is on the iOS 10 platform. Both have great cameras and built-in features, are water-resistant and have biometric features. That only means that they recognize your fingerprint, though the S8's is reportedly tricky. For the S8 release, Samsung ran a promotion to capture the growing virtual reality customer base by throwing in the latest Gear VR and controller and an Oculus game pack for those who pre-ordered starting March 30th.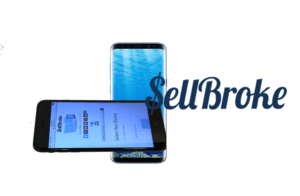 Also included in the bow with every Galaxy, irrespective of order date, are AKG earbuds in the box valued at $99. Score one for Galaxy there because Apple eliminated the headphone jack in both the 7 and 7 Plus forcing users to switch to wireless earbuds, called AirPods, rendering the collection of earbuds we've accumulated over the years obsolete. Reviewers rated the wireless functionality highly while the actual sound quality got mixed reviews.
CPU
Before we get to aesthetics, what's inside? The US version of the Samsung S8 has a Qualcomm Snapdragon 835 processor while the international version has a Snapdragon Exynos 8895. The Snapdragon 835 is a big deal because, in short, it's smaller but does more, faster than the last top processor, the Snapdragon 821. Because of Qualcomm's partnership with Samsung, you can only get that processor in a Samsung Galaxy S8, providing a major selling point for the phone. In practical terms, a smaller processor means more efficient operation and phone designers have more freedom to build something ultra-slim, or structure internal components without working around a large processor. A big plus, it also uses less battery life.
In a comparison with Apples' A10, the tech review website: TrustedReviews.com, found that the A10 just edged the Snapdragon 835 in a benchmark test of mixed-processor intensive tasks. However, in the 3D graphics score, which predicts how well the phone will do on gaming tasks, the Snapdragon was 25% higher than the A10. We know that benchmark tests don't always translate to the real world application, a difference like that suggests a major leg up for Samsung with the gamers, in addition to the VR bundles for order with the S8.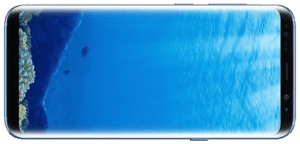 GPU
The graphic processing unit (GPU) from Qualcomm is an Adreno 540, while Apple used a PowerVR GT7600 GPU. The Galaxy S8 also takes the RAM competition with 4GB, as the iPhone only has 2GB or 3GB on the 7 Plus. RAM means memory, that is, what hangs on to what you've recently been doing on the phone. More RAM allows you to multitask or get back into a recent app more quickly. So, while both RAM and processor are related to speed, they are distinct. However, while the Galaxy S8 has more RAM, iOS is more efficient and doesn't need more RAM to function equally. That's why the Galaxy phone has more RAM, but it's actually about even.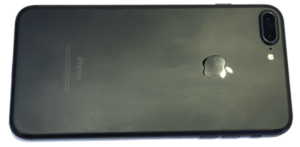 Display
On to how it looks and feels to the consumer. The Galaxy S8 has a 5.8″ display of 570 pixels per square inch (PPI) and a weight of 5,46 ounces. The iPhone 7 has a 4.7″ display of 325 PPI and a weight of 4.87 ounces. If you're really a camera pro, you probably already know that both phones, all 4 models, have a 12 megapixels (MP) camera. The 7 got raves from the photographer blogs, hailing the Optical Image Stabilization that was on previous iPhone Pluses, and the new image signal processor.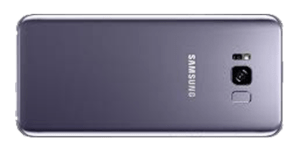 The 7 Plus has Bokeh Effect for portraits. A BGR comparison for overall function placed them about even, depending on use. Side by side comparisons of identical photos shot with each camera in multiple reviews shows the S8 a little brighter and a little more vivid for still photos of selfies and simple landscapes. For video, both good stabilization, but the iPhone has 2x zoom thanks to its telephoto lens, a feature the S8 lacks.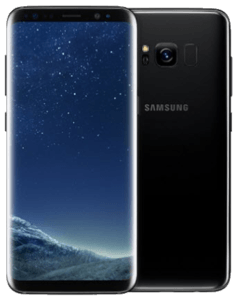 Battery
The real question for most of us is how long will the phone last on a charge. The S8 specs tell you how long the phone will go on just MP3 playback, video playback, and talk time. I'm sure that you want to know how long it will last over the course of your average day mixing talk, text, social media, taking and browsing photos, and maybe Netflix. The bottom line is, both phones are capable of managing an entire work day plus an evening on one charge. if you're not constantly on energy-intensive apps. You can conserve battery by kicking down screen brightness to a still-legible 74-80%.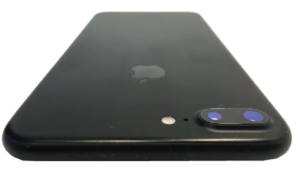 Siri vs Bixbi
As for organizing your work and life, the iPhone's Siri is probably still the champ. You can ask her any random question, and use your voice for functions. The S8's Bixby is more of a task manager to help you use the features in your phone than an instant encyclopedia to the world like Siri. If you are a shopaholic, one cool Bixby feature is snapping a photo with object recognition that will help you track down where you can get the sweet gear you just saw.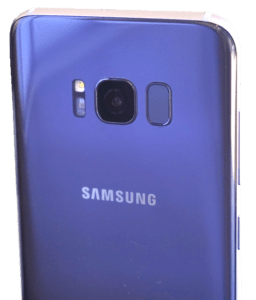 Apps
To get apps for either phone, both Google Play Store and the Apple Store have millions of apps. You won't suffer options on either OS. On the topic of apps, you'll need them in the S8 if you are a video chatter. Unlike Apple's FaceTime, Android doesn't use a system standard free video chatting app. Skype and Google Hangout have their advantages, but if you're averse to learning something new and using different apps for the same core function, you might think twice about the S8.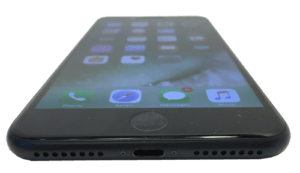 Pricing
Regarding price, the iPhone starts lower but also goes a lot higher. And let's keep in mind these are not budget smartphones. For the S8, retail price is either $750 or $840 for the Plus, with standard 64GB storage. The iPhone 7 and Plus each offer 32GB, 128GB or 256GB. The price range is $649 for the 7 at 32GB to $969 for the 7 Plus at 256GB. There are of course deals and promotions with the four carriers that offer both the S8 and iPhone 7. You might want to keep those deals in mind and think twice about investing in an iPhone 7 right now because the iPhone 8 is rumored to be out later this year.
One feature Apple watchers say will be included is superior biometrics: the fingerprint feature will easily dominate the Galaxy's troublesome reader. No word yet on how glossy the iPhone might be if Apple's designers attempt to step to the S8's much-touted look. But Apple could think twice about that idea, as reviewers noted that the glass body that makes the S8 so beautiful also makes it a fingerprint magnet.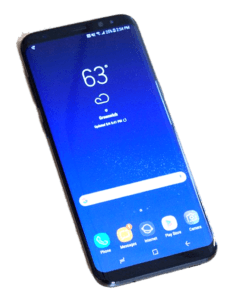 Conclusion
Neither Galaxy or iPhone is best. Because that is always a very subjective opinion. It usually boils down to which system you prefer, Android or iOS. Time will show which one, Samsung Galaxy or iPhone is more durable. And how much of an upgrade will the iPhone 8 be compared to current model.
Don't worry if your phone fails. You can now easily sell broken iPhones and other smartphones to Sell Broke and use the extra cash to purchase a new phone.

If you don't have all the money to buy brand new flagship smartphones you can buy a good used phone and save a lot of cash. In that case you will enjoy reading our tips on buying a used smartphone.