Not too long ago we discussed the bigger brother the Dell Inspiron 17′ 5000 Series, and now it's time to talk about the smaller 15-inch 5000 series. The Dell Inspiron 15 5576. You have two choices when configuring this machine. You can get the new AMD GPUs or go with the NVIDIA GTX 1050.
Dell has introduced the new Inspiron 15 5000. It's basically a replacement of the 7559 as a lower-end model. It's using the same design and there are two price-points. The 15-inch AMD version starts at $649USD and the NVIDIA version starts at $799.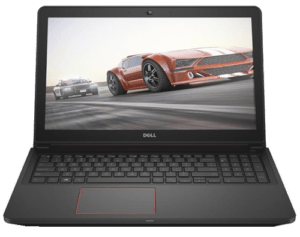 Design:
Starting on the bottom plate this time you have the two rows of red rubber feet mounted on all black plastic, a mini-subwoofer, and the exhaust vent. You can easily gain access to the inside and internals with simply removing one screw. Once inside you will see the 5,400 RPM traditional hard drive, a 6-cell 74 wHa battery pack, the m.2 SSD slot, two stick of RAM that are upgradable to 32GB, your wireless card, and your dual-fans.
The interior actually looks pretty clean and stylish, especially for a budget gaming laptop, under $800. The palm rest and deck has that soft touch rubber coating that some people really like. It weighs in at 5.43-pounds and it's 1-inch thick.
There's minimal keyboard flex in the middle, but it's not going to affect the way you type or comfort. On the top lid, however, there is quite a bit of display flex towards the middle so you will want to use care not to set too much weight on it and risk damaging your display.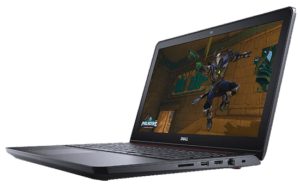 I/O:
On the left side, you have your charging port, exhaust vent, two USB 3.0 ports and the combo audio jack. The right side has the security lock slot, RJ45 Ethernet port, an HDMI 1.4, another USB 3.0 and an SD card reader.
Keyboard and Trackpad:
The trackpad on this machine is great. It's using Windows precision drivers and it's smooth like a criminal. In terms of budget gaming laptops, this is one of the best feeling trackpads on the market.
The overall performance of this keyboard is pretty decent. It has a 10-key numeric keypad and a full-size standard keyboard. The key travel is decent and the tactile feedback and response from these keys offer excellent. There's one minor change from last year, this has red key letters and red backlighting.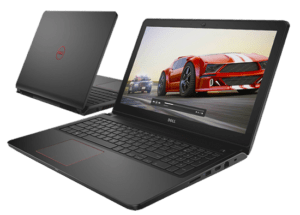 Display:
The laptop features a 15.6-inch full-HD TN panel which is pretty similar to the one found on the base model Inspiron 7567. For $50 though you can upgrade to an IPS panel, and that's well worth the money.
The color gamut comes in at a very low score of only 59% of sRGB and 44% of the Adobe RGB. The brightness is about average coming in at about 215 nits which is right on par with other gaming laptops in this range.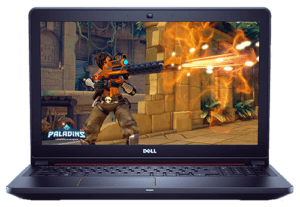 Performance:
The chip power on our model is an AMD FX 9830 P, which is a quad-core Bristol Ridge processor. The performance is pretty good especially multi-core processor; however, it still lags behind its Intel counterparts. According to the performance results, this chip is probably comparable to the core i5-7200U that is a dual-core Kaby Lake processor. Deep in mind that the Intel version of this laptop yo can get quad-core H-series chips. They offer much better performance.
The AMD version offers the AMD Radeon RX 460 with 4GB of GDDR5. The performance is good but it's not that great compared to the GTX 1050.
With the fan running at full throttle you are going to see about 50 decibels on medium gameplay and 45 minutes of play. The average GPU temps were about 73 degrees celsius with a max temp of 80.
Audio:
There are two top-facing speakers with decent sound quality but not awesome. Even with that added mini-subwoofer, the low-ends are still pretty quiet and weak.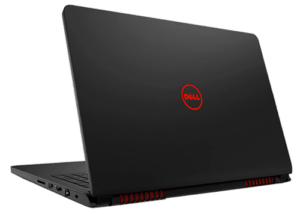 Battery:
This laptop features a 6-cell, 74 wHa battery pack which is the same one found on last year's Inspiron 7559 and this year's 7567. With the screen set at 50%, you can expect to get about 4.5-5.5 hours before a recharge is needed. However, for gaming, you're only going to get about 1.25 hours.
Is your present laptop broken or simply outdated? Don't wait too long for an upgrade. Sell your old laptop on the Internet and buy the new Dell 5576. This is a smart choice for a decent laptop at a good price that will handle your daily tasks and occasional gaming.