In our last post, we began talking about the eBay life and how maybe it could help you sell your laptop and other higher-dollar items. Though there are always some risks involved with any transaction online, there are considerably less when you use eBay's platform.
Last time we discussed opening an eBay account and various fees associated with it and also a little bit about linking your account with PayPal. Now that that is all set up you begin your path to making awesome listings. Let's pick up where we left off and get right into the pricing game.
Pricing
When using a fixed price, it's best to check eBay for its active listings of similar laptops to see with whom you will be competing. Sold items will show you what people are willing to pay. If something seems too good to be true, then it probably is and it's wise to investigate it first. If you see that a laptop worth $200 and it sold for $1000 make sure to check out the listing. It will most likely say that the sale was canceled after the bidding was over.
Don't get discouraged if you see an item that sold super cheap. It very well could have been a mistake, or maybe someone needed their money very fast. Just keep in mind that you don't need to sell cheap. You do need to know what your laptop is worth and just sit back and wait for the right buyer. However, you must practice due diligence when setting your price-points so you can offer a fair price but also get that sale.
Auction-style pricing
If you use the auction-style pricing you will set your starting bid low to attract more people. You will also set a reserve price, which is the least you will accept for the item listed. This is a setting that you can use in order to not sell your item too cheap in case if there isn't much interest from active bidders. If the bidding didn't garner as much as you expected and didn't hit the reserve price you can relist your laptop and start over and make a few adjustments to your listing details or pricing.
We advise that you use a 10-day auction. That way it's long enough to catch the attention of many users but it won't be listed too long that would make potential buyers look elsewhere. Most of the time bidders will watch your listing for the 10 days and most will bid at the very end hoping to get a good, last-second deal.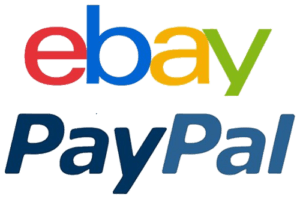 It's advisable to make your auction end on a Sunday evening. That's when most people will have time to get involved. For commercial listings, Monday mornings are the best. Don't forget to consider time zones when planning. Other times to consider if selling a laptop are coordinating around certain high-selling-seasons. These are seasons like before Christmas or when college semesters start. These are also times when sales increase and should definitely boost the selling price. One thing to keep in mind if you have a young account is that you will not receive the full sold amount, both eBay and PayPal will take their cut.
Bidders
Just like when we mentioned that established sellers usually gain more trust, the same goes for buyers. You cannot automatically block buyers with a zero feedback rating and they are the riskiest to deal with. If you would prefer to block zero feedback buyers you have to wait until that buyer contacts you and asks you questions showing interest in buying your item. Once contact is made you can block them. It's better to be safe than sorry when potentially dealing with careless and sometimes ruthless people. Save yourself time and don't deal with zero feedback users. Also, if someone asking questions seems suspicious, check their feedback that they left for others. If they leave a lot of negative comments, block them. They can potentially demand things that are not part of the deal. If you have a good laptop and accurate price points, it will sell sooner or later.
Check your live listing
After you finish creating and make your listing live, make sure to check it carefully. Especially the part where eBay fills out additional details. Those are often times wrong and confusing for potential buyers. If that's your case you may want to get rid of that section. Be sure to select the correct item category for the laptop to avoid your listing being canceled by eBay. If you're selling a Dell Inspiron 7000 Series laptop, it should not be listed with bed furnishing… know your product, save yourself a headache. If everything looks good the creation part is done. Check your email periodically and make sure to answer all questions that may arise about your laptop and the transaction.
Shipping
We would encourage you to not to sell overseas. Even if the buyer is fair the shipping company may be not trustworthy. Some Third World countries have no respect for private goods. Potentially there could be a low chance that your laptop will reach its destination in many of those countries. Even shipping within the US isn't risk-free. Use FedEx if available. If not your second best choice is UPS. Don't use the USPS to ship a computer. Of the three options, they have a higher rate of mis-shipped items that can be very difficult to try and recover. Also, they seem to break more stuff than FedEx and UPS.

Regardless of chosen service, pack your laptop well for safe shipping. For an expensive laptop, it makes sense to invest the $15-$20 for a good laptop shipping box and bubble-wrap to ensure its safe transit. You can set a separate price for shipping that will cover postage and packaging. Choose a shipping service that's easily trackable for you and the buyer. That way when the buyer contacts you asking where the laptop is, you will be prepared to provide the shipping info so that they may track it themselves, or at least know that you did your part in responsibly shipping their merchandise.
Returns
Returns on eBay can be very tricky nowadays. eBay protects buyers and not sellers. Many scammers take advantage of that. Let's break down what potentially could go wrong and how you can protect yourself from losing your money in case the buyer wants to return your computer.
Many businesses use tamper resistant stickers and other markings on their products for security reasons. That way they can tell if the computer was opened. You don't want to accept a returned computer that has been tampered with or even worse, had all its internal parts removed and sent back to you empty. Write down the serial number of your laptop. Post the number in the eBay listing as well. This will prevent anyone from sending you back a different unit.
By describing your laptop in great detail and giving an honest assessment of its condition you will eliminate any surprises on the buyer's end. If your buyer expects it to be in better condition based upon your description they will not settle if it's in worse condition than advertised. In the best case scenario, they will accept a partial refund.
In the worst case, they will send it back at your expense. Every time your laptop ships there is a risk of it getting broken or even missing. It is very easy for buyers to request to return your laptop and get their money back even if the laptop isn't defective. If they don't like it or find a cheaper one in the meantime, they can return it. The awesome part is that the buyer usually makes you pay for shipping both ways. Plus, like mentioned earlier, PayPal will hold the money to make sure that you will pay for every mistake whether yours or not.
Conclusion
People make a living off selling on eBay and some do really well for themselves. So don't feel discouraged if your item doesn't sell right off the bat at some crazy perfect price. There is a reason why eBay has so many users. It's a great platform connecting buyers and sellers around the globe.
If you are careful and follow our advice you will be just fine. The more transactions you complete, and the more experience you gain will make selling on eBay worth your time and even maybe fun. At first, it might feel like a hassle when things go wrong but you can always check online forums and seek advice from other users.
Lastly, our best piece of advice, if you feel like it's too much for you to handle then you will definitely be better off selling your laptop to us and not worrying at all.