Alienware 13 R3 GTX 1060 Gaming Laptop
Jan 05, 2017
Last time we talked about ho to restore your laptop settings before you sell it. To start our year offer are going to talk today about the late 2016 model Alienware 13" R3 GTX 1060 with an OLED panel. This year we get some Quad-Core H processors, a thinner design and a killer GTX 1060.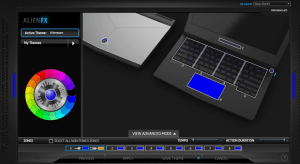 Quick Specs:
The biggest change this year is that you're getting a Quad-Core chip. This one features the i7-6700HQ, 8GB or DDR4 RAM, 13.3" QHD OLED display panel an NVIDIA GTX 1060 GPU with 256GB Solid State Drive. The webcam in HD and is able to unlock your computer using Windows Hello, and it's works really well. You can get all of this for roughly $1,700USD after taxes.
Looks and Design:
The new Alienware 13 looks awesome. The top lid and bottom plate are both aluminum which gives it a very clean and sleek look. The interior is very clean as well. Just like the Dell XPS 13 you get the rubberized palm rest for more comfort. Overall it just feels really good under your wrists.
Considering that this is only a 13" display, this laptop is pretty hefty in its own right. This little beast tips the scales at just about 5 pounds and at its thickest point measures .92".
This laptop features a forged hinge design that works like a champ. It feels both rigid and solidly built. The bottom panel is made of aluminum as mentioned before and can be easily removed to gain access to the internal pieces that you may one day wish to upgrade or replace.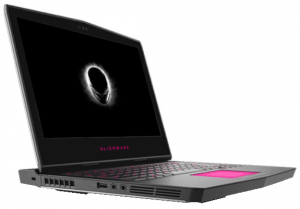 Portability:
Most of the offered ports are on the back of the machine. This is where you'll find the RJ45 Ethernet port, mini display port, a full-size HDMI, a Thunderbolt 3 port, and external GPU and of course the charging port. The right side is pretty minimal with only a USB Type-C and USB 3 port as well as an exhaust vent. Turning around to the left side you have your security lock slot, another USB 3 port and the headphone and microphone jacks as well as more vents for cooling.
Performance:
Our 256GB model was pretty fast but the write speeds was kind of slow at only 418 MB/s and read speeds of around 1,743 MB/s. This year's performance has reached new highs due to the Quad-Core H chips from Intel. Last year's model had Dual-Core chips and it was a pretty big let down. Though it's only a 13" model you can expect to hang with the 15" and 17" big boys from Alienware.
GPU:
The new Alienware 13" R3 laptop also features the latest 10-series Pascal chips from NVIDIA, a 1060 to be exact with 6GB of DDR5. for the best experience make sure you drivers are up to date and using the GeForce experience application. Set at Epic Settings at 1560 x 1440p gets an average of 40-45fps, but you can get upto 50fps in certain scenes. The GTX 1060 card is a very capable card that can play today's high-end games at 1920 x 1080p on Ultra and High settings.
After about 90 minutes of gameplay you can expect the fans to ramp up to 50-52 decibels. The external temperatures are very good especially for a smaller laptop with this kind of horsepower. The hottest part was about 47º C and the WASD keys stayed pretty cool around 40º C. The hottest that the GPU reported was 77º C and averaged about 74º C. The overall thermal management on this device is awesome.
Display:
This 13.3" Quad-Core QHD OLED panel is stunning. It broadcasts color and imagery with immaculate perfection. This could be one of the best displays we've seen thus far. The color accuracy is very high with Adobe RGB coverage at 99% and sRGB coverage came in at 100%. At 334 nits your brightness needs for this display are easily achievable. The viewing angles are pretty good but what does hold this panel back a bit is its glossiness. It's a bit of a pain, but very common in today's laptops.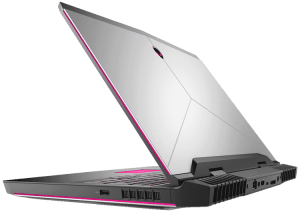 Trackpad and Keyboard:
The trackpad they incorporated has been superb. The two-finger scrolling, multi-touch gestures and tracking was right on point with no issues. The backlit trackpad is very cool too.
This backlit board is definitely a gamer's keyboard. The key travel is excellent measuring at 2.2mm and the typing feedback feels really nice and smooth. Using the Alienware's control panel you can customize the control zones on the keyboard and it also controls the trackpad and backlit color as well as the logo on the top lid.
Battery and Audio:
Alienware jammed in a 76 watt hour battery pack that yields about 3-5 hours of casual usage and 90 minutes of gameplay.
The speakers are side-mounted and sound pretty good reaching to about 75-80 decibels. Really, like most laptops, the only con here is the lack of bass since there is no subwoofer. However, this shouldn't be a killer since most of us hook up to external speakers or use gaming headphones.
All gamers will love the laptop. Do you want to buy the new Alienware but need to first sell your old laptop? You can sell your laptops and electronics to Sell Broke. With us you get the most of your used and even broken electronic gadgets.