HP OMEN 17 Review GTX1070 Gaming Laptop
Dec 19, 2016
It's that time of year again when people are buying and selling their laptops for the Christmas season. Everyone likes to get new devices at this time a year. And it's nice to be able to do some research before you buy. So let's take a look at the new HP Omen 17 with a GTX 1070.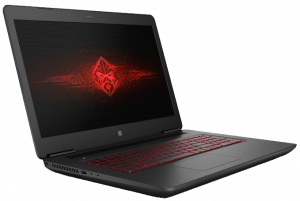 Quick Specs:
This Omen has been equipped with an Intel Core i7-6700HQ processor, 16GB of DDR4 RAM, a NVIDIA GTX 1070 graphics card, a 512GB Solid State Drive. It comes with an awesome 4K IPS display panel and a HD webcam. This gaming laptop will set you back about $1,699.99 USD. But you can find it on sale for $1,499.99 if you keep your eyes open at your local electronics store's sales.
Gaining access to the RAM is very easy. Unlike with the 15" Omen the 17" has a small door on the bottom that you just removed a few screws and you're in like Flynn and would be able to upgrade your RAM to 32GB with ease. The 512GB SSD is extremely fast with read speeds of over 1600Mb/s and just about 600Mb/s write speeds. Overall this laptop is super responsive.
Design and Build:
The HP Omen 17 looks pretty basic compared to other gaming laptops. It's basically a HP Pavilion with a red backlit keyboard and checkered stripes. Though we were hoping for a newer design for the 17 mode, but it seems that HP just decided to keep things simple.
On the exterior you get the same checkered marks and the HP Omen logo. Weighing in at 7.3 pounds this laptop is pretty heavy, it also measures at 1.29 inches thick. On the rear of the machine you have two fairly large exhaust fan vents and the standout chrome hinges. Considering how large the screen is there is very little flex to the lid of the laptop. `that can also be said about the keyboard flex, there is just very little to be had.
Connectivity:
On the right side there is a SD card reader, the mini displayport, two USB 3.0 ports, a full size HDMI, an Ethernet RJ45 connection and the charging port. The left side you will find another exhaust vent another USB 3.0 and the microphone and audio jacks along with the security lock slot.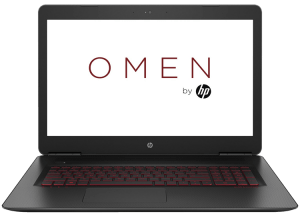 Keyboard and Trackpad:
The trackpad is pretty good, the two-finger scrolling and the multi-touch gestures all responded really well and accurately. The keyboard has a decent amount of key travel and the tactile feedback is nice and comfortable as well. Though neither one of these features will blow your mind away, they do provide a good user experience. The back-lit red keyboard only has and on or off option. HP also was able to fit in a 10-key numeric keypad.
Display:
This 4K IPS 17.3" ultra HD display looks stunning. And the color saturation is very crisp and sharp just like an AMOLED screen. Both the Adobe RGB and the sRGB coverage came in at 100%. The brightness measured in at about 310 nits.
Performance:
This Omen comes with the latest Quad Core chips from Intel and that's the Intel Core i7-6700HQ. And this chip offers incredible performance that you're sure to love.
The NVIDIA 1070 features 8GB of GDDR5 and thus allows you to play games on high settings, and even ultra settings, on the 4K display and like a boss. First person shooter games are running at 45-55 frames per second with no problems whatsoever and some even around 74fps.
As far as the temperatures are concerned the external temps were running at about 36º C to 55º C and the overall thermal management is pretty good and reliable. The maximum GPU temperatures you should expect should not really exceed 73º C. And the fans run at about 53 decibels.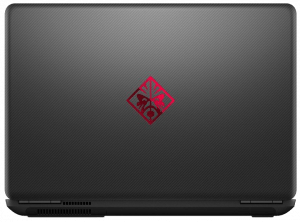 Audio:
While we talk about decibels let's cover the speakers too while we are at it. The speakers are top facing and their sound is at best: adequate. For a 17" screen these speakers just seem to be a little bit weak as compared to the games you'll be playing. In order to get the full effect of sound that is desirable it would be necessary to hook up to external speakers. This is probably partially due to the fact that there is no sub-woofer.
Battery:
This is a big and powerful laptop with a huge GTX 1070 which requires a lot of juice to get going. For this reason HP provides a large 230 watt AC adapter. The Omen also features a 6-cell 95.8 watt hour battery pack that will give you about 4-5 hours of casual usage and maybe 1.5 hours on gameplay usage.
In conclusion you're getting a very capable and reliable gaming unit for under $2,000 that has a GTX 1070 and an i7 Quad Core processor. This beast brings horsepower to your gaming needs without a doubt!