The classic MacBook Pro 13-inch A1278
Oct 28, 2016
Because there are 12 MacBook and MacBook Pro models that match the A1278 model, you may want to look yours up by Model ID or Serial Number for better precision. Or if you are buying one one the used market you can ask for the model and/or serial number(s) and look them up as well. Don't fool yourself, there are many good priced MacBooks and MacBook Pros out there on the second-hand and refurbished markets. Today we will take a look at a 2011 13" MacBook Pro. Let's get started.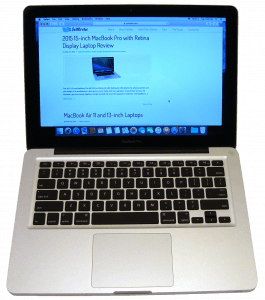 Connectivity:
First off I guess you should know that on all MacBook Pros the ports are all located on the left-hand side. Starting from the rear of the machine you have the MagSafe charging port and the Gigabit Ethernet port. Then there's a FireWire 800 port, a Thunderbolt DisplayPort, two USB 2.0 ports, a SD card reader. Next is located a headphone/microphone combo jack. And then towards the front of the machine you have you battery life indication button and lights. Flipping the laptop around to the right side we have the Kensington Lock Slot, and a slot loading Super drive. Aside for watching DVDs and listening to CDs, you can burn DVDs and CDs as well.
Specifications and Performance:
Now let' talk about specs. We have a 2.3 GHz Intel Core i5 as well as 4GB at 1,333 MHz of DDR3 RAM with a 320GB hard drive. This is just enough power to give you a very clean and hard working laptop. It will handle video editing and of course all of the daily usage of apps and word processing.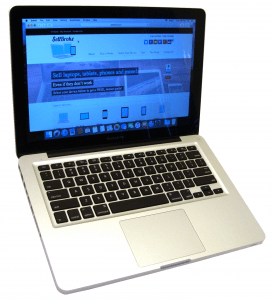 Graphics:
This 13" MacBook Pro has an integrated Intel graphics card. If you are into gaming this card is not the best. Especially if you want to play anything on high settings. But as we've noted in other reviews the Mac line of computers are almost always designed with work in mind. They don't seem to be much into the gaming aspect.
Display:
The 13" display has a resolution of 1280 x 800p. It is actually a lower resolution than that found on the MacBook Air. Some may see this as a drawback, but the picture and colors are still very good and accurate. It's blacks are much deeper and the whites are much richer. So in some aspects you get a better picture display than you may originally expect due to its lower pixel rating configuration.
This screen is super glossy and it reveals a lot of reflection for surrounding light sources. This may mean that you'll find yourself chewing up battery life faster because of the need to keep it on maximum brightness in order to combat the reflection. Every now and again you may be able to find a matte finished screen and that helps exponentially. If you were to ever view them side by side you'd see an incredible difference.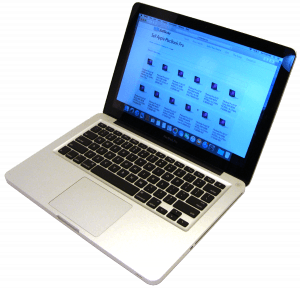 Keyboard and Trackpad:
The keyboard on Macs are absolutely great. Apple always has the chiclet keyboard that offers a great typing experience. The key travel is nice and anf the tactile feedback is perfect.Also, as per the norm for Apple, all of their keyboards are backlit with 12 different levels. Even the distance and size of the palm rests seemed to have been precisely considered when in the design phase.
The trackpad on this MacBook Pro is fantastic. With the OS X line, and above, you will have a variety of gestures that all work seamlessly together. Two-finger scrolling and all of the multi-gestures really make Apple's trackpads above the rest in their responsiveness and accuracy. Today, these are all things we take for granted, but back in 2011 when this particular machine came to being this was revolutionary standard equipment.
Battery:
The battery life was claimed by Apple to get about 7 hours of production time. However this is all relative. If you keep your setting brightness around midpoint and are not streaming music or videos and just sticking to daily word processing and such then yes, without doubt, it will yield the 7 hour claim; however, if you are multitasking many more applications you will get less time. Battery life is relative to the type of work you are doing.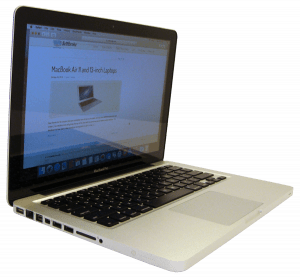 Webcam:
Apple refers to their webcam as the Apple FaceTime HD Camera. It's actually built right into the glass bezel and that make its detection pretty hard, it's very streamlined into the laptop and looks very sleek. Once you activate the camera small green LED lights up to let you know it's on and working. Whether using FaceTime or another application the HD camera works well every single time.
If you're looking for a working laptop that offers the basics in gaming and don't need a super-duper light one, like the MacBook Air, then this laptop will always be a safe bet. You're getting the connectivity that you need, the HD webcam, an Intel i5 processor and plenty of RAM to keep things going on an even keel.
In comparison to the Air, you'll get much more bang for your buck and it's cheaper than the Air. But put against all other laptops in the same price range you'll always be happy that you got a MacBook Pro 13" laptop.
Looking to upgrade your Apple laptop. Sell your MacBook Pro to Sell Broke and get extra cash for the new one.